Before a ball was kicked at the Stade de Geneve, Mick McCarthy dismissed the notion that the away day against Switzerland was a free shot for his Ireland side.
However, judging by the manager's team selection and starting formation, it was clear that McCarthy felt that he had nothing to lose going into the penultimate Euro 2020 qualifier.
The manager handed a starting debut to teenage prospect Aaron Connolly and also changed his formation to create more of an attacking initiative against the highly rated Swiss side.
The game turned out to be a mirror-image of the meeting of the two sides in Dublin, with the Swiss dominating throughout, but this time they proved much more decisive and did not let Ireland back into the game once they went ahead.
The 60-year-old spoke about circling the wagons in the away fixture, such was their superiority, but changed his tune once this game offered a short-cut into next summer's finals.
McCarthy said before the game that his formation was an effort to match the home side, and he appeared to give the defence licence to play as they do at club level.
Both Brighton and Sheffield United play with three at the back, and that was how Ireland started in Geneva.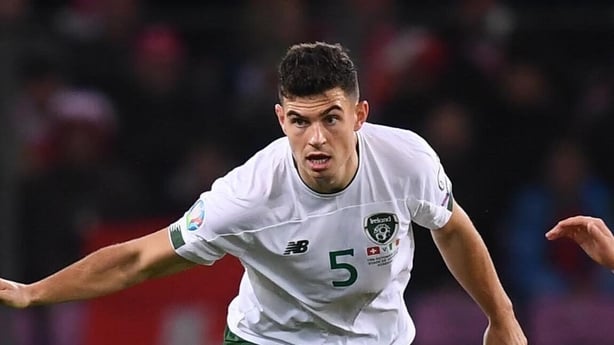 John Egan sat alongside Shane Duffy and fellow Sheffield United defender Enda Stevens, while James McClean and Seamus Coleman were employed as wing-backs.
The system did get Ireland forward at various points in the opening exchanges but gaping holes were left at the back, and when Switzerland ploughed forward, they looked imperious compared to the disjointed Irish.
The manager had hoped that his side would still be in the game after 70 minutes, however, it took the Swiss just 16 to grab the lead, through a fine Haris Seferovic strike.
"If that was the reason we conceded a goal and played badly, I'll take the rap for that because I changed it to try and get two strikers on, which I believe most people thought was quite promising and positive," said a downbeat McCarthy after the game.
"If you consider who plays that system - James McClean plays it at Stoke, Enda [Stevens] plays it, John Egan plays it, Duffer plays it - there's no problem in it and we did it in a game at home."
The manager dismissed the notion that his side were a bit too gung-ho looking to make an early impact, but rather put it down to the players inability to pass the ball to one another.
"I don't think that system caused us to have an inability to pass the ball to one another, so I'm not taking the rap for that.
"So I don't think it was, the fact they are a very good side is the biggest contributing factor."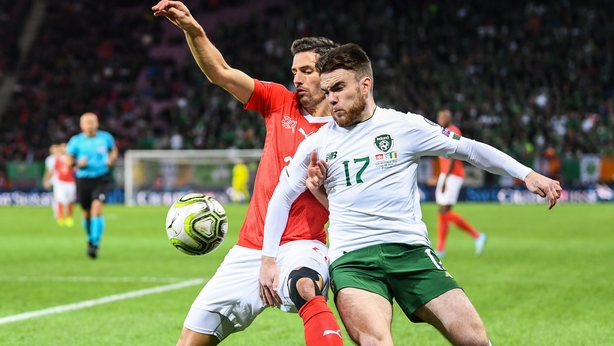 McCarthy's other pre-match gamble was starting someone as inexperienced as Connolly against such quality opposition.
And while there was no one arguing against the teenager's inclusion, the manager admitted that Connolly had had a frustrating night.
"It was difficult for him. He was playing against a team that had the ball most of the time, and difficult for him as we didn't really give him any supply or real service in the first half.
"Then I've had to change it, he came on the left and then we played him up the middle against three big centre-backs, which I said in here yesterday would be difficult for him."
McCarthy believes that the experience will stand to Connolly in the future and that it would have been an excellent learning experience.
"He'll be better for it, he'll learn from it," said McCarthy.
"Kevin Kilbane made his debut in Iceland and I took him off at half-time, and he made 120 appearances or so. He's got nothing to worry about. He has plenty more caps to come."
Amid formation change aplenty in a disappointing first half, the manager at least took some positives from the game going into next month's clash with Denmark, most notably the second-half performance and the way that the side dealt with going down to ten men, following Seamus Coleman's sending off.
"The first-half performance was poor, the second-half was considerably better," said McCarthy.
"Having been down to 10 men for the last 10 minutes, they can be very proud of how they carried on from there.
"Where are we? We are one game from qualification, which I would have taken when the tournament started."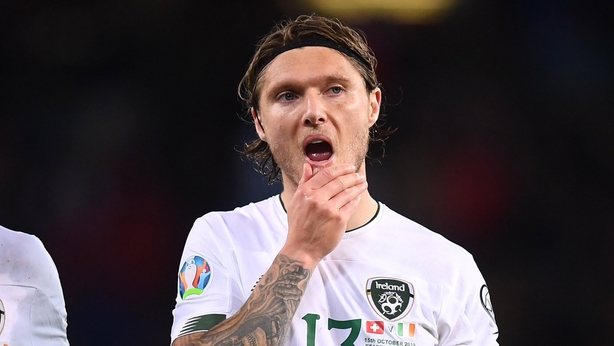 Reflecting on the game, the manager would not offer too much insight into the fact that his side have created little in front of goal over the two matches against Georgia and Switzerland.
And neither does he have any concerns about losing momentum heading into the final decider with Denmark on 18 November.
"I'd like to get a few more [shots on target], but if we get one on target and it beats the keeper, we might just win 1-0 so that would do for me."
"[Losing momentum] doesn't worry me because it is winner-takes-all in that game and I keep saying I would settle for that.
"We would like more shots on target, we would like more goals. We got ourselves into this position by not conceding and being pretty tough at that, and then nicking a goal if we have to.
"And we are still in a position to qualify, so we are happy with that."