Ireland take to the pitch at Stade de Geneve tonight knowing that victory against Switzerland will see them qualify for Euro 2020.
Effectively, the first of two cup finals for Mick McCarthy's men as they go into the remaining two Group D games knowing that a win in Geneva or victory against Denmark in Dublin next month will take them through.
One-off games, where anything can happen throughout a 90-minute standalone contest, without the safety net of a second leg for the perceived stronger side – Ireland will fancy their chances.
The concept is simple, but the reality is far from straightforward as Ireland are undoubtedly weaker on paper than both sides in this qualifying run-in.
And without question, the tougher of the two tasks await in the Swiss city tonight as McCarthy's men take on a high-quality, yet under-performing home side, who really should have qualification secured at this stage.
Vladimir Petkovic's side were 3-0 up at home to the Danes with 80-plus minutes on the clock and drew 3-3, they outplayed the Irish in Dublin yet only left with a point, and then they dominated Denmark in Copenhagen on Saturday but were hit with a late, late goal to return home with nothing to show.
McCarthy questioned their character to a certain extent earlier in the campaign when discussing the three-goal collapse against the Danes, suggesting that they may be "milky" – a Yorkshire tea reference, no doubt.
And with history repeating itself throughout the group, the Ireland manager may have a point and will look to exploit their one real flaw during the game tonight.
The Swiss, however, remain confident ahead of the game and will again rely on their quality and the predictability of the Irish to advance their own qualification cause with a win.
Yet there was certainly a sense that the home side are under real pressure going into this game.
All the talk at the Swiss press conference was about this being a must-win game for the Petkovic's side, and while Arsenal midfielder Granit Xhaka put on a brave face saying that pressure comes with every game, the assembled home media did not appear convinced.
'I think for the Ireland team, it's easier if the opposition have the ball' - Granit Xhaka speaks to @CorkTOD on the eve of the Switzerland-Ireland game in Geneva pic.twitter.com/HiY9fMHrY4

— RTÉ Soccer (@RTEsoccer) October 14, 2019
That late defeat to Denmark appears to have really shook this Swiss squad who should really have cantered through to next summer's tournament.
Now the manager is still questioning his own selection, and appeared to be a touch indecisive ahead of the game, stating that he would watch the team train again before deciding on his starting XI.
Petkovic believes his real issue is that players are not being clinical enough in front of goal, but he will certainly need more invention considering Xherdan Shaqiri remains out, considering Ireland's defence is the one real aspect of McCarthy's new reign that is performing at a high level.
If Petkovic believes that his problems only come in attack and that his defence are fine, then Ireland may have a chance exploiting the space in behind the back three who can prove most careless at times.
Yann Sommer will be the last line of defence for the home side and the Borussia Mönchengladbach stopper was also in attendance at the pre-match press conference.
"We have to keep our heads up," said the keeper, implying that things may be a bit tense inside the camp following the defeat in Denmark.
"We knew that qualification was going to be tough, but at the moment we have a solid team.
"I think we will be okay."
Compared to the confidence that the Swiss brought to Dublin last month and the way that they started the match with eight men driving the side forward from the opening exchanges, if "okay" is how they are currently calling it, it makes for an interesting evening should they start slowly.
A draw in tonight's game is not much use to the Irish, however, it would probably mean that Denmark will have already qualified before they come to Dublin in November, on the assumption that they beat Gibraltar.
For the Swiss, a point against Ireland means that qualification is essentially out of their own hands as they will have to rely on Ireland dropping points with Denmark, while also beating Georgia in their final game.
Little things that McCarthy can use to help put the pressure on the home side, however, a solid start is what will really aid Ireland in the compact and atmospheric Geneva stadium.
It is no surprise that the Swiss chose this venue for their home match with Ireland, knowing that they may need their crowd to really get behind them in what will be akin to a footballing war tonight.
The arena has a 27,000 capacity and while the home side should use it to their advantage, should Switzerland start slowly, the decibel level from the Ireland away end, which will contain 3,100 travelling fans, will become a lot more audible.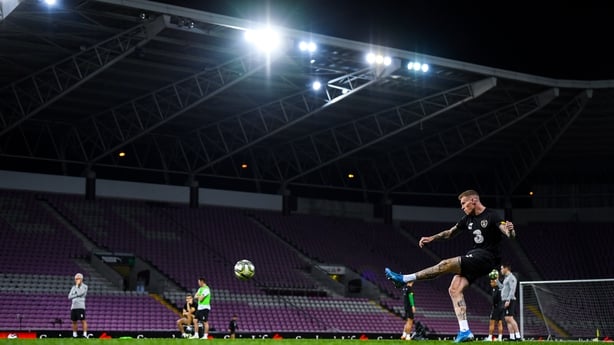 Remarkably, the stadium is not yet sold out and the fact that there are a few thousand tickets available on the day of the game shows, perhaps, a touch of ennui here in the French speaking part of the country.
And McCarthy really needs to give the travelling contingent something to shout about – the Irish in Tbilisi were remarkably enthusiastic despite being fed some amount of foul-tasting fodder from the 90 minutes of action on Saturday.
The stadium here minds of the Cardiff City Stadium, and the away fans made their impact that night Ireland went to Wales looking for a win, and reaped the benefits on the pitch thanks to James McClean's super strike and Shane Duffy's incredible performance at the heart of the defence.
Ireland will need to draw on such nights, or others from recent years like beating Italy in Lille or Austria in Vienna, and while those games came under the previous management team, plenty of players can summon similar emotion to bring to this fixture.
McCarthy had big nights throughout his previous regime, however, the manager has yet to have a proper result to define this campaign.
And like the Swiss, McCarthy has to lift his side following Saturday's disappointment.
Evidently, that point gained in Tbilisi could yet prove vital, however, the performance of his team when in possession is a cause for concern.
If the Swiss play any way as good as they did in Dublin, then Ireland's ability to hold onto the ball could prove pivotal in this encounter.
Granted they have one of the stingiest defences in European football and Shane Duffy will, no doubt, command that centre of defence with real authority, but sustained pressure would surely see the line breached at least once.
The manager spoke after the last game about needing to circle the wagons to thwart that potent Swiss attack, however, the game has now taken on a different dimension due to recent results.
McCarthy will have to go for the victory at some stage, and while that probably means he will still keep things tight to attempt to remain in the contest, he will also have to show more imagination and trust his side to attack.
The manager will certainly make changes to the team and is likely to play around with his formation to see a stronger midfield working as a decent defensive unit in this game – the three in midfield lacked any sort of cohesion in Tbilisi.
As a result, he will probably opt for two lines of four to help stifle the Swiss, which means that James McClean may be asked to tuck in a bit from the left, while Hendrick may again take a similar role on the right.
Two combative central midfielders will be needed and while McCarthy admitted that he would need legs and energy in the side, he hinted that Glenn Whelan may start once again.
Should that be the case, he will have to decide whether he can trust Conor Hourihane again following an out-of-sync showing on Saturday, or will he ask Alan Browne to do a job in the middle of the park.
Set-piece delivery will still be key so expect Hourihane to hold onto his place, but Browne will surely have some part to play, and could even start if the aforementioned Whelan is showing any lethargy in training following Saturday's endeavours.
Matt Doherty did not do too much wrong on Saturday, yet the Wolves man did not overly impress pushing forward, which should see a return of Enda Stevens to the side to give a natural balance on the left, especially if McClean is playing less as an out-and-out winger.
Aaron Connolly is primed to start this one and the manager needs to work out how to best employ him in that forward role.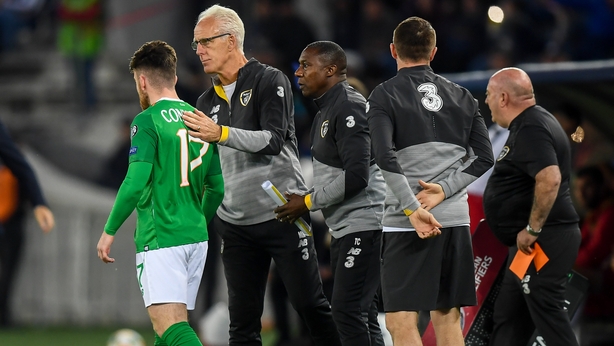 The striker is most effective working the left channel and cutting inside, while he has a touch of the menace about his game, which should serve him well at this level – more of a young Wayne Rooney than Robbie Keane at this juncture, either most welcome to the Ireland set-up, of course.
Ireland's attacks will mostly rely on pace bursting quickly out of their own half, and for this reason, there may not be too much need for a big man occupying the centre-halves.
Callum Robinson may also be asked to push up front or act as a link between midfield and attack, and the busy nature of his game may also upset.
In theory, what Ireland really need in that space is a playmaker who will demand the ball, hold onto the ball, pass the ball and allow Ireland to build their attack instead of always relying on Connolly's pace.
Yet for all the talk of trust in his players, McCarthy does not appear to offer that same level to players like Alan Judge or even Jack Byrne who have both proved effective in recent games.
"I would love the score to be 0-0 or 1-1 heading into the final 20 minutes, then we could have a real go," said McCarthy.
And should that be the case, the manager would probably call on a "Judgey" to start opening doors as Ireland push for a late winner.
But there are a lot of ifs and buts to get through in the opening 70 minutes, which will decide if the manager actually gets to call on such luxuries.
Follow Switzerland v Republic of Ireland via our live blog on RTÉ.ie and the News Now app, watch live on RTÉ2 and the RTÉ Player from 7pm or listen to full commentary on RTÉ 2fm