Mick McCarthy has kept faith in the same formation and preached about continuity throughout the campaign, but there is a sense that something needs to change to pull off an away win in Geneva on Tuesday night.
The manager appears to favour a 4-3-3 system and has employed it in all the qualifiers, apart from the two games against Gibraltar, leading up to this visit to Switzerland.
It has brought with it plenty of success and enough to please the manager to be in a position knowing that one win out of the final two games will see his side qualify for next year's tournament.
But thinking back to the game against Switzerland in Dublin, where Ireland were getting overrun in the midfield, the manager made an adjustment in the middle of the park, bringing on Alan Judge after 58 minutes.
After that match, McCarthy spoke about the need to "circle the wagons" for the away fixture, and again may need to load up the midfield to prevent the home side dominating through that area, with the centre-halves also joining in the attack in Dublin.
Should that be the case, the manager may opt for a 4-4-2 formation against the Swiss and sacrifice one of the front three.
But first and foremost, McCarthy's sides are built on strong defences, which is why he placed so much importance on the return of Shane Duffy, and naturally the Brighton defender was one of the shining lights on a tough night in Tbilisi.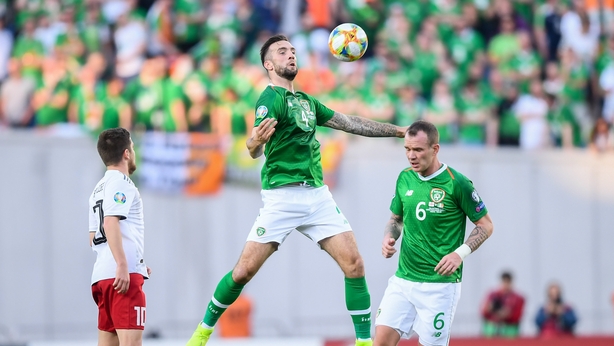 At today's press conference at the Stade de Geneve, a local journalist appeared amazed at the fact that Ireland have only conceded two goals throughout the campaign and asked the manager how was that possible.
"I have good defenders, that's a good start," said McCarthy.
"We also have good characters in the team who want to work hard for the team.
"When you get someone like Shane Duffy, who has been injured for 10 days, coming back and wanting to play and then play like he did.
"And then John Egan came in. He has played against Bulgaria but has had to sit out as Richard Keogh and big Duffer have been so good.
"So we are a good all round and well organised team and are willing to defend as a team."
McCarthy was quick to speak about the quality of the Swiss side and he believes that they are the best team in the group, having also watched them play Denmark twice.
But the manager also appears to relish the chance to send his side out to compete against the group's top seeds as he believes that his team tends to play better against the best.
"I can't think for one minute imagine how anyone could think that we're just going to come here and go all guns blazing and take them.
"Because they are a very good side. They just dominated Denmark, all over them they were."
"If you look at the way we've played, yes, we've played better against Denmark and against Switzerland."
McCarthy expects another energetic performance from his side and he feels that it is an essential aspect going into a game where counter-attacking may prove the best option of creating chances.
"That's been important all the way through the tournament so far," said McCarthy when asked about the need for pace and energy in his side.
"It's probably what's got us our clean sheets because we've been able to press teams, close them down."
All of this, of course, leads to the fact that Aaron Connolly looks set to make his first start for Ireland, playing in a two-man attack just like he did at club level when he scored twice against Tottenham last week, hoping to exploit the space in behind the high Swiss line.
McCarthy would then have to decide whether to play James Collins alongside the youngster or to have Callum Robinson in a central role to add more pace on the counter-attack.
"I wouldn't want [Connolly] to be isolated up there, that's for sure.
"They play three at the back and I think putting Aaron into that, if I decided to do it, putting him up on his own would be a big ask, I think, on his first full start."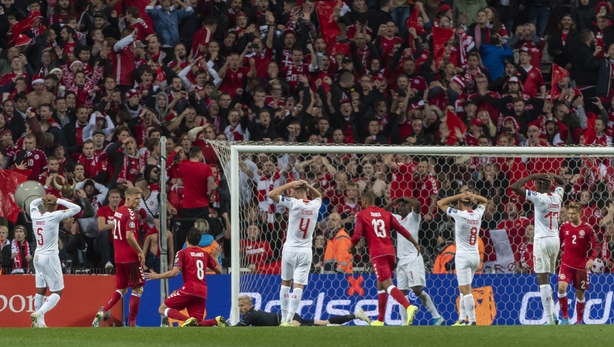 Speaking of big asks, securing the win in Geneva would truly be an exceptional result, and while form might dictate that it is just beyond this side, the manager appears quietly confident that things might just go Ireland's way in this one.
Cryptically perhaps, the manager speaks of being happy with a draw, but the subtext to that would imply that he knows if his side come away with a point, it will have been a very creditable result, irrespective of Euro qualification.
"The upside of it is a draw in Switzerland against Switzerland, who have qualified for how many tournaments over the last 20 years?
"I wonder is there some thought process that I'm being negative in thinking a draw in Switzerland would be a good result.
"We'd like to do it here, we've never done it with a game in hand.
"It's still a big game for us, we want to play well in it and get something for it."
Follow Switzerland v Republic of Ireland via our live blog on RTÉ.ie and the News Now app, watch live on RTÉ2 and the RTÉ Player from 7pm or listen to full commentary on RTÉ 2fm