Switzerland manager Vladimir Petkovic believes that Ireland will play to their capacity when the two sides meet on Tuesday night at the Stade de Geneve.
Petkovic also admitted that his side must match Ireland's power as the two teams head into a cup-final scenario with Euro 2020 qualification at stake.
The match is must-win encounter for the Swiss according to the manager who knows that qualification is out of their hands if they do not beat Ireland going into their final two games of the campaign.
"Ireland always play to their capacity," said Petkovic, speaking at the pre-match press conference in Geneva.
"We know how Ireland will come towards us, so we will have to respond with more power and give our best as we always do.
"And that is what you need to qualify," added Petkovic. 
Switzerland let a three-goal slip against Denmark, let Ireland equalise late in Dublin and then lost to a late goal in Copenhagen, and despite dominating those games during the campaign, the manager admits that his side have issues to rectify.
"We did have difficulites in those games and we were not decisive enough up front, and now I need to make decisions as to what my team will be."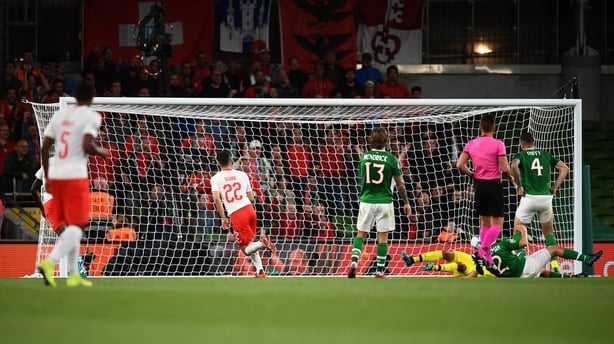 Switzerland come into the game on the back of that defeat in Copenhagen on Saturday, and the manager feels that if his side can play to their potential, combined with their fine home form, they should come out with the required result.
"We have not been beaten at home since 2014," said Petkovic.
"We have to keep up our performances and play the way we know we can play. We have an issue with late goals so we need to be more compact and avoid these situations."
And the manager explained how his side have prepared for this game with Ireland following on from such a recent defeat.
"I let everyone deal with it themselves – then we had a good training session.
"But you have to look forward now and we have a game that we have to win.
"It's like a cup final and I think we are in a good position to do that."
Petkovic was asked his opinion in relation to Peter Schmeichel's derogatory comments towards the quality of the Irish, as he reportedly told goalkeeper Yann Somer that they would win as Ireland are "so bad".
"I saw Ireland when they played in Denmark and [they] were not that bad at all," said Petkovic, who appeared humoured by the former player's comments.
Midfielder Granit Xhaka was also in attendance and was asked about the pressure his side were now under following the defeat in Denmark at the weekend.
"We always have pressure, that is nothing new," said the Arsenal man, who became a new father this week.
"We just have to win the game and that is what we are aiming to do."
"Ireland are a team that is defensively very strong, but we have to continue to create chances and somehow break through their defence."
Follow Switzerland v Republic of Ireland via our live blog on RTÉ.ie and the News Now app, watch live on RTÉ2 and the RTÉ Player from 7pm or listen to full commentary on RTÉ 2fm