VENUE
Tuesday 15 October, Stade de Geneve, Geneva, 7.45pm
TV
Live coverage on RTÉ 2 from 7pm
ONLINE
Live blog on RTÉ.ie and the RTÉ News Now App from 7pm.
RADIO
Live match commentary on 2fm as part of an extended Game On programme which begins at 6pm. John Kenny and Kenny Cunningham on commentary duties from Geneva. 
ELSEWHERE IN GROUP D
Gibraltar host Georgia in the Victoria Stadium at 7.45pm. 
Ireland need to go beyond battling draws
Ireland's stultifying but hardly unexpected 0-0 draw in Georgia combined with Switzerland's failure to win in Copenhagen means Mick McCarthy's side head into their final two qualifying games knowing that our longstanding penchant for the grim, battling draw will no longer cut the mustard. 
Barring an inconceivable slip-up from the Danes at home to Gibraltar and from the Swiss against Georgia (home) and Gibraltar (away), then Ireland will need to win one of their remaining games to break into the group's top two. 
This is rare but potentially liberating territory. Usually, Ireland's predilection for scraping 1-1 draws whenever possible has got us where we needed to go, with results elsewhere usually proving accommodating in that regard (think of Trapattoni's first two campaigns where implosions from the second seeds allowed us draw our way into playoffs).
Not so this time around, with Denmark's 1-0 win over Switzerland generally agreed as the worst possible outcome on Saturday night.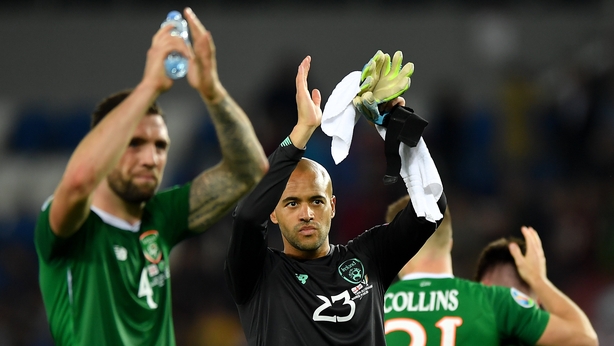 In fact, from an Irish standpoint, a Denmark win was not actually all that different from a draw in Copenhagen, with Ireland likely losing out anyway on the head-to-head on goals scored should all three teams wind up on the same points.
Indeed, it could help. If Ireland snaffle another of those famous draws in Geneva on Tuesday night, then Denmark - assuming they dispose of Gibraltar which they will do - will be safely qualified and will arrive in Dublin with nothing to play for beyond the honour of topping the group.
Ireland would probably be wise not to count on Danish help at this stage in the relationship. One senses that Eriksen and co have evolved a purist's contempt for Ireland over the last couple of years of endless slog against us.  
Looked at another way, it is an oddly exciting situation. Even in the worst case scenario - which is also an overwhelmingly likely scenario - Ireland know they will be alive with a puncher's chance in the last game. 
A win over Switzerland tomorrow night and they're qualified at the expense of the Swiss and the November game in Dublin is a celebratory affair. Even if they're hammered out the gate in Geneva, a victory over the Danes in Dublin will qualify us in second place ahead of Age Hareide's team.  
On all known form, most observers would have to conclude that this task will prove beyond Ireland and they will finish the group in third spot and be forced to take their chances in next spring's Nations League playoffs. 
But perhaps, just perhaps, the nature of the challenge over the next month will prompt McCarthy to discard the old template and take a few risks. 
Connolly's part
That takes us on to Aaron Connolly, of course. 
In his post-match analysis on Saturday, Kevin Doyle said "I don't think he'll start on Tuesday. Knowing Mick, and knowing the more people clamour for him to start, the more stubborn Mick will become, and won't play him."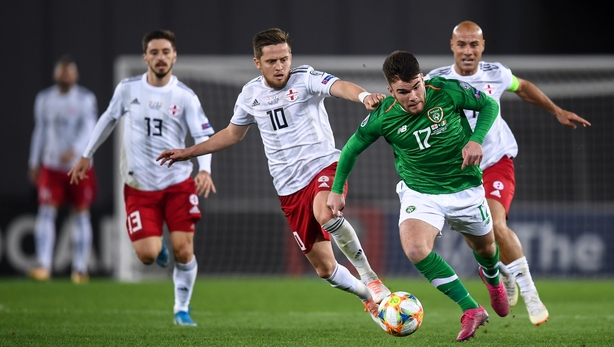 We're used to this phenomenon in Ireland. Managers often bristle at being told what to do by an excitable media and Ireland managers bristle more than most. 
Trapattoni repeatedly got the hump at being asked why he wasn't playing first Andy Reid, next James McCarthy, then James McClean, and finally Wes Hoolahan. Trap's thinking on the matter seemed to be that he had won seven Serie A's and a European Cup and wasn't going to be dictated to by a load of scribblers with dictaphones in Dublin. 
And in at least one of those cases, people are acknowledging that he may have had a point. The man who was received "like Messi or Pele" on his debut seven and a half years ago lost the ball - in a widely quoted stat - 25 times at the weekend.
Aaron Connolly appears to be on a different level. He was Player of the Season in the U23 Premier League in 2018-19, has shone for Stephen Kenny's U21 side, and destroyed the Tottenham Hotspur defence on his first Premier League start less than a fortnight ago, the most exciting display by an Irish player since the early days of Robbie Keane and Damien Duff.
In his 12 minutes on the pitch on Saturday, he emerged as comfortably Ireland's most dangerous attacker. For his first chance, he showed great feet and intelligence to put James McClean away down the right wing and was then alert enough to pounce after the poor cross was mis-controlled by the Georgian defender. For the second, his pace left the Georgian centre halves trailing in his wake but his shot was lashed into the side-netting. 
The Ireland manager did admit that he could "possibly" have introduced Connolly sooner on Saturday when asked by RTÉ Sport's Tony O'Donoghue. By the time he got in front of the newspaper men and the questions intensified, this answer had morphed into "Not really, no."
It remains to be seen whether he'll be tossed in from the start on Tuesday. The likelihood is the uber-cautious McCarthy won't start him but he possibly might be sprung earlier given that a draw is ultimately of limited value to Ireland.   
Swiss weary of late yips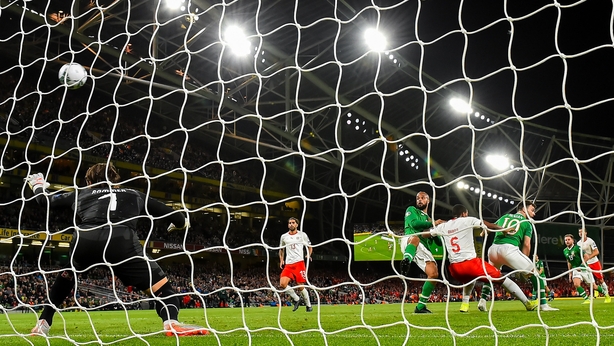 Last month, it was Shaqiri's absence which was animating the Swiss media. They seem to have come to terms with that at least and now it's their own inability to close out games which is bugging them. 
Switzerland have conceded five goals in this campaign, all of them coming after the 84th minute.
There was the shocking late implosion against the Danes at home, McGoldrick's late equaliser in Dublin and on Saturday, Yussuf Poulson stole a winner for Denmark in a game that Switzerland had largely controlled.
Top seeds at the outset, the Swiss have been easily the slickest and most impressive footballing team in the group. Danish football writer Troel Bager Thogersen told the RTÉ Soccer Podcast after the famous 3-3 game that the draw was a miracle and that Switzerland were comfortably the best team in the group. 
But their sloppiness late in games may be playing on their minds.
"Maybe towards the end of matches, there's been a lack of mental strength", manager Vladimir Petkovic admitted after the game.
Denmark's truculent manager Age Hareide, who wasn't shy of laying the boot into Martin O'Neill after the 5-1 game in 2017, was characteristically blunt about the opposition's failings afterwards and gave Ireland a bit of hope ahead of Tuesday.
"We knew the Swiss break in the end because that always happens to them. I told my team at half-time to keep our defence strong as we'll eventually get the chance to score. In modern football, teams must last the whole distance.
"Conceding those late goals can become a psychological problem. It seems to be playing on their minds. If teams keep conceding late goals, they cannot get it out of their heads."
Journalists whinging (again)
It's arguable whether you, aka the reading public, need to know this but the last day or so has been rich in complaints from the Irish soccer press corps about the steep increase in prices they've experienced since travelling from Georgia over to the land of the Swiss.  
By all accounts, what you'd pay for a T-Bone steak in Tbilisi wouldn't get you a Big Mac in Geneva but no doubt the public's sympathy on this matter is limited. 
Verdict: 
With David McGoldrick still out and the Swiss needing a win rather urgently in their own heads, chances are Ireland may run out of luck on Tuesday. Given Switzerland's frailty, they may sneak a late goal but scraping a point here looks beyond them. 
Switzerland 2-1 Ireland 
Follow Switzerland v Republic of Ireland via our live blog on RTÉ.ie and the News Now app, watch live on RTÉ2 and the RTÉ Player from 7pm or listen to full commentary on RTÉ 2fm