Ireland were handed a timely reality check in Tbilisi as they drew 0-0 with Georgia on Saturday.
Mick McCarthy's side laboured in the eastern European sunshine against their Group D opponents and had to settle for an away point against the ball-playing Georgians.
Ireland have effectively led the group since their opening game, but the result in Copenhagen on Saturday, where Denmark beat Switzerland 1-0, means that the Danes are level on points with the Irish, with Gibraltar to play next.
Three of Ireland's first four games were deemed winnable and as a result of two victories over Gibraltar and beating Georgia at home, McCarthy's men took a commanding lead in the table thanks also to a draw in Copenhagen, while Switzerland missed a round of games due to their participation in the UEFA Nations League finals.
In effect, Ireland's lofty position has been a false one, and now with two matches left, the table looks a lot more true to form.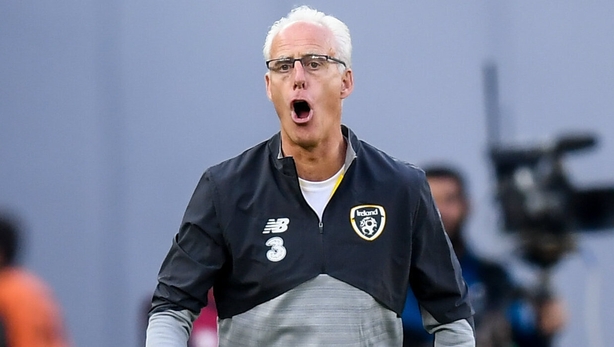 Like Ireland, the Danes drew in Georgia, but they have now put themselves in pole position thanks to a hard-fought win against the Swiss.
A draw between Ireland and Switzerland on Tuesday coupled with a win against Gibraltar next month could see Denmark through before they arrive in Dublin for the final group game.
Ireland began the day three points ahead at the top of their group and could have moved further clear ahead of the meeting of the two top seeds.
But things would not go to plan in Tbilisi.
There had been an air of confidence around the Ireland camp ahead of the trip to Georgia, and while no one was predicting an easy three points in the capital city, history had been kind to the Irish in this fixture.
A real sense of apathy pervaded about the Boris Paichadze Dinamo Arena as the game got underway with the stadium less than half full for Georgia's final home game of the campaign.
Those that did show, like their Irish counterparts, were probably expecting Vladimir Weiss' side to play the more attractive football, before the scrappy visitors would snatch all three points from a set-piece or similar scenario.
When John Egan's early header hit the post, perhaps the Georgian fans believed that it would be their day.
Yet still they watched on barely audible, with all the noise coming from the travelling contingent of green behind the goal that Ireland defended in the first half.
Midway through the second half and there was still no sign of Georgia weakening.
In fact, they were dominating, and running the disorganised Irish midfield ragged, sitting in and they exploding forward when Ireland invariably gave the ball away.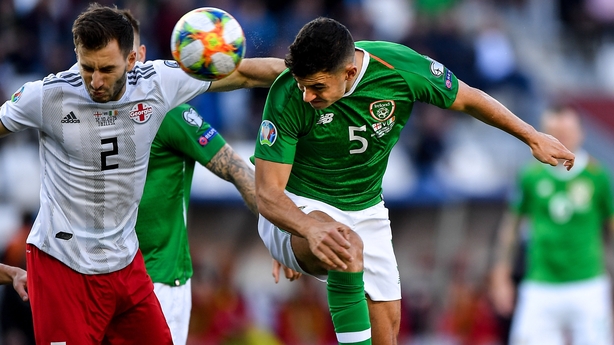 The crowd suddenly woke up and pushed their team on, sensing that they were finally about to get that historic victory against the Irish, having come so close two years ago at the same venue.
Mick McCarthy also sensed it, and instead of plotting for another late, late show, the manager had to sort his side out and make sure that they were not beaten.
Alan Browne made a difference when he came on. Jeff Hendrick looked more composed and assured when drifting in from the right, while the back four ensured that Georgia never looked like scoring.
Eventually, the manager felt confident enough to introduce Aaron Connolly into the mix; a pacey outlet to relieve pressure on his side, if nothing else.
But of course, Connolly made an impact, and soon Ireland started to look for all three points.
Suddenly, with the game just moments from finishing, a hopeful Glenn Whelan ball over the top sent Connolly goalwards.
The Galway teenager raced clear of the retreating defence and took the ball in his stride. No time to think, the Brighton striker put his head down and his foot through it, the ball still bobbling as he readied himself.
There would be no fairytale start to Connolly's international career, and had it flown into the back of the net - it eventually crashed into the side-netting - the goal and the win would have papered over the cracks once again of a poor Ireland performance.
Ireland have yet to put in a really big showing throughout this campaign and were quite fortuitous to sneak a point in Denmark and again at home to Switzerland.
Even the 1-0 away in Gibraltar could be placed in the 'lucky win' column, while the only decent outing was the home tie against Georgia – a solitary goal would decide that one.
Ireland's fixture schedule was geared towards keeping the team in contention going into the final games, and with a new manager in charge with no friendly games to ease into the job, it has proved a clever ploy allowing McCarthy a little time to build his side.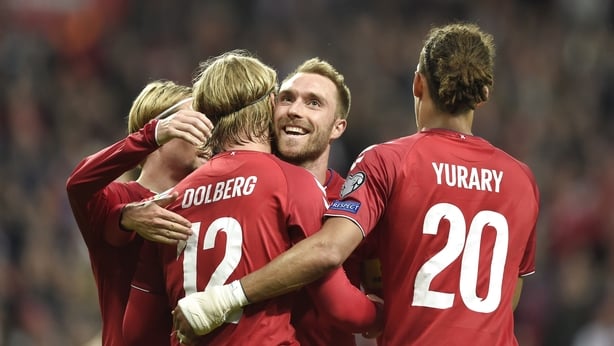 Asking the manager would he take a point here or there ahead of the big games has become a theme throughout the campaign, and McCarthy played along, stating that he would not get on the plane to Denmark if offered a draw.
So continuing in the same vein, would the manager have taken his current position at the start of this tricky campaign?
You would have to imagine that once McCarthy gets over the poor performance in Tbilisi – and he admitted he was disappointed with his players' use of the ball – then he will take a look at what is left, and fancy his chances of getting that one big result out of the final two.
The only real worry ahead of last Saturday's Group D fixtures was that Ireland would lose and face a real uphill battle to qualify, but that point can now be considered one gained when assessing the lay of the land.
The new reality is that if Ireland beat Switzerland or Denmark they will qualify for next summer's Euros.
And if they cannot beat either, then they will have gone through the whole campaign with only one victory of note, beating Georgia, and can have no complaints about missing out on the summer showpiece.
Meanwhile, UEFA has put a clever, if currently misleading, widget on their website allowing you to predict whether your country will qualify for the Nations League play-offs in March and who they will face.
That particular back-stop remains a real option should results go against Ireland in the next few weeks, however, manager McCarthy will surely be looking to broker a deal to prevent a hard exit from Group D.
Follow Switzerland v Republic of Ireland via our live blog on RTÉ.ie and the News Now app, watch live on RTÉ2 and the RTÉ Player from 7pm or listen to full commentary on RTÉ 2fm