Ireland will finish their Euro 2020 qualifying schedule against fellow challengers Switzerland and Denmark, yet it is today's fixture against Georgia that may define their campaign.
Three different scenarios await Ireland in relation to the result at the Dinamo Stadium, all depending on whether Ireland win, draw, or, the unthinkable, lose this qualifying clash.
Victory would hand Ireland two real shots at qualification, knowing that a win against Switzerland or possibly a draw in their final home game against Denmark would see them through to their third consecutive European championships.
A draw should keep Ireland in the mix, but it would mean Mick McCarthy's side would need some big results in the final two games, depending on results elsewhere, most notably in Copenhagen on Saturday as the Danes face Switzerland.
A defeat really cannot be contemplated at this juncture, with the Switzerland game so close, confidence levels would be hit and put Ireland in danger of having nothing to play for in the final game.
All these permutations!
Which is why it made complete sense for McCarthy to dodge such questions ahead of the game in Georgia.
"The group will look after itself," said McCarthy, who is only looking at this fixture first before contemplating the game in Geneva, the meeting of the big two in Denmark, or the visit of the Danes to Dublin next month.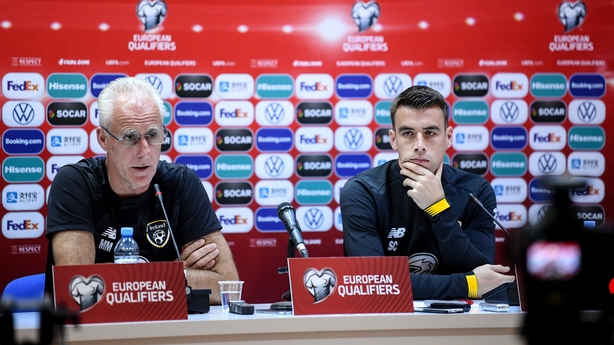 The Georgian coach Vladimir Weiss narrowed it all down to one big dance-off, as he spoke of the Irish team playing the way Michael Flatley dances, before adding that the Georgians could hold there own in that particular department.
Saturday night fever, perhaps, at the Tbilisi venue, but whatever about the game itself, these two teams have certainly danced this dance before.
On five separate occasions over the past five years as it happens; Georgia playing possession football, Ireland performing with passion and invariably coming out on top.
Four out of five wins for the Irish, yet that damning draw in Tbilisi last time out is a valuable reminder of how things might start out right but go completely awry.
Georgia should have beaten Ireland the last time the two sides met at this venue as the home side played their way back into the game following an early goal from Shane Duffy, as Martin O'Neill's side panicked and barely held on for the point.
Georgia will take heart from that particular performance coupled with the excellent outing against Denmark last month, where they secured a scoreless draw.
For Ireland, McCarthy's side will need to play with the same belief that saw them dominate in the first meeting of these sides in Dublin back in March.
That attack-minded performance showed that Ireland are a superior side when playing to their potential, and while a similar showing in Tbilisi would help with maintain momentum for Tuesday's outing in Geneva, the result really is key at this stage of proceedings.
But what to expect in the autumnal sunshine, 5,000-odd kilometres from home?
The manager is very aware of possible speed-bumps, playing against a side with nothing to gain, yet nothing to lose, and one that believes that they are overdue a victory over the Irish.
A quick start is key for McCarthy, and should they replicate the previous outing and score first, expect Ireland to keep the foot on the pedal and attempt to kill the game as a contest.
Tradition would dictate, however, that it will be far from plain sailing for Ireland.
The home side are expected to be more-or-less unchanged from the side that caused Denmark real problems, and their attacking four will be pushed on by two holding midfielders and a defence that are far more effective going forward than embedded deep in their own half.
McCarthy will know all about that attacking threat and expect Ireland to really press the ball once out of possession.
However, the manager will also have done his homework when it comes to putting pressure on this Georgian defence, which looks very shaky when the ball is played in behind – expect Ireland to go direct at times to put the home side on the back foot.
Pace on the flanks and an aerial expectation in the middle should keep Georgia pegged back, and it hands McCarthy the opportunity to throw James Collins into the attack to cause consternation amongst the central duo.
Getting numbers into the box remains a key attacking strategy for McCarthy and should Collins hold the ball up well and occupy the middle of defence, it will allow the likes of Conor Hourihane, Jeff Hendrick, Callum Robinson and James McClean the chance to exploit the space.
The onus will also be on full-backs Seamus Coleman and most likely, Matt Doherty, to maintain that pressure and to keep their respective colleagues high up the pitch.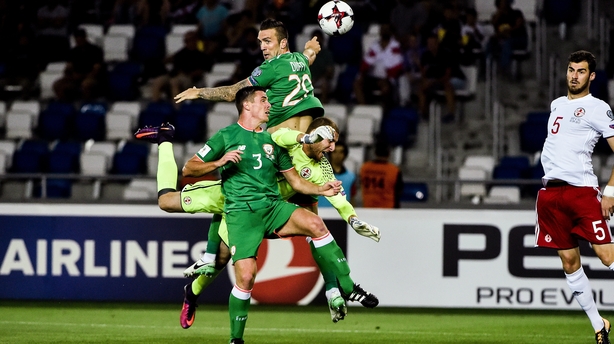 Ireland's front-foot strategy may not always lead to a fine footballing display, yet it should certainly allow McCarthy's side to employ an effective set-piece strategy to put pressure on the Georgian goal.
Shane Duffy's return already has the home side fearful of what to expect, and as long as Hourihane's eye is in, the big Brighton man should prove a thorn in the home team's side once more.
Georgia, to their credit, really do stick to their principles of playing the game the way it should be played, and they will surely throw in the odd scare or two, playing their way into the Ireland final third.
However, the home side have yet to find a really potent threat up front and often resort to speculative shots from distance instead of trusting their tactics and playing their way in on goal.
Goals are not one of Ireland's strong points either, and McCarthy's side have only managed six goals in five games in this campaign, and when you take into account that two of those games were against Gibraltar, it shows that Ireland need someone to step up in the final third.
Players running from midfield were supposed to chip in with the tally under McCarthy's way of playing, and while Hourihane scored a free-kick against Georgia, and Hendrick grabbed the vital goal away in Gibraltar, more is expected of the pair in front of goal.
But there are potential goals in this Ireland squad with teenage sensation Aaron Connolly, Sean Maguire, Collins and Scott Hogan all scoring at club level.
The manager must be tempted to roll the dice and start Connolly in Tbilisi, but he may just hold back on that if he thinks that there would be too much pressure on the Galway youngster.
Connolly himself, no doubt, will be chomping at the bit to get a slice of this international action and you might imagine that the fearlessness of youth could see him make a real impact.
The manager hinted that the young striker would have a part to play in this one, but McCarthy would probably like to be sending him on for the final ten minutes with the points in the bag.
But history has a habit of repeating itself, and a lot more may be asked of Connolly a lot sooner than McCarthy would prefer.
Follow Georgia v Republic of Ireland via our live blog on RTÉ.ie and the News Now app, watch live on RTÉ2 from 1.45pm or listen to full commentary on RTÉ Radio 1 from 1.50pm.