A campaign built on trust continues for Mick McCarthy's Republic of Ireland side as they take on Georgia at the Boris Paichadze Dinamo Arena on Saturday.
Match-day six of an eight-game sprint in a bid to qualify for Euro 2020, and while the manager had little time to prepare on the pitch ahead of the campaign, the returning McCarthy was quick to build a side in his own image for the task in hand.
Remarkably, a first-choice starting XI was all-but assembled within the first couple of games of the campaign, and the fixture schedule certainly helped the manager to get off on the right foot.
A scrappy victory in what was a wobbly and very windy start to the campaign in Gibraltar as Ireland sneaked a 1-0 win, followed, a few days later, by a much more comprehensive win against Georgia at the Aviva Stadium.
Two more games at the end of the club season in June and already McCarthy's side was picking itself, fitness pending, of course.
The spine of the team had been decided, with Darren Randolph, Shane Duffy, Richard Keogh, the returning Glenn Whelan, Conor Hourihane, Jeff Hendrick, and not forgetting the gaffer's old pal David "Didzy" McGoldrick to lead the line.
Seamus Coleman's position at right back was never in doubt, in the manager's eyes anyway, while Enda Stevens' form at club level offered him a chance, which he took with both hands.
James McClean would become an immovable object on the left flank, while Robbie Brady's injury made it an easy and obvious choice to hand that attacking berth on the right to Callum Robinson.
That eleven started against Switzerland and following a well-earned, if perhaps undeserved draw, Ireland looked in great shape heading into the final stretch of the campaign.
Then it all started to unravel.
Out of the manager's hands, Duffy and McGoldrick picked up injuries and Keogh was involved in a drink-driving-related car accident and has consequently removed himself from the equation as he faces a year on the sidelines.
Add Enda Stevens' suspension into the equation and the manager was left scratching his head ahead of a vital week for Irish football.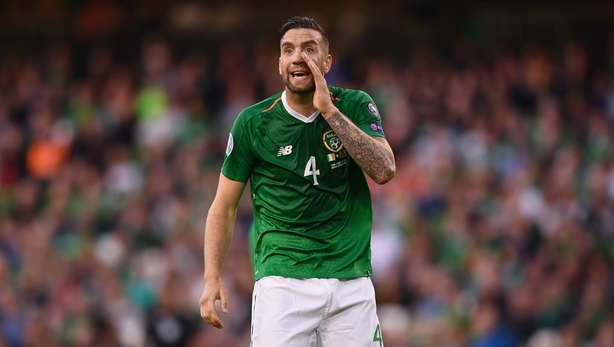 But there was optimism. The manager clung to it, and while he did not name Duffy in his squad, McCarthy gave the impression that "Big Shane" would be on the plane.
Duffy arrived in Dublin in time to board the flight to Tbilisi on Thursday and you got the impression that nothing has pleased the manager as much throughout the short stint that he has been back in charge.
Trust and loyalty reciprocated as Duffy proved his fitness for this big match in Georgia, and the manager could not hide his joy about having his main man back in ahead of the game.
"He has been outstanding," said McCarthy at the pre-match press conference when asked for an update on Duffy.
"I'd be bonkers not to play him," added the manager, who confirmed that Duffy would start on Saturday.
McCarthy still has gaps to fill, of course, and again he spoke about the trust that he has in his players ahead of the game.
The manager must decide on his attacking options and while much talk has been made about Aaron Connolly this week, McCarthy was quick to talk up other players in contention, most notably James Collins who is relatively inexperienced at international level having only played half an hour in a friendly with Bulgaria.
"He looks every bit the international player with us, and there is no point having him in the squad if I didn't [believe in him]," said McCarthy when asked whether he would be fearful of starting Collins.
McCarthy proceeded to give an insight into why the players appear to have a real desire to play for the charismatic former captain, and while he was speaking about Collins, he could have been speaking about any one of his travelling contingent.
"Why would I not [be fearful of starting Collins]?" pondered McCarthy.
"We have to try to keep the ball because it might be 25 degrees and it will have an effect, because the lads have gone back to playing in 10 degrees."
"Because I trust the players when they come in. I trust them for what they do. I trust them how they come in and train."
"He is as mentally strong as any of the others that I would put in up front. He has been around a long time. Coming from Aston Villa and then going out to Shrewsbury and Scotland, and he has scored wherever he has been.
"And I think for him to get into the squad now, shows a huge amount of dedication, hard work and mental strength to keep going and get his cap and get his goal. So it has been brilliant for him."
Looking ahead to the match, McCarthy spoke about the difficulties that his side will face against Georgia, and with the temperature expected to be in the mid twenties, the manager believes the best way to deal with the conditions will be to hold onto the ball.
"It will depend on how much we allow them to have possession and how much possession we have and what we do with it," said McCarthy.
"But they are a very possession-based, technical team. They always try to get on the ball. Try to dominate you with that, force you back and keep you pegged in your own half.
"We have to try to keep the ball because it might be 25 degrees and it will have an effect, because the lads have gone back to playing in 10 degrees."
"How about having the ball, and having a breather with the ball, and passing it and keeping hold of it," added the manager, when asked if his side would have to sit back at some stages due to the heat.
"They are good in possession and if they get good possession, they will make us work.
"But we will be playing the same way and we are not changing."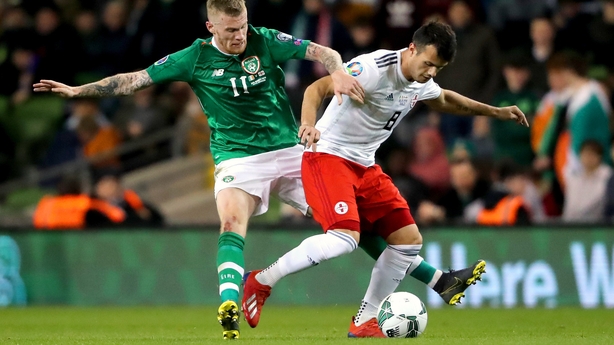 And McCarthy wants to see his side start on the front foot, which he believes is the ideal way to start any game, whether against a qualifying challenger, or a team like Georgia who are out of contention of making it out of Group D.
"A quick positive start is the best way to start a football match against any team.
"If they have no chance of qualifying, they can be more relaxed, and because we have a chance, it puts the pressure on us.
"Will they be more relaxed? Will they be blasé against us? I don't think so. On their home soil, and with the [UEFA Nations League] play-offs to look forward to, they will be looking for a good result to get the momentum going."
Potential debutant Connolly's name was, of course, mentioned more than once throughout the pre-match press conference, and the manager tried to play down the potential of the Galway teenager when told that Richard Dunne had compared him to a young Robbie Keane.
"I'll wait for a few games to see how well he does before I start comparing him to Robbie Keane in any shape or form," said the manager.
"Let's just let him make his debut when he does, let's see how he does."
"I'd love to be comparing him to Robbie at some stage, but I'm not going to start that now."
 
Follow Georgia v Republic of Ireland via our live blog on RTÉ.ie and the News Now app, watch live on RTÉ2 from 1.45pm or listen to full commentary on RTÉ Radio 1 from 1.50pm.