While one Galway footballer was catching the nation's attention in spectacular style last weekend, another was continuing to go about his business in a quiet, but arguably equally impressive manner.
On Saturday afternoon, Ryan Manning's QPR side picked up a comfortable 4-2 win over Blackburn Rovers, with the former Galway United player notching yet another assist. 
Playing again in his new position at left back, Manning's form has probably gone under the radar of most Irish football fans. But earlier this week, his club decided it was high time to draw some much warranted attention to their stand out performer.
🧐 @ryanmanning4 for #QPR in the @SkyBetChamp so far this season.

Most assists ✅
Most chances created ✅
Most crosses ✅
Most fouls won ✅
Most possession won ✅
Most tackles ✅
Most touches ✅

📊 @JTSupple pic.twitter.com/0paBMGKaoD

— Queens Park Rangers FC (@QPR) October 8, 2019
Impressive numbers. But what does the man himself attribute his rich vein of form to?
"I think it just comes from getting a consistent run of games. I finished up last season playing five or six on the spin so I've come in at the start of pre-season hoping to build on that."
"I've always tried to train well and apply myself so that I'm ready when an opportunity comes to play regularly. When it happens then your confidence grows and my confidence is sky high at the minute."
As a player more noted for his attacking qualities, his new role has come as something of a surprise but he's been more than happy to embrace it.
"When you're playing well and you're in good form then it's easy to enjoy a new position."
"If you'd asked me last year if I was a left back I'd have said 'no way'. At that time I was playing as a central attacker for the Irish 21s, trying to make runs in behind the Kosovo defence!"
"But I played a few games at left back at the end of last season and that gave me a little taster for it. The new manager (Mark Warburton) came in and told me early on that he saw me potentially continuing on there so I used the six weeks of pre-season to try to nail down the nitty gritty of the position, things like positional sense."
Warburton has been keen to implement an attacking style of play and this has worked to Manning's benefit.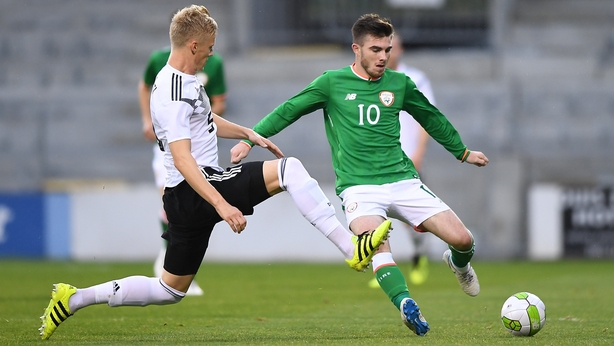 "We are using a very offensive system. I'm given a lot of freedom to try and get forward and influence the game in the final third and that suits my style of play"
Currently sitting a point away from the play-off positions and just three off top spot, Manning is confident his side can mount a promotion challenge, while also conscience of the fickle nature of the division he is in.
"From the outset, I think people from outside of the club were tipping us to be involved in a relegation battle. But we would always have had higher hopes than that." 
"Mark had a similar situation before when managing at Brentford. They were expected to go down but he got them into the play-offs. He's confident that he can do that again with us."
"The Championship is such a competitive division though that you can have a good month or bad month and find your position in the table change significantly. I think you have to wait until Christmas time before you really get an idea of where you are in the pecking order"
Given his current form, many were surprised that the 23-year-old wasn't occupying a seat on the plane to Tbilisi this week.
With Enda Stevens suspended and Manning's close pal Greg Cunningham also ruled out through injury, Mick McCarthy still resisted the urge to turn his attention to the QPR man.
I'd happily cycle to the nearest airport to catch a plane out to them if I had to!
In keeping with his personality though, Manning is typically laid back about the whole situation.
"I've always seen international football as something that just falls into place on its own. If you're starting for your club and playing to a high standard on a regular basis then it might happen for you."
"Don't get me wrong, every footballer wants to play for their country and I'm no different but it's not something that I think about constantly. If it happens, it will happen because of my club form so that's what I concentrate on."
Manning even manages to find some positives to the situation.
"The one pro to not getting called up is that when an international break comes, it does give you a chance to have a rest, recharge the batteries and get yourself right."
"The manager has been good like that; he'll give you those four or five days off. He recognises how tough it can be playing two games a week most weeks."
Of course, if Ireland were to pick up any further suspensions or injuries in Georgia, then a phone call from Mick McCarthy could still arrive over the weekend.
"I suppose in theory it could happen. I've seen it with the Irish under age squads where a player picks up a knock in training or in a game and somebody from outside the squad gets flown in overnight."
"Look, if that happens then I'd happily cycle to the nearest airport to catch a plane out to them if I had to!"
For now though, Manning is happy just to be on the radar of the big Yorkshire man and is looking to the future.
"Mick's been to a few of our games. And I know he spoke to the manager as well so I think I'm in his thoughts."
"With there being a friendly during the November games then there might be room for him to try people out in that like he did last month when a few of the lads got debuts against Bulgaria."
"If I get a shout to be involved in that then happy days but like I said, that would be based on my form with the club so that's where my focus is."
Follow Georgia v Republic of Ireland via our live blog on RTÉ.ie and the News Now app, watch live on RTÉ2 from 1.45pm or listen to full commentary on RTÉ Radio 1 from 1.50pm.