Glenn Whelan is getting to the stage of his career where he can look back on things with a grin, even if there is a refusal to stop and think about it too much.
For example, he can recall that many of the training sessions under Giovanni Trapattoni had three basic instructions: "go there", "don't move" and "look after what is behind you".
But being put in that role, while often criticised, led to an international career that has lasted well over a decade.
Then there were the fallouts with Martin O'Neill. It got so heated on occasions that he was sent home from training, which gives a nod to the career of former assistant manager Roy Keane.
And there were disputes with the legendary Manchester United figure in the dressing-room, some of which Whelan said almost went too far. But it all came back to one thing – a desire to win.
It was in a qualifier against Georgia, the side the Irish face on Saturday, where Whelan made his mark under his first Ireland manager who was about to make him an ever-present.
"When I first came in I was taken to a training camp from nowhere really and Giovanni saw something in me," Whelan tells RTÉ Sport.
"I was the newcomer and it was all new. I was just lapping everything up.
"He stuck with me. I think it was a case of him telling me to do certain things and I did them for him. I think that is what he liked about it; having a bit of discipline, with how his teams play, and I was into it.
"It was just unfortunate at the time Steven Reid was sort of looking after me and then he got a serious injury. It went from looking up to someone to being one of the older heads in such a short space of time. It was hard but I really enjoyed it."
The goal he scored against the Georgians was fortuitous; he jokes he owes the goalkeeper "a few quid" for the favour in helping him nail down his place in the team.
But with the lack of a 'stopper', if that was the role Trapattoni wanted, it meant a change in style and all that mattered to the Clondalkin man was playing his part.
"All managers have a certain way of playing. Under Giovanni, no matter who I played alongside, if it was Keith Andrews, James McCarthy, they were the ones who had more licence to go and get goals or get in the box.
"He was the manager and that was my job. That is what I was told to do and probably why I played so many games under him.
"I think any player wants to score the goals or get into the box. I'm no different. When I was at Sheffield Wednesday I was a goalscoring midfielder. When I went to Stoke the manager there saw a different type of player in me. The manager picks the team and if I want to play in the team then I'm going to listen to him."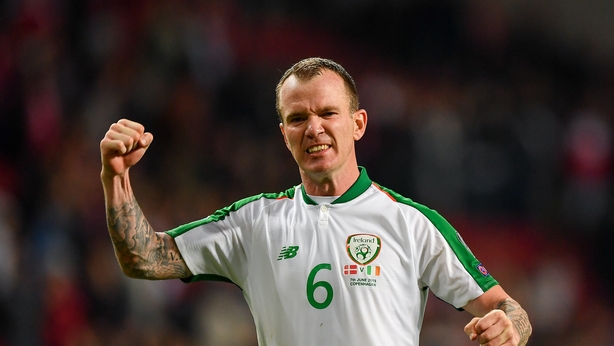 One moment in his Ireland career does not draw a grin.
The 2-1 defeat to Sweden – which was part of a failed qualification campaign and the end of the Trapattoni era – saw the blame game, which often hovered around Whelan, arrive firmly at his door.
Former RTÉ Soccer analyst Eamon Dunphy said at the time: "He's a terrible player. He can't run. He can't pass. He can't tackle. He doesn't see anything. He drives two Ferraris.
"You get paid a lot of money these days. I'm entitled to say what I think. I never thought he was a very good player. I think he is a very lucky lad to have 50 caps for Ireland."
Those words hurt Whelan's family, from his parents to wife and children, but on an individual basis he removed himself from it. Firstly, the Hearts man would refuse all media requests.
"I have rhino skin. I'll take it on the chin and get on with it. I've played 88 times for Ireland now and nobody can take that away from me."
"There are a lot of things that are thrown at you throughout your career. I was never one for throwing in the towel. Every summer at Stoke City there were new midfielders coming in and it was always a challenge and a challenge I accepted. I have always been that type of lad. Even as a child I was like that. If an obstacle got in my way, I was getting over it. It was all about me in the end.
"I was disappointed with that [night's analysis]. I stepped away from doing press because things were said where it got personal.
"I think where I was from was brought up, there are certain cars which I was supposed to be driving, which I wasn't. I kept my head down. There are people out there who will criticise me no matter how good I do.
"I have rhino skin. I'll take it on the chin and get on with it. I've played 88 times for Ireland now and nobody can take that away from me.
"What can you do? Do you sit back and accept it or knuckle down and keep at it? For me it was a case of 'I'm not going to listen to anybody'.
"'The manager wanted me to play and he keeps picking me so I must be doing something right'."
When the Trapattoni era ended, there was talk that Whelan could be phased out, but it was far from the case.
Working with O'Neill was not straightforward but he would go on to be a big part of the team. There were tense moments but the management team and the sitting midfielder had something in common. And playing under a hero in Keane made it easier.
"It got heated in the dressing-room but it was never a case of holding grudges. I want to learn from probably Ireland's greatest ever. I'd always pick his mind on something and ask him questions. I think Roy liked it too."
Successful times would come again. Whelan captained the side in the play-off win against Bosnia and Herzegovina and played the first two games of Euro 2016.
"We had a couple of run-ins where Martin was a referee in one of the games and he gave a decision and it kicked off a little bit. I think that was just me wanting to win. If you see us in training, there are some sessions that are heated and go off. That is the way you want to be. For me personally it is 'train the way you play'.
"We had a few tiffs. We had a few run-ins. He sent me home a couple of times. But for me it was forgotten about next time around. It was never an issue. The same with Roy.
"Roy was really good. He was someone I looked up to as youngster. I loved his professionalism, I loved the little things that he hated mobile phones and people being late. For me it was great. He had people on their toes. We had a couple of run-ins too.
"It got heated in the dressing-room but it was never a case of holding grudges. I wanted to learn from probably Ireland's greatest ever. I'd always pick his mind on something and ask him questions. I think Roy liked it too."
That tournament brought the careers of some of Ireland's greats to an end. A couple of players didn't get a phone call informing them of this. Shay Given said he didn't hear from anyone at the FAI to officially say goodbye. But Whelan did.
O'Neill asked him to come in for the friendly with Northern Ireland before the Nations League started.
His family were all present for what was set to be a farewell.
"Martin basically said to me that he wanted me to come captain the side. He said he was bringing younger lads in and going a different direction and I was more than happy with that. It was to get a so-called last cap before finishing.
"I accepted that and shook his hand."
But that wasn't completely closing the door and the word 'retired' was never used. And when Mick McCarthy arrived, the conversation during a phone call from the returning Ireland boss became very direct.
"I'll say it now, I'll never ever retire", Whelan emphatically puts it.
"I'll stop getting picked at some stage but I won't ever retire. It's my dream. I'm not going to give it up so easy.
"I got a phone from Mick. He asked me was I retired so I told him I would never retire. I said 'I know where I stand and I'm getting on a bit. Young lads are coming through'.
"And he said, 'but if I need you, would you be available?'. And I said of course. That was it. A few months passed, the squad was announced and I'm back in."
McCarthy told Whelan that he would not use him in the opening qualifier with Gibraltar, with a view to being fresh for Georgia.
The 'tennis ball' moment saw Whelan throw one into the crowd as part of the celebration for Conor Hourihane's goal. It was instinct.
Symbolism was rampant with confidence so low. Out with the old, yet not with all of it.
Whelan tried to lift his team-mates around that period.
The mood is somewhat better for these games – despite the cloud of uncertainty over football in Ireland – but it's a simple approach for the 35-year-old to try and inspire his colleagues.
Earlier in the week many of the Irish players sat out parts of training after the weekend matches. That is normal when managing workloads between clubs and international teams.
McCarthy asked his senior pro did he want to rest with a long camp ahead. He received another quick answer.
"I just think training every day and the standards I've set in training for myself, I like to think the other lads can see it.
"Even the manager here asked me do you want to train on a Monday? And I'm like 'of course. I train every Monday'.
"I think by doing that the lads see that whatever age I am, I'm still out training. You have the odd niggle, you still train on.
"That is the sort of the experience I try to give, because to be honest with you, the only thing come Saturday I'll really be worried about is my own performance."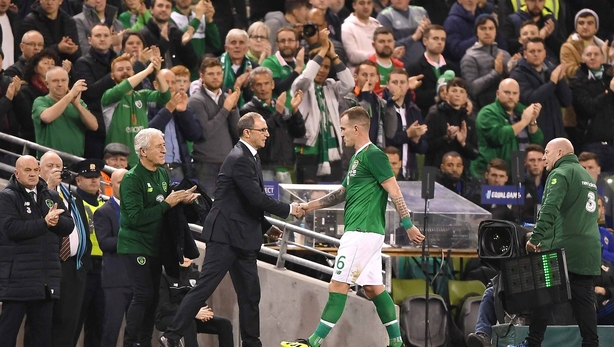 Supposedly lucky to reach 50 caps, an 89th appearance is on the cards this weekend and RTÉ Soccer correspondent Tony O'Dononghue raises the possibility of a century like that of Duff, Keane, Kilbane and others who are part of an esteemed club.
If it is to happen, Whelan is not interested in tokenism.
"It would be nice [to get 100]. But if I have a chance of getting a century, we need to qualify. For me, I'm desperate to play and to get the result.
If I have a chance of getting 100, it'll be for Euro 2020. So hopefully
"Landmarks... I don't want to get to 100 playing friendlies and getting five or 10 minutes. I want to be still involved, still competing for something. That's what I'm aiming for.
"If I have a chance of getting 100, it'll be for Euro 2020. So hopefully. It has been a dream of mine from an early age and to be still doing it now, and playing a part hopefully in achieving something, is all I want to do.
"It's something that I'll look back on when I'm finished and really appreciate that a lad from Clondalkin went on to play 'X' amount of games and did so well.
"All I ever wanted to be was a footballer and I'm still living the dream now. I'll keep going as long as I can to keep the dream alive."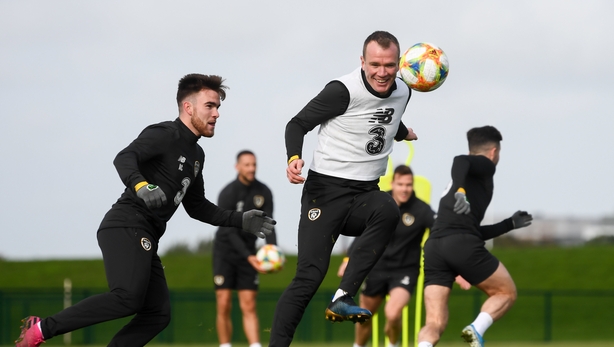 Whelan, pigeon-holed, and willing to accept it, does have one bit of advice as Aaron Connolly begins his senior international career and talk outside of the camp about the 'next Robbie Keane'.
"The young lads have got a confidence about them. He has backed that confidence up. I saw the game at the weekend, he was excellent.
Let him be Aaron and not compare him to Ireland's record goalscorer
"The only thing is, you're comparing him to Robbie again. For me, it's like, just leave him.
"Let him be Aaron and not compare him to Ireland's record goalscorer and most appearances ever. Leave him and let him be for a bit. If he's that good, hopefully we'll get the best out of him."
The best of Glenn Whelan has served Ireland well.
Glenn Whelan was speaking to RTÉ Soccer Correspondent Tony O'Donoghue as part of an interview to feature on RTÉ2 ahead of live coverage. Words by Rory Houston.
Follow Georgia v Republic of Ireland via our live blog on RTÉ.ie and the News Now app, watch live on RTÉ2 from 1.45pm or listen to full commentary on RTÉ Radio 1 from 1.50pm.