Champions League reform is vital for the stability of clubs outside of Europe's big five domestic leagues, according to the chairman of the European Club Association Andrea Agnelli.
The Juventus president favours a pyramid model which offers a greater number of group stage matches in European competition and also allows a certain number of clubs to qualify for the following season's Champions League based on continental performance, rather than via the traditional domestic route.
He cited the example of Dutch club Ajax, who despite reaching the semi-finals last season had to go through the preliminary rounds to reach the group phase.
"It's right that if you perform in the international system, you stay in the international system," he said at the Leaders Sports Business Summit in London.
"It would be great for clubs like Ajax, Celtic, (Legia) Warsaw knowing they can stay in Europe and not have to qualify via domestic system."
The pyramid proposals have been criticised by the domestic leagues, who are vehemently opposed to the idea of qualification via their competitions being reduced or the prospect of European games being played at the weekend.
"What's important is creating a system where clubs can grow within a system and not just be relegated"
Agnelli said he was open to listening to constructive feedback but did not believe the leagues had offered that as yet.
"We are not in politics - we do not have a government and an opposition, we are all on the same side," he said.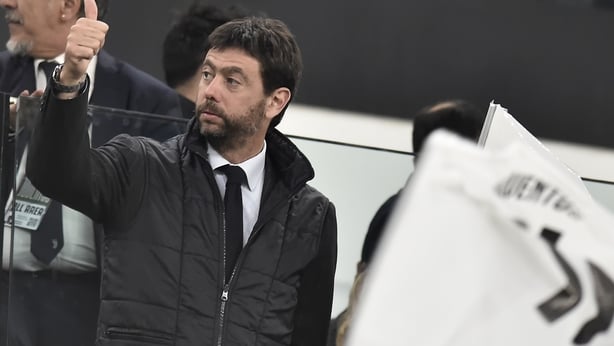 "If we don't think about a progressive system we are simply protecting a system which is no longer there.
"We are protecting a system made only of domestic games that will have little interest from our kids."
The reforms Agnelli spoke about are intended to come into play from 2024. European football's governing body UEFA is currently consulting with the ECA and European Leagues, which represents the interests of more than 30 domestic leagues across the continent.
"I think people who oppose, when they justify (it) with rational arguments any aspect of the reforms," he added.
"What's healthy is people having a positive contribution. But 'no, no, no' as an answer, which we have heard from the leagues in the past couple of months, is not really healthy.
"Whatever changes are brought won't bring much change for Real Madrid, Paris St Germain, however you play with it they will qualify.
"What's important is creating a system where clubs can grow within a system and not just be relegated."