At 12.30 on Saturday 4 October, Aaron Connolly's world changed dramatically. A first Premier league start was a dream come true. But that was just a start.
By the time the autumn sun was setting, he achieved a whole lot more. Two Premier League goals, a BT Sports man of the match award, and a place in Mick McCarthy's senior Ireland squad had all been bestowed upon him.
Fairytale stuff.
Less than 24 hours earlier, he took a call and chatted casually about life at Brighton, the Irish U21 set up, and his hopes for the future.
Hopefully it offers some insight into the personality of the young Galway man, just a day before getting his big break.
Life at Brighton
Shane Keegan: As a young player you were courted by a lot of English teams. What made you choose Brighton?
Aaron Connolly: From the first time I came over, everybody around the place was so welcoming. And then there was their training facilities. They were amazing.
I'd been at six or seven different places but I just knew that Brighton was the one. In the end it was quite an easy decision. So far it seems to be the right move.
SK: There was a good Irish vibe around the place when you arrived. John Morling, the Brighton Academy Manager, is a former Irish international underage manager?
AC: Yeah, John was a big part of the reason I came here. There was a lot of young Irish players too - Jason Molumby, Danny Mandroiu, Dessie Hutchison. They all helped me out so it was quite easy to settle in.
SK: You didn't suffer with home sickness?
AC: No, it's never really been a problem for me. I've been lucky like that. I've just been able to get on with my football. I'm living with my girlfriend at her family house, with her and her Mum. That's been a help too.
SK: You seem to have adjusted to life with the first team squad quite easily?
AC: Yeah, it's been the easiest dressing room I've ever had to settle into I'd say. Every player in there has made me feel welcome, particularly the more established lads. So it's been happy times there so far.
The new gaffer (Graham Potter) and Dan Ashworth (Technical Director) have been brilliant with me. They've told me if I keep my head down and work hard that I'll get my rewards.
So far they've been right. I got 25 minutes last weekend, 20 the week before against Newcastle, and 25 on my debut so I've been really happy with that.
SK: And how have you found it, competing with Premier League defenders?
AC: It's been good. I don't think I've been fazed by it really. There's no point in getting nervous is there? Just get on with it and get used to it as quickly as you can.
SK: You've put in some strong performances but that first goal has somehow managed to elude you so far (pre-Spurs).
AC: Honestly, I don't know how one hasn't gone in yet. It's been inches away. Cleared off the line, then hitting the woodwork. But hopefully it's coming some time soon.
SK: The fans certainly seem to have taken to you.
AC: They've have been brilliant with me. Anytime I come on they make me feel like I belong and that they want me there. With a bit of luck I'm hoping I can repay their faith in me.
Ireland ambitions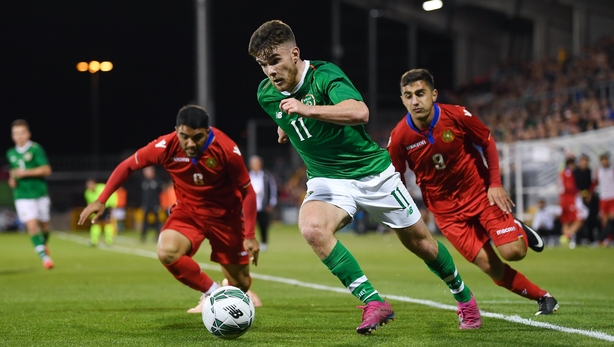 SK: There was a lot of speculation last week that you might be named in the final Ireland senior squad but it didn't happen. Were you disappointed?
AC: There was no disappointment at all to be honest. I'm happy to be with the 21s at the minute.
I'm only 19 so to be even named in the provisional squad and be considered for the full squad is great to see and hear. If I can keep trying to do well at Brighton, maybe get a few starts and try to do well then yeah, I'd hoping that Mick might bring me in.
But at the minute we've got a couple of big games coming up to try and qualify for the U21 European Championship and hopefully I can contribute towards that again. I just want to do my best for Stephen (Kenny) and the staff and help out in any way I can really. (Connolly has since been added to the Irish squad for Georgia and Switzerland).
SK: You're really enjoying the U21 set up?
AC: For me personally, they've been the best international staff that I've worked with. Stephen, Keith (Andrews), Jim Crawford and the backroom team beyond them have been fantastic.
The togetherness that they've managed to create with the group has been brilliant. I think that's shown in our performances so far and in the results we've been getting.
SK: I take it confidence is high heading into the game against Italy?
AC: I don't think we fear anybody at the minute. Italy are a big name but then so were Sweden. Everybody just assumed that Sweden and Italy would be fighting it out at the top and then it would be up to us, Armenia and Iceland to battle away below that.
But I think personally that we all feel that we can go and beat Italy. I don't think there should be any problem with believing it really. Yeah, they've got some big names but we do too.
SK: It's a squad with a serious amount of attacking talent.
AC: Yeah, there are a lot of players there battling for positions. That's a good headache for Stephen though, the kind of headache he'll want I'm sure.
But I think the rest of the lads kind of go under the radar because of all the talk about the attackers. Conor Masterson and Dara O'Shea for example.
Masterson got us that goal away in Sweden and Dara is an absolute rock. And then there's Molumby in the middle of the park. The guy never stops running. They're three big, big players for us.
The future
SK: If we were chat again in 12 months time, what would you like to have achieved?
AC: Start in the Premier League. Score in the Premier League. Establish myself as a Premier League player, a Brighton first team player.
If I can do that, then maybe I can start looking at looking to become an Irish senior player. I want to score goals for my country.