"Let he who has not sinned, cast the first stone" - Ireland manager Mick McCarthy quoting words from the Gospel according to John, when asked for a judgement on the recent Richard Keogh fiasco.
Never throw your own players under the proverbial bus, would be right up there amongst the golden rules of football management, and McCarthy was never going to stray from the script when questioned about the circumstances surrounding the Ireland centre-half's recent injury.
A car crash scenario - no metaphor needed - for the Derby County man who has been ruled out for up to 15 months following a suspected drink-driving related car crash where the club captain was a back-seat passenger and suffered horrific leg injuries.
McCarthy revealed that he has been in touch with Keogh to offer his support as he gets set to deal with a very long spell on the sidelines, and the manager said that he believes that the tough-tackling defender has the character to eventually get back playing at some stage in the future.
"I rang him to see how he was and to offer him my support, because he is great guy and he has been fabulous for me," said McCarthy, speaking at today's press conference at Aviva headquarters.
"It's a terrible injury. Two operations he has to have, so that was my support for him.
"He's the sort of guy who will [bounce back], he's a real determined character."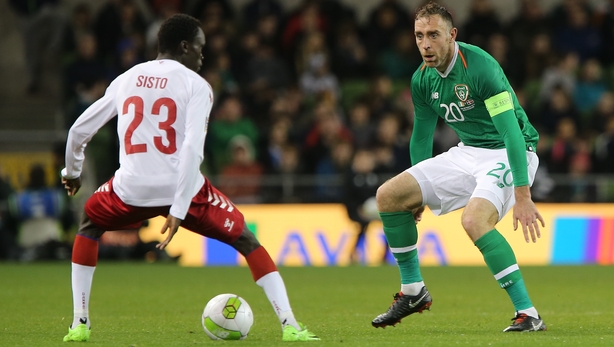 While speaking about John Egan later in the conference, McCarthy referenced Keogh's "bad luck being another man's good luck", in terms of playing in the upcoming games, but the manager was not ready to castigate the Derby man's decision-making when asked in relation to the predicament that he had put himself in.
"Let he who has not sinned, cast the first stone," said Mick McCarthy, when it was put to him that Keogh's situation was more than just a case of bad luck.
"He had been out for a drink with the lads. He is the captain of the team. I don't know. He has got in the car with him [team-mate Tom Lawrence] and he didn't expect to be in such a state at the end of that journey home.
"People make decisions and they have to live with them unfortunately.
"I'm sure the club will [take a hard line with him in relation to the incident]."
McCarthy did accept that Keogh and all footballers have a responsibility as role-models, which is why, he believes, that players are judged more harshly when such incidents occur.
"They are the rules, the rules in life.
"I read somewhere that footballers think they can do what they want. No they don't. They're just young men who go out for a drink and make decisions and make mistakes like everybody else does.
"They are role-models, and influencers, I fully except that, and that is why they get penalised far more, by the public, by the rules and by the police and everybody else when they do something wrong."
"I'm disappointed he is not playing in any of the games," said McCarthy, when further asked if he was disappointed with the player's decision to get into a vehicle that was being driven by a team-mate who was drink-driving.
"Like I said, he has done something and he has got to live with it.
"I think that sometimes, everything I read in the papers, I just look at it and read it, I'm not going to give my opinion on whether it is over the top or not."
McCarthy was also questioned on his thoughts about John Delaney parting ways with the Football Association of Ireland (FAI).
"It is no surprise, it has been pending," said McCarthy.
"I guess I have a bit of thanks to give him for giving me the job back but I'm here to talk about football and the upcoming games against Georgia and Swizerland."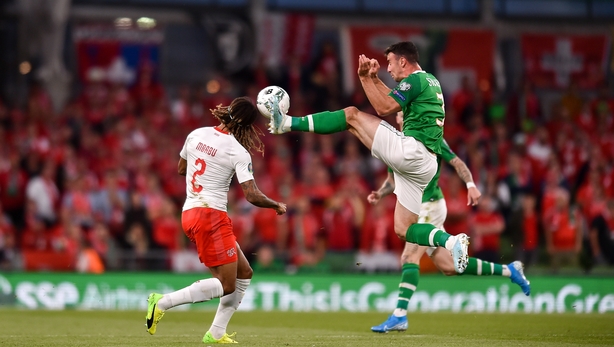 The manager did admit that he was disappointed to be planning for next week's game in Georgia, potentially missing three of his starting back four.
Keogh, of course, is ruled out until after Euro 2020, which means he is unlikely to play for Ireland again under McCarthy, while Enda Stevens is suspended for the Georgia game, and Shane Duffy was not named in the squad due to injury.
"I'm thrilled by it," joked McCarthy.
"I'm disappointed," said the manager, who has kept the door open for Duffy to play some part in the double header.
"I'm still holding out for Duffer, because I have spoke to him and [while] they said four to six weeks, he told me they didn't think it was going to be that long, so I have a bit of optimism about him.
"It is always best case scenario with players, and I like that, but until I get an absolute no from him or from the club or medics, I will retain that bit of optimism."
Ireland manager Mick McCarthy has named a 24-man squad for the @UEFAEURO Qualifiers away to Georgia and Switzerland later this month

➡️ https://t.co/WAQze6xsbe #GEOIRL #SUIIRL pic.twitter.com/jjlJk2YcJ3

— FAIreland ⚽️🇮🇪 (@FAIreland) October 1, 2019
Likewise, starting striker David McGoldrick has been left out of the 24-man squad that was announced on Tuesday morning.
But again, the manager offered an element of optimism over the player who has enjoyed a new lease of life on the international stage since McCarthy's return.
"I'm holding out that Didsy [McGoldrick] might be alright. He is another one that I have a bit of optimism about, until I get a categoric no.
"We don't play for two weeks against Switzerland so that is my reason for optimism. I'm told that David will be out on the grass this week, so being fit is another matter.
"But both of those [players] I am far more optimistic than when they got injured."