Richie Sadlier insists that the FAI must reveal the full details of John Delaney's exit package from the organisation if they are to restore their credibility.
Numbers as high as €500,000 have been mentioned as the figure given to the former CEO as he finally departed his position as Executive Vice President, but officials in Abbotstown have been remaining tight-lipped.
"I think no one is surprised by this news," said RTÉ soccer analyst Sadlier, speaking on 2fm's Game On. "It was inevitable and it was a case of how would it be managed and when would it happen.
We need your consent to load this SoundCloud contentWe use SoundCloud to manage extra content that can set cookies on your device and collect data about your activity. Please review their details and accept them to load the content.Manage Preferences
Listen to the RTÉ Soccer podcast on Apple Podcasts, SoundCloud, Spotify or wherever you get your podcasts.
"I think the FAI really have to consider what are their options from now on. I know they say they can't comment on this due to legal reasons, but if their intent is to seriously restore credibility and seriously get people to look upon them as a different organisation than they used to be, new FAI as opposed to old FAI, they've got to demonstrated."
The FAI released a statement late on Saturday night announcing Delaney's departure, which concluded with the line: "Both parties have agreed to make no further comment."
Sadlier says this isn't good enough following years in which the association lurched from one controversy and crisis to the next.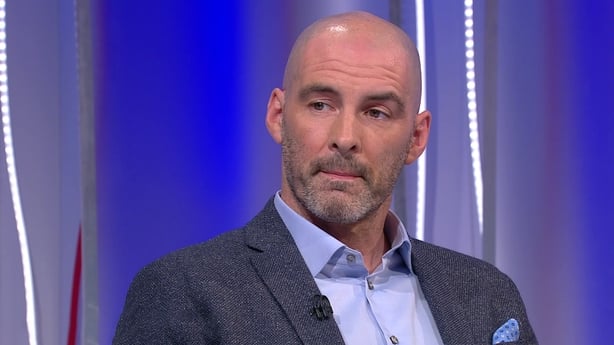 He said: "With old FAI, if I can call them that for a moment, there was an avoidance of questions, they'd blank interview requests, they'd hide behind vague, waffly statements and it was frustrating for all of us to deal with that.
"If they're going to claim to be something different they're going to have to show something different. Whatever you think about John Delaney or what happened, the reputation and credibility of the FAI is on the floor.
"There are a lot of good people doing a lot of good work and this is nothing whatsoever to do with them. At senior executive level, at board level, monumental change is needed and they can't just claim they're something different – they need to demonstrate it.
"Where we are today isn't a result of anything the FAI did themselves; this is down to Mark Tighe and other members of the media doing their job. It's down to a judge denying John Delaney an injunction, it's down to fans throwing tennis balls.
"This is the FAI's reaction to all that. They would have been aware of some or all of the things we all now know of.
"So everyone who was there who was aware of it and did nothing to stop it – everyone there has questions to answer. If all we're going to get from them is 'sorry, we've signed a legal agreement which denies us talking about this', well then it's a missed opportunity."