Former FAI chief executive and Fran Rooney and ex-general secretary Brendan Menton have led the calls for full transparency around John Delaney's departure from the organisation. 
The FAI announced late on Saturday night that their former chief executive officer had resigned from his position of executive vice president with immediate effect following talks between all parties.
Rooney served as the FAI CEO from 2003 to 2004. Speaking to RTÉ Sport's Tony O'Donoghue, he criticised the timing and details of the association's announcement.
"I welcome the fact that the matter seems to have been resolved now," said Rooney.
"However, the manner in which the announcement was made leaves an awful lot to be desired. The FAI have been talking about improved corporate governance, about it being a new organisation, but in this case they fell at the first hurdle. 
"To make an announcement at 11pm on a Saturday night meant the Sunday papers couldn't cover it. I believe it should have been done by way of a full press conference where questions could have been asked.
"I'd be looking for full disclosure of, not just the termination package, but of all payments that have been made to John Delaney over the last 14 years: the salary, his pension, expenses, credit card payments, benefits in kind, any parachute payments. 
"I'd like full disclosure on all of those matters. That's been lacking here. Unfortunately it smacks of the old FAI with bad corporate governance policies and a lack of transparency.
"I really believe full disclosure over the last 14 years is what's needed. If the FAI really, really want to improve their corporate governance policies and structures they should be providing full disclosure on all aspects of all payments made to John Delaney."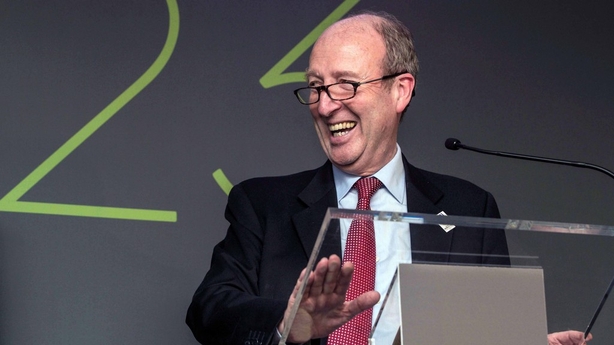 Yesterday, Minister for Sport Shane Ross said the details of any severance payment made by the FAI to Delaney should be made public as part of the process of restoring funding to the association.
"I'd agree with Shane Ross here," added Rooney. "A complete different approach and a new regime is need to bring this organisation forward."
Meanwhile Menton aired his concerns about what he described as "a failure of corporate governance".
"The timing of it is the most surprising thing," the former general secretary, who also served as treasurer, told RTÉ soccer correspondent Tony O'Donoghue.
"The FAI has been in crisis for six months and suddenly one week before the first investigative report is due, we have this agreement. 
"One of the principles of the new corporate governance is supposed to be accountability and transparency yet the first test we have, we have a non-disclosure agreement. That's a failure of corporate governance.
"It's a full and final agreement so there's probably legal immunity, legal indemnities provided, not only to Delaney but maybe to the other directors as well. We don't know. The secrecy is astounding.
"The FAI is a membership organisation and the members are entitled to information. So what do we have? We have speculation. Would we not be better to know the truth? It's simpler. 
"Back in my day there were a number of pay-offs. I was treasurer and I know of them but some of them were even done without my knowledge, when I was away. I think what we need to see is real evidence of a change in culture in the FAI. This doesn't say to me that that's happening. 
"We've no strategy, we've no vision. It's been absolute silence in the two months since the AGM and EGM. 
"What I want to see is real evidence of a change in culture, accountancy, transparency, all the other good governance elements coming through. We haven't seen that yet."
The FAI is coming under increased pressure to disclose John Delaney's exit deal, after he resigned from the organisation late on Saturday night. #rtesoccer #rtenews pic.twitter.com/7pSjbtQLpd

— RTÉ Soccer (@RTEsoccer) September 30, 2019