Sincerity is always a good place to start.
"We will stay up," Callum Robinson insists. "That's my honest opinion. If we keep doing what we're doing and believing in how we play, we will pick up points and stay up."
Five games into Sheffield United's first Premier League campaign for 12 years, the £7m summer signing from Preston North End, who for a few days was the club's record transfer before they splurged a further £10m on Lys Mousset and a little over £17m on Oli McBurnie from Swansea City, has seen enough to make such a bold, definitive statement.
Already there has been a roller coaster of emotions to contend with.
The ecstasy of an injury-time equaliser away to Bournemouth on the opening day. "The adrenaline, the buzz," Robinson says excitedly.
The satisfaction of dominating Crystal Palace, an established mid-ranking Premier League outfit, in front of their own supporters in a 1-0 win at Bramall Lane.
The pride of coming from two goals down away to Chelsea and nabbing a precious point, which Robinson was the catalyst for after showing composure in the box to finish off Enda Stevens' rampaging run down the left.
"That gives you more belief," Robinson feels. "You know you deserve to be in the same division as these teams and feel more comfortable."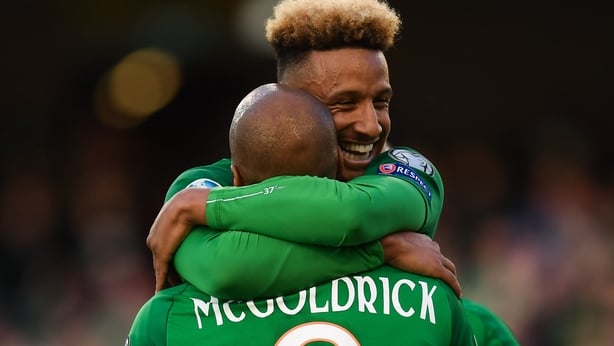 And then the frustration and disappointment of a draw and defeat at home to Bournemouth and Southampton respectively.
"They are results we will get along the way, from my point of view that doesn't get me down. I still look forward to every game and just do me out there."
This week, Robinson was invited to London for the FIFA 20 World Premiere. It was there he had time to catch up with one of his closest friends in football, Jack Grealish. The pair did tricks together in a skills cage and videoed each other for social media. Always smiling, laughing, joking.
Robinson is afforded that same sense of freedom by Chris Wilder but, behind his jovial nature, the United manager knows he has a player who has fought to get where he is.
"Yeah, I was nearly released by Villa when I was younger because I was too small. I was given a chance with an extra year and I took it. These things make you stronger and better along the journey.
"I was on the bench for our last game and that is just a different challenge for me now. We will be playing top teams and it's a long season but we know what the gaffer wants us to do. I'm not saying he doesn't care but he sticks to what he knows, what he believes in and the same for the lads.
"It showed in the first five games that we can handle this league and I think we'll get better, I reckon we can add to our game and make it better by another 20 or 30 per cent. It's really good for us to be showcasing what we are capable of in the Prem," Robinson explained.
This afternoon he will be in the squad that travels to Goodison Park to face Everton. As a boyhood Liverpool supporter, who grew up idolising Steven Gerrard, the 24-year-old admits to being taken aback on a holiday to Dubai recently.
"I saw Mo Salah and that was the most starstruck I've been. But you're playing against these players, you're in the same league, you want to beat them.
"You want to beat the man you're up against and score against the likes of your Van Dijks. You want to prove it to yourself and to others who doubted you, or still doubt you. It is what it is, nothing really fazes me.
"I get more excited than nervous, you have to be like that at the top level because if you get too nervous and let that into your head, you won't be able to perform.
"I don't get stage fright," Robinson continued. "I just know that I've played football every day of my life, it's what you love and you shouldn't be afraid to showcase what you can do on the football pitch. That's what you've been doing since you were eight years old so there's no need to be afraid of any game."
Buoyed by the challenges that await rather than hindered, today will also allow Robinson the opportunity to catch up with his mentor at Aston Villa, Fabian Delph.
The England international joined Everton from champions Manchester City during the summer and it was back in 2013 when the pair were together at Aston Villa that Robinson was taken under his wing.
"He saw me coming into training after him and leaving before him, he came to me and said it didn't make sense. He made me work harder and we did extras together, he got me out after training doing different bits and I won't forget that.
"Look at the career he has had. He started at Leeds, signed for Villa, went to [Manchester] City and won trophies, now he's at Everton. You don't get near those clubs if you're not doing the right things.
"When I was still in the Champ with Preston, he (Delph) would text me and say he wanted 20 goals, or tell me he wanted to see this or that from me. He's still in contact now, not this week though, which shows what kind of guy he is. He's really focused. But he never gave me a goal target for the Prem."
Robinson doesn't need anyone to do that for him.
"If I can get around 10 I'll be really happy, double figures in the Prem in my first full season would be unbelievable, but I want to just do well for the boys because we have to stick together and make sure we stay up. If my goals can help that I'll be buzzing but if I get five goals and we stay up that's what I'll take."
Callum Robinson was speaking at the FIFA 20 World Premiere. EA SPORTS FIFA 20, featuring VOLTA FOOTBALL, is out on 27 September for Playstation 4, Xbox One and PC.