It was a game that ticked every box required to be smothered in a cloak of inconsequentiality.
Following Thursday's frenetic draw with the Swiss, eyes had already darted towards October, particularly after Denmark slipped in Georgia.
Even in the minutes before the game started the Under-21s' terrific win in Sweden hogged the conversation, Troy Parrott's brace piling fuel on to the blazing inferno of hype that's now engulfed the 17-year-old Dubliner.
"When you make ten changes, it starts to feel a bit like a testimonial," Kevin Doyle said in the RTÉ studios when Mick McCarthy's side was named.
This one, in front of a very sparse crowd, was in danger of peeling away from the memory even as it played out before your eyes.
Still, there were small tales of redemption throughout the Irish side tonight.
There was John Egan captaining the side in his fifth senior game, marking the occasion with a Ronaldinho-esque pirouette that cartwheeled him away from two men with 90 seconds on the clock, and then, less fortunately, coughing up a penalty that allowed Bulgaria to equalise in the second half.
Ahead of him was Alan Judge, who's had nothing but rotten luck with Ireland and buzzed with the intent of a man desperate to do himself justice in a green jersey. At 31, he knows the window of opportunity is closing. He came off for Jack Byrne, who may feel that window is only creaking open.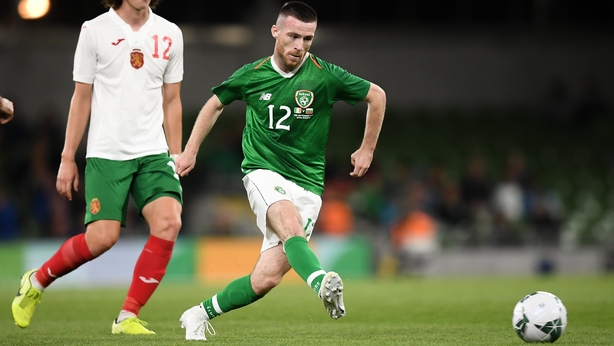 The Shamrock Rovers playmaker came on to a throaty roar on the hour mark for his debut, which he seemed to enjoy in a busy showing.
Luton Town's James Collins, at 28 years of age, marked his full debut with a goal eight minutes from time.
And then here was Josh Cullen - in many ways, Ireland's forgotten man.
Cullen's professional path was locked together with Declan Rice's for years.
Both bright prospects in the West Ham academy, they also shone together for Ireland at underage level, Rice being named the Under-19 Player of the Year on the same night Cullen got the Under-21 award in the spring of 2018.
Cullen and Rice, it was hoped, were the engine room of the future.
Essex-born Cullen captained that Under-21 team, and seemed like he was ready to break through at the Hammers after impressing in an FA Cup tie at Shrewsbury in which he took an Abu Ogogo boot to the face, lost a tooth, but played on with a bloodied mouth and his molar in a glass of milk on the bench.
It endeared him to fans and showed this wiry midfielder had steel running through his diminutive frame.
Cullen had actually made his first-team debut back in 2015 when he came on during a 3-0 victory against Liverpool at Anfield, but it just hasn't taken off for the 23-year-old at the Premier League outfit.
While Rice matured into a key man for Manuel Pellegrini's side, Cullen had to go elsewhere to continue his development.
He'd already had spells at Bradford and Bolton before Charlton came calling, and it's at the Addicks where he's truly found a home.
Cullen was outstanding for Lee Bowyer's men last season, helping them win promotion from League One. After spending most of pre-season with West Ham, he returned to Charlton on a fresh loan deal. He's been key to their excellent start to life in the Championship – Bowyer's side are currently second in the table.  
It was in keeping with his Ireland career to date that this game was so low key.
So pedestrian and lacking in tempo was this at times that you could feel the players trying to fight off the lethargy but Cullen did himself no harm in 'the Glenn Whelan' role.
He sat and he sprayed, tracked and covered.
Just after the half-hour mark, he made a lung-busting recovery run to block Daniel Mladenov's strike from inside the area after the Bulgarian evaded the home defence.
Thankless work, but important.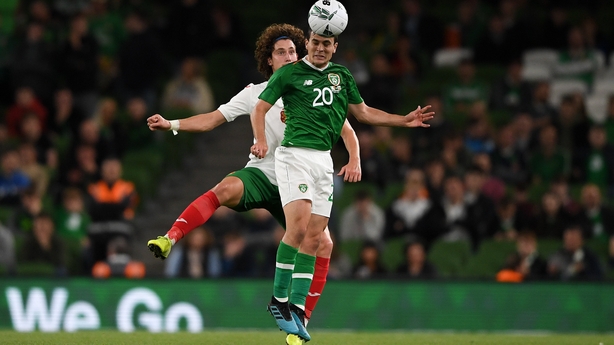 There were no Hollywood moments for Cullen in a pretty dour contest. Though he threatened with a brave header that looped over the Bulgarian bar, another recovery run down the left flank to poke the ball away from Wanderson was more emblematic of his evening. Routine, bread-and-butter midfield play.
But that attitude will most definitely earn him brownie points in the manager's book.
In the middle of the Rice drama, he fielded the inevitable questions about his own allegiance.
"As soon as I committed myself to Ireland, I was fully committed," Cullen said in March.
"This is what I've dreamt of, being part of the senior squad and I'm over the moon and really proud to be here." 
Cullen could still play for England. He has yet to be capped in a competitive game and so in that sense his international future remains an open book, but there's no chance he'll wander back on to the same path as his old friend Rice.
His career has not, and may never, scale the same heights, and he has not had an awkward choice to make because he's not remotely on Gareth Southgate's radar.
But that doesn't mean Cullen should be dismissed by Irish supporters.
The consequences of this clash may only be felt in Tblisi and Geneva, when McCarthy has to look to the bench or shuffle the pack over the course of two heavyweight encounters.
Cullen has lifted himself up the pecking order.
Up to now he's been a footnote in the unsavoury Rice saga. He may yet emerge as a story in his own right.