Republic of Ireland Under-21 stars Troy Parrott and Aaron Connolly admitted that a 1-0 win over their Armenian counterparts wasn't enough to satisfy a group of players that have set themselves lofty targets.
Parrott, who was making his debut for Stephen Kenny's men, scored from close range in the 31st minute in what proved the only goal of the game.
It was Connolly who provided the assist after picking up the ball just inside his own half and embarking on a marauding run down the left flank before finding the Tottenham forward with the perfect pass.
Speaking after the game, Parrott told RTÉ Soccer correspondent Tony O'Donoghue: "It's always good to score on a debut.
"I wouldn't say I'm disappointed, but I could have had two or three more.
"Obviously, I hit the post and had a couple of chances, but I'm happy with the goal and happy with the win."
"I just want to keep pushing on and pushing on"
While a 1-0 lead can often prove a precarious advantage, the Dubliner never felt anxious at the prospect of his side being pegged back.
"We would have liked to get a second goal," he admitted. "But I always felt comfortable with our back four. They were solid throughout the whole game."
Parrott is set to feature in Tottenham's 25-man Champions League squad this season and his focus is on continuing his relentless progression.
"I feel like I'm doing well at the moment," he said.
"I just want to keep it going at international level and club level.
"I just want to keep pushing on and pushing on, and learning and getting better and better."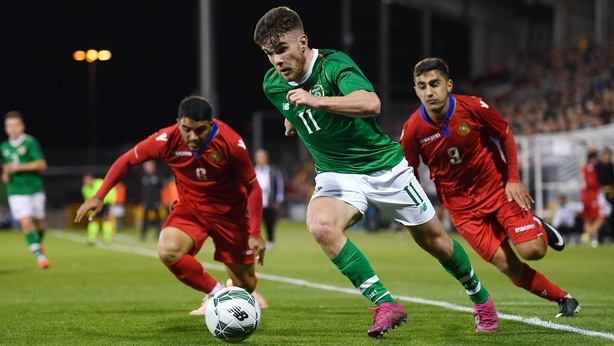 Connolly reflected the sentiments of his team-mate, saying: "The scoreline probably doesn't reflect the performance all-round.
"I'd say quite a few of the fans were expecting a big scoreline, but we'll take the 1-0 and three points into Sweden and we'll go again on Tuesday.
"It's a little bit dejected in there, going into the changing room, but that's just the standards we have for ourselves."
While Connolly was outstanding on the night, particularly in the first half, he insisted that he couldn't rest on his laurels.
"Stephen's got a headache with the attacking options," he said.
"I'm just here to do my part, to try and do my best every game to keep my spot because I know if I have an off day that there are players there that can come in and replace me straight away."
"I'm just hungry for more"
The Brighton man made his Premier League debut as a second-half in last weekend's 4-0 loss to Manchester City.
The Premier League and his commitments with the Ireland Under-21s may be the top priority for now, but Connolly and his team-mates were all aware that Senior Ireland manager Mick McCarthy was an interested spectator at Tallaght Stadium.
"We've got Burnley when I go back and hopefully I'll be in contention for that," he said.
"It was probably the proudest day I've had, last week, coming on against City and I'm just hungry for more.
"I'll concentrate on the Under-21s for now and on Brighton's first team and if the chance does come about to get the call-up to Mick's squad this season, it would definitely be the proudest moment of my career so far."