When the official Switzerland interpreter did not appear to know the name of the captain of the national team, you got the impression that things might not run like clockwork as the pre-match press conference got underway ahead of tomorrow's Euro 2020 qualifier with Ireland.
And so it began. A five-man top-table.
Left to right: Swiss press officer; Newcastle defender Fabian Schar; Switzerland head coach Vladimir Petkovic; Arsenal midfielder and Swiss captain, Granit Xhaka; name unknown, aka, the interpreter.
A nation of three official languages, there was always a chance that proceedings could be messy, with the potential to ask and answer every question in German, French and Italian, before translating into English for the assembled Irish media.
"The first person here is Vladimir Freckovic, Captain Chock, and Fabian Schar on the right side," laboured the interpreter after the Swiss official introduced his head coach and key players.
Two questions in, and only one language had been spoken, German.
So there was an element of normality to it, the only problem being that the assembled Irish had no real clue of what was being spoken about; there was some reference to Die Mannshaft (the national team), but aside from flughafen (airport) and knoblach (garlic, don't ask), that was as far as my German vocabulary stretched.
"Not everyone here is from Switzerland? No?
"Shall I translate the German comments? I'm sorry I haven't done it up to now."
At last, a light-bulb moment (moment der glühbirne), as the interpreter suddenly realised the reason he was invited to the Aviva Stadium at lunchtime on a random Wednesday.
The information started to trickle down, from journalist, to player, to interpreter and back out to those eager ears in the audience.
And credit where it is due, the interpreter appeared to be able to synopsise almost everything that was said into short succinct sentences that may or may not have related to their German equivalents.
Question: What will the team expect tomorrow morning, eh, tomorrow afternoon…
Answer: The Irish players are quite heart/hard and attacking, so, yeah, that is what we are expecting.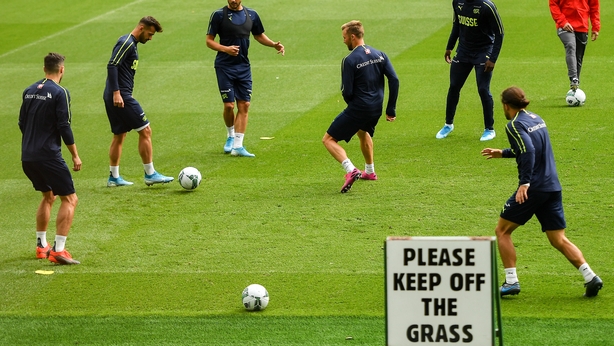 Things continued to deteriorate when the first question was posed in English.
The interpreter had a stab at relating it to the head coach in German, much to the bewilderment of the assembled Swiss journalists who interjected to make sure Petkovic got the right details.
Naturally, it was about star man Xherdan Shaqiri who pulled out of the squad to concentrate on his club football at Liverpool.
"It's not only Shaqiri missing, there are also other players, like Zuber, like Drmic who are not here. But we have shown in the past that we can handle that and win without important players," said Petkovic.
"We have a style of play which doesn't depend on one single player. We have shown in the past several times that we can replace missing players.
"There is no anxiety because Shaqiri is missing. We are used to replacing missing players, even Shaqiri."
And so it continued. There were snippets that suggested that Xhaka and Petkovic were both talking about a game of football in Dublin on Thursday night.
"Since the draw, we have known that this was one of the key games in this qualification, but it won't be decisive," added Petkovic.
"We want to take all three points because the table will look a little bit better afterwards."
"This Irish team is physically quite strong, but we will find a solution to combat that," said Arsenal midfielder Xhaka.
The Swiss media appear to have a footballing fascination about the hierarchy within the team, and when Petkovic was asked about the current situation in the absence of Shaqiri, things went from bad to bizarre for the interpreter.
Lost in translation? The interpreter at today's Switzerland press conference in Aviva Stadium had their work cut out as coach Vladimir Petkovic gave a detailed answer about the leaders in his team to face @faireland in tmorrow's #euro2020 qualifier #rtesoccer pic.twitter.com/uwIrSaqDkZ

— RTÉ Soccer (@RTEsoccer) September 4, 2019
Petkovic spoke at length in his answer, naming several key players at the start of his reply, but when it was attempted to turn it all into English…
"We have new people at the top," said Petkovic, via the interpreter.
"I don't remember the names," the interpreter added apologetically.
"We will try to do it better and we will go for it tomorrow.
"I'm sorry if I can't remember all these names."
"Do you want a pen and paper?" bellowed a Swiss journalist.
"Well surely I could write it down but then I wouldn't be listening… It would be better to do it sentence by sentence cause otherwise it would be too much for me."
Finally, I got a chance to get involved.
"What emphasis do you put on players playing for their clubs when you are picking the team? If so, does Shaqiri's absence make a difference to your plans? Would he even have started?" I pondered.
"We have a style where we don't depend on another player," came the reply, again following a long translation process to Petkovic.
An adjacent Swiss journalist turned to me and said: "That's not what he said, I will explain after."
The post-match press conference should be just as entertaining. Let's hope the 90 minutes in between can live up to the translator's theatrics.
Follow Republic of Ireland versus Switzerland this Thursday via our live blog on RTÉ.ie/sport and the News Now app, listen to commentary on RTÉ 2FM's Game On or watch live on RTÉ2 from 7pm.