It's probably fair to say that when Craig Taylor, or @CraigTa90961607 to his friends, was handed his moment in the sun, he wasn't expecting it.
Back in January of 2014 when the Aston Villa supporter tweeted to Conor Hourihane about an interview in which the then Plymouth Argyle player expressed his desire to one day play in the Premier League, he didn't anticipate it would come back to bite him five years later.
"You're Argyle's best player kid no danger, but the Premier League? There's ambition and there's reality," read the condescending message to Hourihane.
That jibe was forgotten by the few that saw it almost as soon as it was read, but it stuck with Hourihane and he filed it away mentally along with so many other questions about his ability through the years.
Then on 11 August of this year, on the first weekend of the new season, Hourihane proved his doubters wrong and made his Premier League debut - for Taylor's Villa.
The Cork man couldn't resist a little bite back at his one-time detractor and given the long and arduous journey that he'd been on to get to the top flight, you couldn't really blame him.
Hi Craig, remember this tweet back in 2014... I always remember it to this day. Ironically your a Villa fan who I made my debut with! Never tell anyone they can't achieve something ???? @CraigTa90961607 pic.twitter.com/smCgi0VSlO

— Conor Hourihane (@ConorHourihane) August 11, 2019
Hourihane left his family home in Bandon at the age of 16 and travelled to England to join the youth academy at Sunderland where his hero Roy Keane was manager of the first team at the time.
Two years with the youths were followed by a season with the Sunderland reserves before he again linked up with Keane, this time to the Championship and Ipswich.
A fruitless season with the Tractor Boys followed as the inexperienced and still young Hourihane was unable to break into the first team, which flirted with relegation.
Having failed to make an appearance as an Ipswich player, Hourihane was released by the club and eventually had to drop down to join League Two outfit Plymouth Argyle, where he slowly began to build his career as a professional footballer.
Three successful seasons followed before the midfielder made a step up in grade and was signed by Barnsley in League One, who he helped to promotion to the Championship before being snapped up by Aston Villa in 2017.
Having worked his way up from League Two to the Championship, there was bitter disappointment for Hourihane and Villa in 2018 when they lost the promotion play-off final to Fulham but a year later they were back and the 28-year-old, who was by then already an Ireland international, helped his side into the Premier League with victory over Derby County.
When he sits back to take stock, Hourihane is able to reflect on a dream fulfilled and now that he's reached the promised land, he's eager to enjoy it.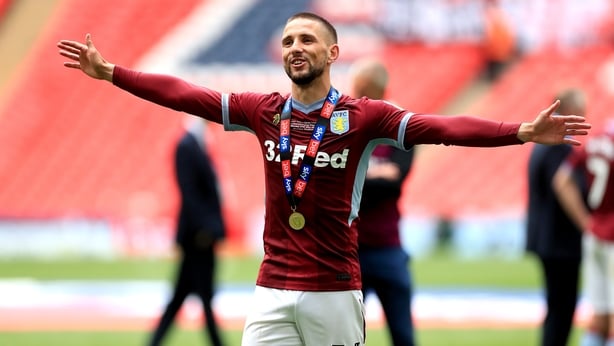 "It's been amazing, it really has," he said, speaking to RTÉ's Tony O'Donoghue. "There's been some tough days along the way. I probably had more setbacks and down days in my career and you learn about your character and mentality in the bad days.
"It's taken me to 28 to get to a standard and to get to a place where I feel that I'm satisfied and happy with.
"I always want to improve and keep going but it's taken 12 long, hard years to get to somewhere where I can look at myself in the mirror and say 'well done Conor, you're doing okay'.
"But there's a lot more to do, a lot more to achieve and hopefully I'll do what I want to do."
Those 12 years scrapping and fighting to prove himself stand to Hourihane now and have helped to mould him into a player that has earned the trust of every manager he's worked with, but even now he's still aware of just how ephemeral his success could be.
"I probably still have a fear of packing my bags and going back to Bandon, being the nearly man who tried to achieve his dreams and didn't," he revealed.
"Even now and even though I'm sitting here a couple of days before playing Switzerland in an important qualifier, something like that drives me on every day.
"Whatever the setbacks and whatever the challenges, I'm always confident of overcoming them.
"I go back to the hard years that I've worked to get here, I've tried to enjoy as many moments as I can in [the Premier League], it might be my only year in it, who knows?
"Hopefully it won't be of course but I've tried to enjoy all the build-up, all the coverage, I've tried to take it all in because it's probably the greatest league in the world and not many players get to play in it."
For now though Hourihane's main aim is to cement his status as a Premier League player with Aston Villa and with it, secure his place in the Ireland squad.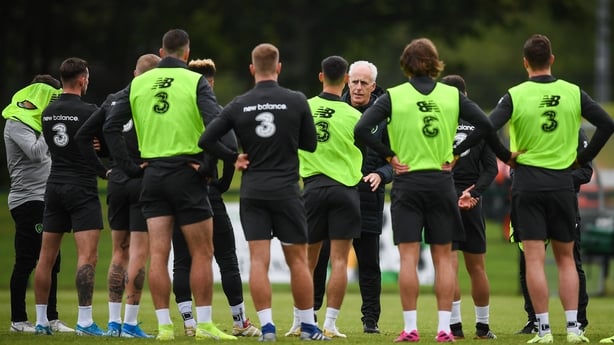 Ireland boss Mick McCarthy has made no secret of the importance of first-team football for the players that are going to be considered for his squads.
McCarthy places a big emphasis on those who are playing regularly with their club and this week both Shane Long and James McCarthy were left out his squad because of a lack of game time.
It's something that Hourihane is very much aware of as he and the rest of the Ireland squad prepare for a crunch Euro 2020 qualifier with the Swiss at the Aviva Stadium.
"That's always in the back on my mind, it keeps me on my toes and there's no room for complacency," he said.
"I want to be playing all the time and I've been in and out of the team at Villa at the start of the year, which if I'm honest, I'm not too happy about because I want to be playing.
"Mick saying that is right and it keeps all the lads hungry and wanting to play all the time, and making sure that the lads are in the best shape coming into camp to give us the best chance of getting results."
A result against Switzerland on Friday would be a big step to securing a place at next summer's European Championships.
Ireland go into the game five points clear at the top of Group D, albeit having played more games than Denmark and Switzerland.
McCarthy's side have had a more comfortable start to life in the group with their three victories coming against Georgia and bottom side Gibraltar, who they already beat home and away.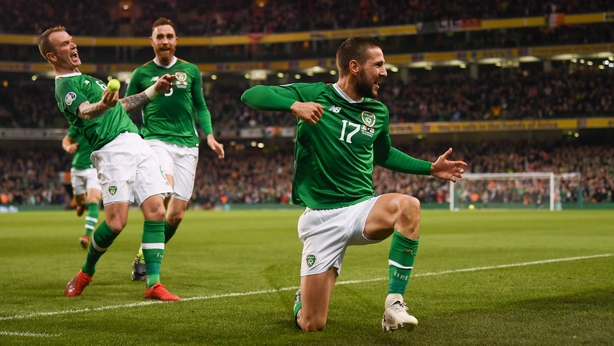 A 1-1 draw in Denmark was a positive result but with Ireland's easiest games already behind them a win against the Swiss would be a huge platform on which the build the second half of their campaign.
Ireland are already in a strong position with a six-point lead over Friday's opponents and while the Swiss have two games in hand, Hourihane insists that it's better to lead than to chase.
"We'd prefer to have the points on the board," he said. "We had a tough start in Gibraltar with the blazing wind it wasn't easy, I don't think the telly did it justice.
"We got a good win there and a good win against Georgia and things are starting to move forward quietly enough but the lads are positive.
"If we were to grab a result against Switzerland at home in front of a packed house it would be great. It's not going to be easy - they're a great side.
"With two games away from home coming in the next meet-up, it would be great to get a positive result without a doubt."
Hourihane looks set to be part of the Ireland team that will be tasked with getting that positive result against the Swiss on Friday but as preparations for the game intensify he still has a moment to reflect on just how far he's come in the last 12 years and how he's been able to prove his doubters wrong time after time.
"I've had a great journey, an exciting journey, with ups and downs on the way but I'd like to think that I'm mentally strong to overcome what I've overcome and I've a smile on my face talking about Craig Taylor."
Conor Hourihane was speaking in an interview with RTÉ Soccer Correspondent Tony O'Donoghue
Follow Republic of Ireland versus Switzerland this Thursday via our live blog on RTÉ.ie/sport and the News Now app or watch live on RTÉ2 from 7pm.