The month starts with you boarding a flight to head off and play a glamour tie against World Cup winners, on their own patch.
Upon arrival home you don't even get to leave the grounds of the airport before you're back on another flight.
This time you're heading for Eastern Europe for the Champions League qualifiers.
Normality resumes for a short while with a domestic league game but no sooner is that over than you're away to an international training camp to prepare for start of the European Championship qualifying campaign.
It's the sort of schedule that recently crowned UEFA Players of the Year Virgil Van Dijk or Lucy Bronze would be proud of.
On this occasion though, we are talking about somebody a little closer to home – Wexford Youth's star Rianna Jarrett.
"Yeah, it's been a bit of a mental month to say the least", admits the 2018 Women's National League player of the year.
"At the beginning of August we went to LA to play the USA in the Rose Bowl in California. I was actually meant to go to a wedding that weekend."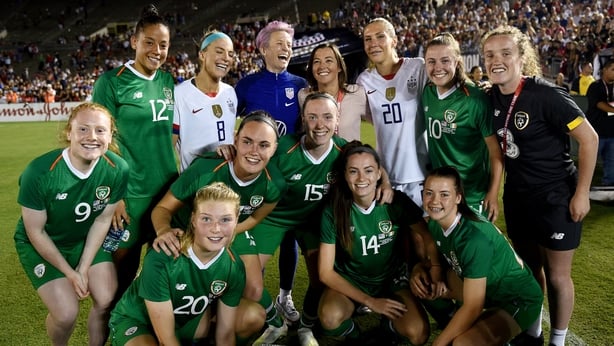 "Kylie Murphy, our captain at Wexford Youths, got married the same day as the game, the third of August. A few of us were supposed to go to be there but when you get an opportunity to play against the world champions you can't really pass up on it."
Despite a 3-0 defeat, the game was a memory that Jarrett is unlikely to ever forget.
"The build up to kick off was amazing. 37,000 people in the place. Fireworks, chanting, the lot. You're just looking around thinking 'what is going on'.
"I'd literally spent the summer watching these girls on TV and now you in there, mixing it with them. You had to check yourself to stop yourself from admiring them.
"I came on at half time. I was a bit nervous going in but once you get your first ball, get your first tackle, you settle in fairly quickly. I really enjoyed it."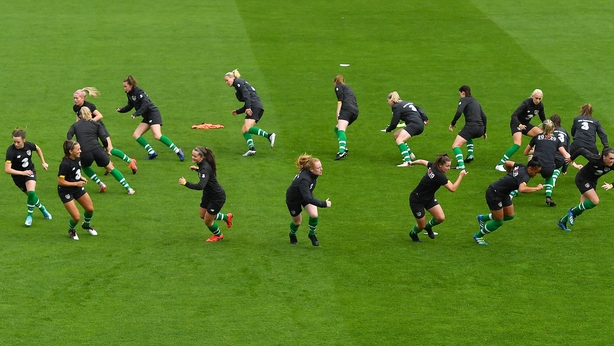 Upon arrival back in Dublin airport, Jarrett and Wexford Youths team mate Lauren Dwyer didn't even have time to leave the airport before it was time to hop onto another flight and head off to play in the their club's Champions League qualifiers.
"We landed back in Dublin airport on Monday morning around 10.30 but flying out to Lithuania that evening at 5.00 so there was no point in going anywhere. The FAI had booked a room for us in the Maldron Hotel at the airport so we just went and had a sleep, a bit of a freshen up and then a bit to eat before jumping back onto another plane."
Despite being outsiders, Wexford performed admirably, winning two of their three group games, including the defeat of top seeds and local side Gintra. Ultimately though, they lost out on qualifying to Albanian side Vllaznia who had beaten them in their first game.
Failure to qualify was frustrating for Jarrett but she was keen to highlight the positives.
"We never should have lost that first game. We went 1-0 up and were dominating but let Vllaznia back into the game with an equaliser. The next thing we know they score two goals in the last 5 minutes of the half and we're somehow 3-1 down.
"We came back at them with everything we had in the second half but they were able to just sit back and defend their lead and we couldn't break them down.
"But then we followed up it up with two brilliant wins. I think we played really well out there, probably the best football we've played all year so we have a lot to be proud of."
Roll on another couple of weeks and Jarrett is back with her Irish team-mates again, this time in the impressive surroundings of Enfield's Johnstown Estate Hotel.
The squad came together on Tuesday last for a week long training camp and tonight are set to play their first game of the Euro 2021 qualifying campaign against Montenegro.
From Abbotstown @Corktod sets the scene ahead of busy week of international action for @FAIreland, @FAIWomen and #IRLU21 sides #RTEsoccer pic.twitter.com/dvnd5oshhG

— RTÉ Soccer (@RTEsoccer) September 2, 2019
Drawn in a group which also includes Germany, Ukraine and Greece, Jarrett is confident that this Irish side can put in some big performances as they try to qualify for a first ever major tournament.
"It's a tough draw but I think we'd quietly fancy our chances of trying to get out of the group. Obviously German are a class side and would be expected to top it.
"But then you look back at the World Cup qualifiers. We went and got a draw against the Netherlands, the current European champions, in their home pitch so we're capable of taking points off anybody."
Topping the group would see the team qualify automatically, while a second place finish would guarantee them a minimum of a two-legged play-off for one of the final three berths.
For now though, the Wexford town native is fixed solely on tonight's important opener.
"It's a cliché but your next game is always the most important so we're just focused on what we have to do to win this one. Trying to start the campaign off with a win, that's the aim."
Jarrett's past injury agonies have been well documented – three ACL's over a five-year period – but she is hopeful that that nightmare period is now behind her as she looks to finally kick on.
"The fitness levels are good. I feel like I'm probably in the best shape I've ever been in to be honest. I've been back playing pretty much injury free for the last two and a bit years now. That's my longest spell in awhile and I feel as time gets on I'm starting to get a level where I can really show what I can do.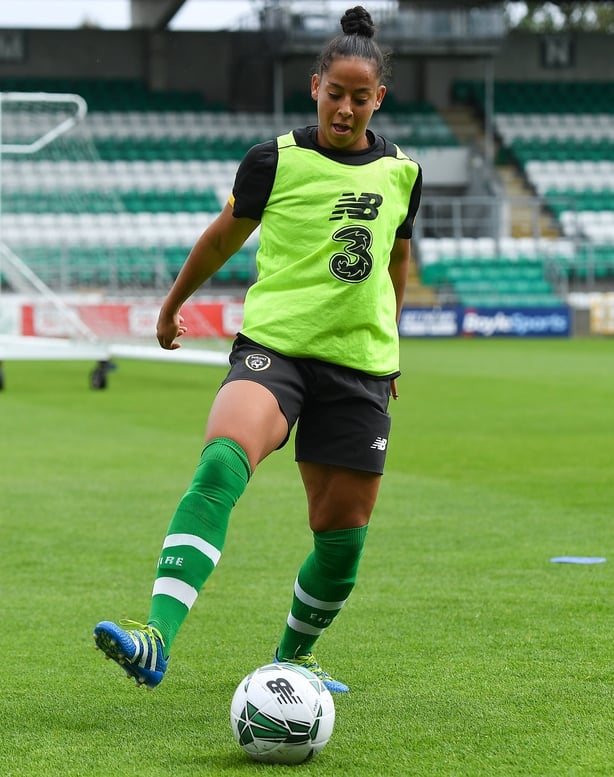 "This is my first time to ever be in a squad from the very start of a qualifying campaign and it's great to feel like you're fully integrated.
"Coming into these camps, you learn so much from the girls who are playing professionally. I'm always asking them what they're doing at their clubs so that you can try and gauge what needs to be done to reach the top levels."
Following the resignation of Colin Bell in June, the FAI are still on the lookout for a new manager. The role, which was initially advertised as far back as 9 July, is yet to be filled so Tom O'Connor, assistant manager during the Englishman's time, will take the reins for tonight's game.
Jarret acknowledges that situation isn't perfect but is adamant that it won't hamper tonight's performance.
"Let's be honest, it's not ideal starting the qualifying campaign without a permanent manager. But there's nothing we can do about that. There's no point in thinking or worrying about things that are out of your control. All you can control is the attitude that you bring to any given situation. 
"Tom is great guy and he's been the assistant manager for years now. He's been around the international game a long time and he knows how to bring the best out of us. It's his first competitive game as manager in his own right so we'll be trying to do him proud."
Follow Republic of Ireland versus Montenegro via our live blog on RTÉ.ie/sport and the News Now app or watch live on RTÉ2 from 7pm.