Former Ireland internationals Áine O'Gorman and Karen Duggan have both called on the FAI to appoint a new full-time manager for the women's national team as a matter or urgency.
The Irish team have been without a permanent manager since Colin Bell stepped down in June, with Tom O'Connor taking charge in a caretaker role.
Ireland get their European Championship qualifying campaign against Montenegro next week with, as yet, no sign of a manager being appointed.
O'Connor was in situ for the Irish team's tour of America and looks set to take charge for the Montenegro game, but speaking on RTÉ's The W Podcast, O'Gorman hit out at 'a lack of urgency' from the FAI.
"I think it's hugely frustrating that there's no manager," the Peamount United player said. "I don't know if they're still waiting on the right person to come along but there just seems to be a little bit of a lack of urgency.
"I think the girls in the squad will probably say that it's not a big problem for them because they're going to want to get on with the game in hand and play Montenegro."
While O'Gorman accepts that there's unlikely to be any change before the Montenegro game, shes insists that the situation has to be clarified ahead of October's home game with Ukraine.
"For me it's the window between the Montenegro and the Ukraine game, that's the vital time," she said.
"It's only a month's space so not to have the manager in place for this game, unless it's going to be Tom O'Connor taking the next game as well, is a little bit of an issue for me, just to get that bit of consistency and momentum at the start of the campaign qualifying.
"I think it has to be someone that's obviously of a really high standard, has their own football philosophy but as well can embrace the Irish culture, the passion and the pride that you can see is so evident when we're out on the pitch."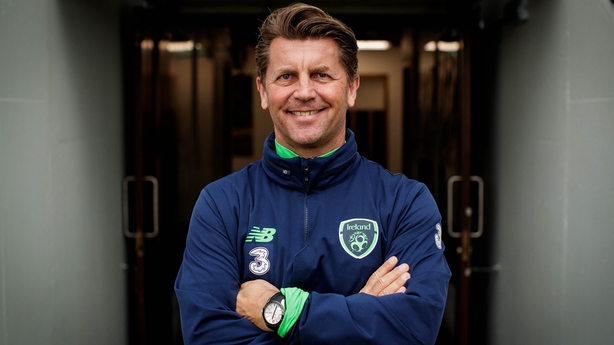 Duggan echoed O'Gorman's concerns and is also eager to see someone appointed swiftly but she believes that a successful manager could be found within the FAI's set-up, be they male or female.
Megan Campbell recently warned the FAI that they have to find a manager with a similar stature to Bell, and that it could be seen as a 'backwards step' if the new appointment in an internal one.
Duggan disagreed with that be she believes that there are some suitable candidates within the current structures.
"I'd like to see someone who's brave," she said." Maybe a former player or men's player, you see the underage men's set-up and that's a good development path for former players.
"If we could latch onto that model if they're not going to be bring in someone external, that would be a good idea, someone good and fresh from the FAI because there are those people there.
"If not, if that's not going to be the case, I wouldn't be looking at going backwards, I would be looking at going external."
Meanwhile Bell's future remains uncertain after the sacking of Huddersfield Town head coach Jan Siewert.
Bell left the Ireland hot-seat to take up a role as Siewert's assistant and while Mark Hudson was named as the Huddersfield caretaker head-coach in the wake of his departure, Bell's future remains uncertain.
We need your consent to load this SoundCloud contentWe use SoundCloud to manage extra content that can set cookies on your device and collect data about your activity. Please review their details and accept them to load the content.Manage Preferences