Cork City defender Alan Bennett is hoping some stability will arise from the appointment of Neale Fenn as permanent manager after "one of the most challenging seasons" he's experienced in his career. 
After five successive seasons finishing in the top two - the peak arriving with the League and Cup double of 2017 - Cork's form collapsed in startlingly abrupt fashion and 2019 and they've languished in the bottom half of the table all season. 
Now, after a summer of uncertainty on the managerial front, the club have turned to Neale Fenn, a member of the 2005 league winning side, who they've prised away from Longford Town at this late stage of the season. 
"I'm glad that there's some sort of stability, some sort of plan in place regarding a permanent manager," Bennett said on the RTÉ Soccer Podcast. 
"That was a huge question mark since John Caulfield left. I'm glad that's happened. This season - there's been a lot of lessons learned.
"There's been a new board put in place at the start of the year and they're learning very quickly about how things operate.
"I just hope it's a clean slate now and it's part of putting a decent plan and a decent structure in place."
"It's been one of the most challenging seasons I've been involved in throughout my career."
While results started to dip early in the season while John Caulfield was still in place, Bennett contends that the club's season really imploded he was removed from the position. 
We need your consent to load this SoundCloud contentWe use SoundCloud to manage extra content that can set cookies on your device and collect data about your activity. Please review their details and accept them to load the content.Manage Preferences
"There was quite a lot of change off the pitch at the start of the season and that led to uncertainty on the pitch.
"And then results just didn't happen for John. We were minutes away from winning some games, and end up losing or drawing. Inevitably, things start to slide. 
"Then it started to snowball into whether John would be moving on. That obviously happened.
"I knew that the man ran the club from the very top to the very bottom. I mean everything. Anything you could mention there now, he was involved in. He was putting structures, processes in place. He's a very business orientated man, he comes from a business background so he would have had that kind of ethos going into the club.
"I just knew there'd be a huge power vacuum afterwards and that leads to inevitable turmoil. 
"John Cotter stood in as interim (manager). Then we had to appoint Frank Kelleher into the staff. And then there was quite a lot of staff members within the room. 
"It was a bit of chaos.
"Now, I'm hoping that with the board putting Neale Fenn in, this is their man, this is the man they want, so back him and let's just move on and get on with it.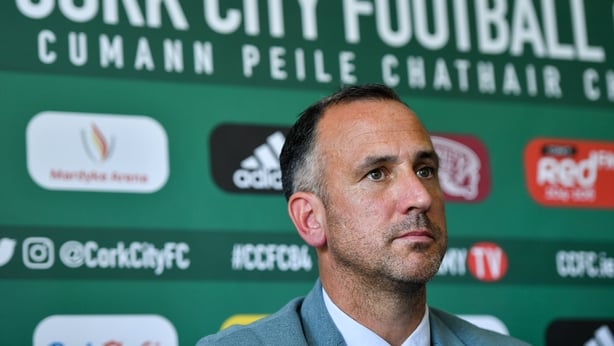 The defender pinpoints the turnover in players at the start of the season, in particular the loss of some key players in recent seasons, as the major factor in the decline in performance this season. 
However, he admits he didn't think the adjustment would turn out as difficult as it has been. 
"Sometimes, the best investment a club can make is keeping their best players. That wasn't the ethos of Cork. That wasn't the way we approached things. So, inevitably you're chasing and chasing and trying to get in quality players. Some of them work, some don't. 
"You're just hemorrhaging quality out of your squad. The ideal scenario is moving one or two players along who are the bottom of your squad. Whereas we were losing our top players.
"We could speak all day about what John Caulfield did. The last four Cup finals we've been in, we've not been outside the top two since he came onboard.
"There's been a huge turnover. Inevitably, you have a massive explosion. I didn't think it would go this bad, if I'm being honest. But it has been a tough season."
The 37-year old centre half, who won two League titles with Cork in 2005 and 2017, either side of a long stint in England, is being honoured with a testimonial in Turner's Cross on 14 September. 
The current Cork City team will play a team comprised of Cork City legends with all funds raised going to the Samaritans. 
58 players have confirmed they are taking part, including John O'Flynn, George O'Callaghan, Achille Campion, Neal Horgan and Billy Woods. 
"When the club came to me they spoke about possibly waiting for next summer to get a team over from the UK when you've that kind of window.
"I just wanted to get something done this year, number one. And number two, I wanted it to be a club day. Because down here, we celebrate successful GAA teams, rugby teams but we never really do it as a club within Cork City.
"There's been league winning teams down the years in Cork City and the plan is to get as many of those players together in one day, and one game, and one night in the international hotel out by the airport."