League of Ireland clubs need to take a more long-term approach and prioritise facilities and coaching if they are to succeed in Europe, according to RTÉ Soccer pundit Richie Sadlier.
Dundalk and Shamrock Rovers won qualifying ties in the Champions League and Europa League respectively this season before being eliminated.
Both clubs managed to make the group stages of the Europa League in this decade, but such appearances have been the exception rather than the rule.
"A lot of clubs today, they're firefighting," Sadlier said on RTÉ 2.
"It's all about survival, which is understandable because it's a difficult landscape. The have to get beyond this idea that it's week to week, or season to season.
"If they don't take on the responsibility that they have, and invest in facilities, and get really, really good coaches in... we're all bang in trouble.
"If people are imagining that there's a silver bullet, or a quick fix, they're going down the wrong avenues altogether."
'You have to strive to get to the group stages of the Champions League and the Europa League' - Gary Rogers and Richie Sadlier discuss Irish clubs in Europe #RTESoccer pic.twitter.com/JlPElzGGs7

— RTÉ Soccer (@RTEsoccer) August 20, 2019
Large numbers of Irish soccer fans travel to the UK each weekend to support big British clubs, but Sadlier says that Irish clubs won't attract their business unless they improve facilities.
"I've gone to games where, if I'd have brought friends, football fans, they wouldn't come back because of the standard.
"The overall standard in this league is very poor when you compare it to what's out there, and against the opposition that they meet every summer (in Europe).
"Dundalk on the pitch have been great to watch, but the stadium is horrendous, the facilities are horrendous. There are other clubs who when you look around the grounds you think that you wouldn't bring your family there.
"Rather than complain that people make choices, or people watch other things other than the League of Ireland, I think clubs should now focus on doing what they can as well as they can, and have a long-term view of everything."
The establishment of the underage national leagues, which this year saw the creation of an under-13 competition, to go with the under-15s, 17s, and 19s editions which already existed, is seen as a means for clubs to nurture talented players.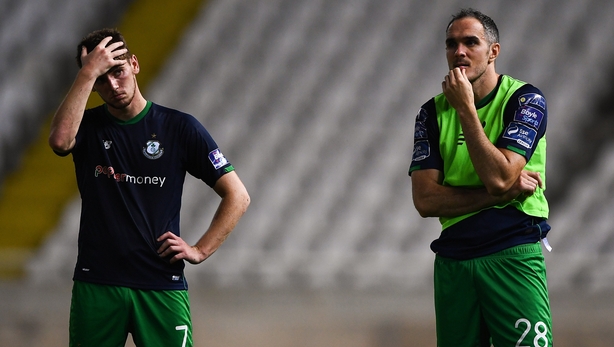 Dundalk goalkeeper, and PFAI Chairman, Gary Rogers says Irish clubs will always have to sell their most talented players to cover running costs.
But he is hopeful that the new underage structures will raise the standards across the board, while also providing clubs with potential assets to sell on.
"All the clubs now have four or five underage teams to look after," according to Rogers.
"To some clubs that can be a financial burden, to other clubs maybe not so much. It's a huge opportunity to develop talent for the first team.
"And also to develop talent to go to England, and for clubs to generate revenue through transfer fees.
"In the past, that hasn't been there for them because the schoolboy teams would have earned revenue from that."