Republic of Ireland captain Katie McCabe is confident that the FAI will find the right candidate to take over from Colin Bell.
It's been nearly two months since Bell departed to take up the role of assistant manager of Championship side Huddersfield Town, whose manager Jan Siewart was sacked on Friday, just three games into the season.
The association officially advertised for the Ireland position at the start of last month, with interviews planned for later in July. But with the Girls in Green's Euro 2021 qualifying campaign just around the corner, the appointment is yet to be made.
Tom O'Connor looked after the team, in a caretaker capacity, for their recent glamour friendly with world champions the USA, and he's set to continue to do so until Bell's successor is found.
"They're doing all they can to find the right person," McCabe said as Boots confirmed a three-year sponsorship of the team.
"And I trust that they'll do that. It's just taking the right amount of time to get the right candidate for the job."
"We were disappointed to see Colin leave, but Tom was his assistant. The structure hasn't changed that much, we still have a core group of players.
"Hopefully we can start the European campaign the way we want to."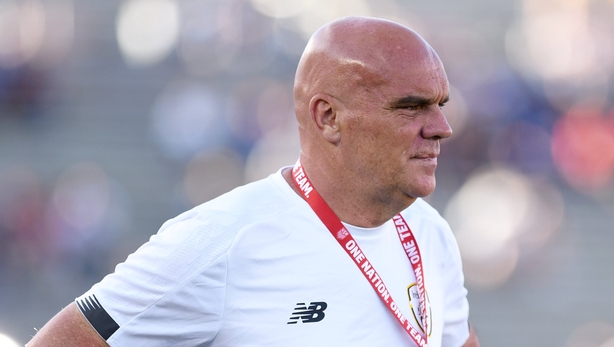 The road to England 2021 starts in Tallaght on 3 September against Montenegro, before second seeds Ukraine visit Dublin in October.
Eight-time winners Germany are the favourites for the group, and McCabe admits that it will be difficult to qualify.
"It's a tough group," McCabe told RTÉ Sport.
"Germany have won a lot. But we've tested ourselves against the best in previous campaigns, the likes of the Netherlands. That's what we want, to challenge ourselves, and I'm confident in our ability to get over the line.
"The game against Montenegro is going to be hugely important to get us going, right from the start.
"Hopefully we'll be getting three points from that"