Pep Guardiola has hit back at comments from Jurgen Klopp over Manchester City's spending power.
Liverpool boss Klopp recently said his side were unable to compete with the likes of Guardiola's City in the transfer market.
Champions League winners Liverpool have made just two low-key signings this summer after being the biggest spenders of 2018.
The German said: "People talk about it like, 'now another £300million or £200m'.
"There are maybe only two clubs in the world - it looks in the moment like Barcelona and (Real) Madrid can do the same - (Manchester) City and Paris St Germain that can do it every year."
Guardiola claims City are not spending at that level every year and only did so once, in the summer of 2017, through necessity.
The City manager said: "Of course it bothers me because it's not true that we spend "200m in every transfer market.
"So it's Liverpool - you'll never walk alone - so it's not a small team. It's Liverpool.
"Last season we spent £17m (net) on one player. Two seasons ago, if we spent a lot, it's because I took over the team and we had 10 or 11 players over 30 years old. So we had to do it. But we cannot spend £200m every season."
City pipped Liverpool to the Premier League title by a point last season after a memorable title race. The two clubs renew their growing rivalry when they meet in the Community Shield at Wembley on Sunday.
Guardiola is an admirer of the work Klopp has done at Anfield.
He said: "He inspires me in many things. He is a class manager, a top manager. He's so good and it is an incredible challenge for me every time I face his teams."
Last summer, City brought in Riyad Mahrez for a club record fee of £61m. Their second biggest purchase of the window was the £2.3m transfer of Philippe Sandler from PEC Zwolle.
City have again broken their transfer record this summer with the signature of Rodri from Atletico Madrid for £62.8m. They are not expected to make any other headline signings, although that could hinge on whether or not the club can keep Leroy Sané at the Etihad Stadium. 
Sané's future at the club has been subject to speculation all summer, with Bayern Munich openly expressing their interest in the German international, but Guardiola again said he been given no indication that Sané wants to leave.
"The player didn't tell me anything. No players have said they want to leave. That is the reality I have. He is our player. We want him to stay."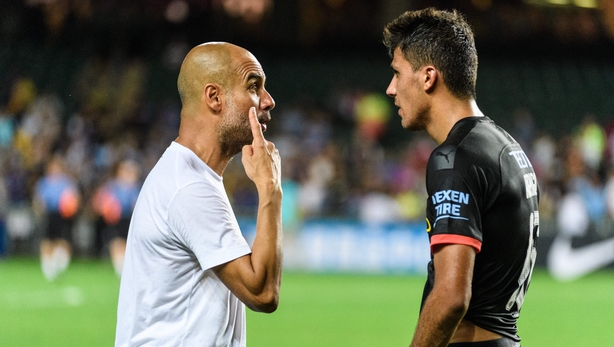 Guardiola said: "I have said many times I want players who want to stay because it's impossible for me as a manager to convince a player to do what we want to do when his head is away from here.
"But the player didn't tell me anything that he wants to leave, so that is the only reality I have. If he knocks on the door and tells me he wants to leave then, OK, we are going to speak with the club.
"But nobody has told me that. So that's why he's our player, he's my player. We want him to stay here because we have tried to extend the contract for more than one year.
"We were quite close a month ago and now it's a little bit different but that's the reality. I can't say any more."
City have been linked with Juventus full-back Joao Cancelo in a possible swap deal for Danilo but Guardiola would not comment.
Asked if there might be any more incomings or outgoing this summer, the Spaniard cryptically said: "Few. A few. A few, in and out."
The transfer window closes for Premier League clubs at 5pm on Thursday August 8. However, clubs will still be able to sell players as the window remains open for many other major leagues. The window in Italy remains open until August 18, while Spain, France and Germany will all close their transfer windows on August 31.
The City squad is now close to full strength after a number of players missed the pre-season tour of Asia due to international commitments.
Midfielder Fernandinho, who was at the Copa America, is due to return to training next week, when Guardiola will choose the new captain following the departure of Vincent Kompany.
"When Fernandinho comes back next week we will decide the captain. We want to be all together to choose the captain."