Cork have a mamoth task on their hands against Progres Niederkorn as they seek to overturn a two-goal deficit from their first-leg defeat in Turner's Cross.
The Luxembourg side eased to victory a week ago in Cork as first half goals from Belmin Muratovic and a Mayron De Almeida penalty were enough to see them take a commanding lead into the second leg.
City did miss from the penalty spot and had another clear-cut appeal for a spot-kick turned down, but rarely looked like they had the belief or conviction to break Progres down from open play.
Nevertheless, Cork head coach John Cotter is confident that his side have the ability to cause progress for the home side in Luxembourg, as he stressed the importance of scoring an early goal.
"We've looked back on it since," he said. "Obviously, we gave away two soft goals, but we have discussed it and had some good training sessions, so we have to be positive going over there. That's the way we have approached it this week and we will look to bring that into the game.
"We have to go out and try to get the first goal, and see where that takes us, so that's what we will be planning to do. If we can get the first goal, it will open up the tie and I feel we can do that if we perform like we should perform."
"I thought we started quite well but, when we conceded, we lost our way for a while and a lot of that comes down to confidence. We need to be better than that, so we have addressed that and spoken about it and hopefully the players will go out and put in a performance."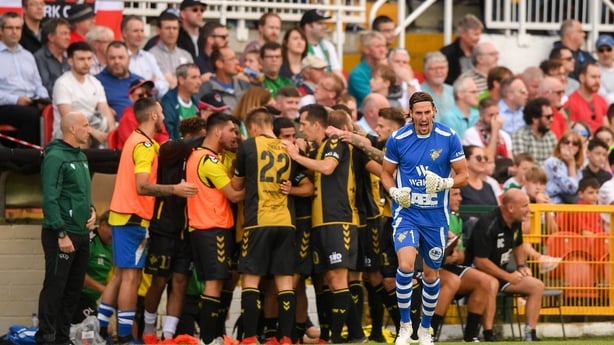 Cork will have to buck their recent form to put in the kind of performance that Cotter is seeking as they've gone eight games without a win, with their last victory coming over Premier Division strugglers UCD back in May.
On the injury front, it is hoped that Shane Griffin and Kevin O'Connor will both be available, but Cian Murphy and Cian Bargary are both definitely ruled out.
The dangling carrot of a second-leg tie against Scottish side Rangers is there for both sides, with Progres having famously dumped them out of Europe in 2017.
However, despite their two-goal advantage, Progres boss Roland Vrabec is not looking past the second-leg against Cork and believes that his side still have to be wary against the Rebels.
"As it stands, we still have a lot of work to do in the second leg," he said. "We made a fast start, played a nice aggressive game and won all our challenges.
"Of course we had a bit of luck because Cork City missed a penalty, but in the second half we had so many good chances to score.
"We need the same performance at home to complete the job. I'm not thinking about the next round and neither are the players because I won't allow them to. We are only concentrating on playing Cork."