It's fair to say that it's been a busy week for Carlow native Eric Molloy. It's not everybody who plays against Chelsea twice in four days for two different teams, let alone score a late equaliser in one of those games.
Sitting down with him on Saturday evening for a chat, just a couple of hours after appearing for St. Patrick's Athletic against the London side, he finally had a chance to catch his breath.
"Yeah, it's been a mad week really. I spent the week training with both Pats and Bohs. Pats were doing mornings and Bohs evenings so I was able to juggle the two. On one of the days I actually trained with both on the same day. Four sessions in three days, it was tough going."
Molloy returned home to Ireland last month having plied his trade in New Zealand for the last three seasons. He initially signed for Irishman Paul O'Reilly at Southern United before moving on to of the league's biggest sides, Team Wellington.
While at Wellington, he played in last season's Club World Cup which was held in the United Arab Emirates. It was an experience he thoroughly enjoyed and he hasn't yet ruled out going back to the southern hemisphere.
There is an option to go back to Team Wellington or possibly even Auckland City and I'm still considering it
"I loved it down there. The style of football is very different. It's a lot more possession based which I think is probably down to the weather conditions. You can't go tearing around the place in that heat or you wouldn't last the pace. You have to let the ball do the work and I think that helped me improve my game tactically."
"There is an option to go back to Team Wellington or possibly even Auckland City and I'm still considering it. But I wanted to have a look around back at home first and see if any options popped up."
With that in mind, Molloy didn't sit around and waste any time after his return home.
"I got back about four weeks ago. I took a week off fully then got back into the gym for a few sessions. I got on the phone then and started to make a few phone calls to see if I could get in somewhere for some training."
His first stop was back at his old stamping ground, Ferrycarrig Park, home of Wexford FC. Molloy was a standout performer in the Wexford side that won the 2015 League of Ireland First Division and took advantage of an invitation from the club to play in a pre season game against AFC Wimbledon.
"I was a bit rusty in that one to be honest. I hadn't really trained with them or anything but it was great to get a chance to be thrown in against a good side like that."
Training sessions at Dublin sides Bohemians and St. Patricks Athletic followed, with the Rathvilly man doing enough to justify a place amongst the subs for both teams' friendly games against Frank Lampard's Chelsea.
With Bohemians a goal down to the Europa League champions in last Wednesday evenings game, Molloy was sprung from the bench and wasted no time in acquainting himself to the Dalymount faithful.
@bfc equaliser v @Chelsea by Eric Molloy - cracking finish and what a stepover by 14 year old Evan Ferguson pic.twitter.com/6kiEBW0Ucq

— Bohemian FC 🔴⚫ (@bfcdublin) July 10, 2019
"From a couple of sessions with Wardy (Keith Ward) it was obvious that he looks to play a forward ball at every opportunity. So as soon as I saw him pick up the ball I said I'd make a burst in the hope that he's pick me out.
"I roared at him and in fairness he played a great ball. I thought young Evan (Fergeson) was going to get in the way of it but fair play to him he managed to step over it."
"Then it was just a case of trying to get the first touch right so as to give myself a chance. I was going to shoot across him but he moved early so I hammered it home at the near post. But it all comes from Wardy, it was such a brilliant pass."
If Molloy's finish was good, the celebration that followed was equally eye-catching. A cartwheel followed by a summersault was executed to perfection.
We need your consent to load this SoundCloud contentWe use SoundCloud to manage extra content that can set cookies on your device and collect data about your activity. Please review their details and accept them to load the content.Manage Preferences
"I have to thank them at Carlow Gymnastics Club for teaching me that one. I only really starting playing soccer when I was 13. Up until then it was all gymnastics and Gaelic football."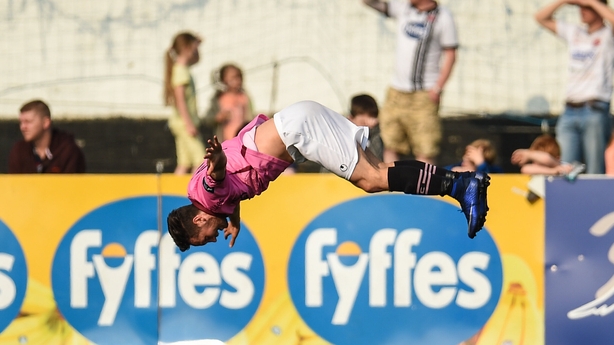 One person who certainly enjoyed the goal and subsequent celebration was Molloy's mother, Bernie.
"Mam went to the game because she hadn't seen me play in ages. She was standing right beside the media boxes where all the Chelsea reporters were. When I scored she started shouting and sure that caught their attention and I think she ended up being mentioned in a few of their reports."
Three days later and Chelsea's new nemesis returned again. This time the venue was Richmond Park as he lined out for Harry Kenny's side.
"The second game was tougher. When I came on I had Alonso and Pedro on my flank so it was hard to find too much space.  I think I did OK though."
Post game, Molloy was collared by Sky Sports presenter Gary Cotterill for an interview.
"He said to me, 'You've appeared against Chelsea in their last two games now, does that mean we should expect to see you to line out for Barcelona against them next week? And what about their trip to Japan later this month, will you be playing against them over there too?"
So what next for Molloy? At the moment, he is open to all offers and happy to travel wherever football takes him.
"Keith (Long) and Harry (Kenny) both said they would be back to me for a chat this week. I really appreciated them giving me a chance to come in and train and play and maybe something will happen on the back of it. Both clubs treated me so well and I thank them for that."
"I have nothing tying me down at the minute so if I have to travel to the likes of Derry or Sligo, or even England or Scotland, then there's nothing stopping me doing that. I just want to get back playing at as high a level as I can as soon as possible."
Listen to the RTÉ Soccer podcast on Apple Podcasts, SoundCloud, Spotify or wherever you get your podcasts.