St Patrick's Athletic manager Harry Kenny couldn't understand how his side were denied a penalty, but accepted that visitors Norrköping were the better side as the Saints fell to a 2-0 Europa League qualifier defeat at Richmond Park.
The incident happened in the first-half, with the game still level. Mikey Drennan worked himself into space, before teeing up Gary Shaw. The striker was pushed down inside the box, but referee Lionel Tschudi quickly waved away the claims of the Pats players.
"Definite," was Kenny's response afterwards when asked if it should have been a penalty.
"I think the defender misread the ball. Shawzy got in behind him, and it was definitely a nudge in the back.
"I couldn't believe that he didn't give it. It possibly would have changed the course of the game, and given everyone a lift.
"I know that's all ifs and buts, we were doing really well at that stage, and it would have given us something to hold on to."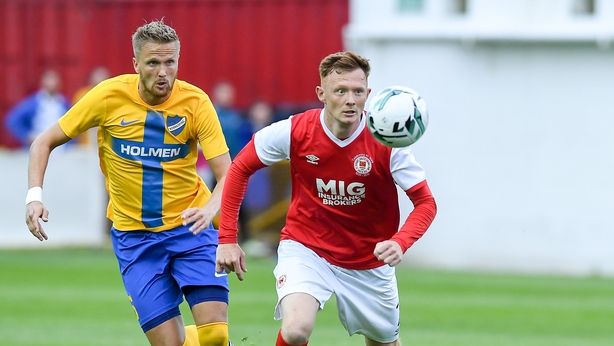 In truth though, the Swedish visitors showed the more intent over the course of the game.
Pats managed to keep it scoreless up until half-time, despite a spell of pressure just before the break.
But the resistance was broken by a smart Simon Thern finish ten minutes into the second-half, before a late Kasper Larsen header, with the help of a big deflection, put the visitors in the driving seat ahead of next week's second leg.
"I'm delighted with the lads' performance and effort," said Kenny. "They're a really good team, particularly on the break.
"It's sort of been the story of our season. I'd really like teams to carve us up if they're going to beat us. We give the ball away for the first goal, and you definitely can't do that against a team of that calibre.
"Their keeper made a couple of good saves against Bermo (Ian Bermingham) and Mikey (Drennan).
"They also could have killed it off before the end of the match, with an extra goal or two."
It leaves the Saints facing a daunting task in southern Sweden next week, but Kenny says they're still in the tie.
"You wouldn't go attacking straight off," was Kenny's view of his probable approach to the second leg.
"We'll try and sneak a goal, and then have a go. You still want to be in the game going into the second-half of a game like that.
"You wouldn't throw caution to the wind too early."