Just like everyone else in the capacity Oriel Park crowd, Andy Boyle took his seat to watch Dundalk take on Riga in the first qualifying round of the Champions League.
Back from his two-and-a-half year stint cross channel, the Ireland international centre-half is back at Dundalk, yet had to be content with a place on the bench for the first instalment of the Lilywhites' 2019 European campaign.
Boyle was one of the key men throughout the historic 2016 season where Dundalk reached the group stages of the Europa League going head-to-head with teams like Zenit St Petersburg, AZ Alkmaar and Macabi Tel Aviv, having already accounted for BATE Borisov along the way.
The Dubliner's stellar season resulted in international recognition from then Ireland manager Martin O'Neill and the defender was subsequently signed by Preston North End.
The dream move, however, stalled somewhat as Boyle was sent out on loan in 2018 and played a handful of games for Doncaster Rovers, Dundee and Ross County.
And as a result, Boyle is now back at his old stomping ground, and returns exactly where he left them, top of the table and looking likely to win this season's SSE Airtricity League Premier Division.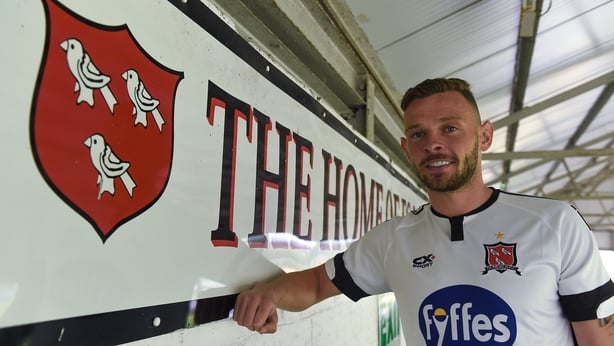 But despite the centre-half's quality and experience, Vinny Perth's team-sheet would have reminded Boyle that he was not about to waltz back into the starting XI.
There has certainly been a lot of continuity at the club since Boyle left, but a lot has changed as well, with the obvious example being former assistant manager Perth is now in charge following Stephen Kenny's departure.
There has also been lot of changes in the Dundalk defence as Sean Hoare and Dan Cleary were the first-choice centre-halves for the visit of Riga, with experienced duo Boyle and Brian Gartland making do with a place on the bench.
And while Cleary and Hoare barely put a foot wrong in the first half, things would change in the Dundalk defence at half time.
Chris Shields took a bad blow to the face just before the break and Dundalk chose not to risk the midfielder for the second half.
As a result, Hoare moved into midfield and Boyle returned to make his first appearance back at Oriel Park since re-signing for the club.
And almost immediately Boyle looked like he had never been away.
Riga barely threatened Dundalk in the first half, happy to sit back, frustrate and play for a clean sheet.
But to their credit they did come out to play a bit more in the second, and as a result Boyle appeared to go straight into default mode, taking control at the back, calling the shots, directing play, while also happy to drive on with the ball into the space in midfield.
The centre-half was happy to mix it with the very physical centre-forward Roman Debelko, while also stepping back at times with Riga causing problems with their pace down the flanks.
And Boyle's evident authority appeared to help Hoare push forward from his defensive midfield position, while also giving Dean Jarvis licence to match fellow full-back Sean Gannon and attack down the wing.
"It's a big part of my game," said Boyle, speaking to RTE Sport after the 0-0 draw.
"I try to be composed on the ball and instil confidence in the team. And one to eleven, you can see that everyone is comfortable on the ball and it is the style we play and what the manager instils in us.
"Organisation and experience is going to help the team and help the lads around you.
"I did that before I went, and I'd like to think that I have improved since I was away."
And looking back at the game, Boyle felt that Dundalk were "only ok" in his post match assessment, and admitted that they were a little bit disappointed not to have won the game.
"Probably, frustrating is the word I would use," said Boyle.
"We didn't create enough chances as we would have hoped to, being the home team, but a 0-0 for the home team isn't the worst result as we didn't concede an away goal.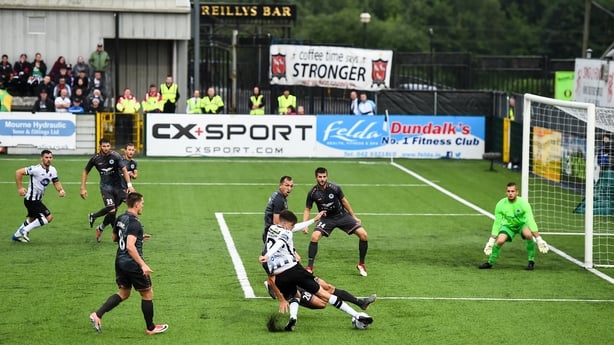 "So if we get a chance to nick a goal over there it will make it difficult for them. But overall I think we were only ok tonight, and I think that's the guts of it really."
Dundalk were well prepared for the game and knew what to expect from Riga with head coach Perth having them watched four times in preparation, however, Boyle believes that you really get a feel for a side when you meet them face-to-face.
And as a result, the team will analyse the first leg to allow them to put a real plan in place for the second leg.
"There is nothing better than going out and having a look at a team face-to-face, to know there strengths and weaknesses.
"They are a well organised side and are decent on the counter attack, and they set themselves up in a way where they tried to stifle the play.
"Overall, I think we defended well and limited them to that one chance really.
"But they should be a different outfit at home next week."
And looking ahead to the match in Riga, Boyle feels that the clean sheet from the first leg will give Dundalk real hope going into the return fixture.
"It is key on European nights not to concede at home because it leaves you with a mountain to climb.
"Obviously, we would have liked to score to give us a bit of a cushion, but we'll go out there and try to score, as we always do.
"Out there, I'd imagine that they will come out and attack a bit more, and we will have to do the same again and defend properly. So if we can stifle them, we have the quality to hurt teams.
"And while there is a little bit of disappointment that we haven't won the game, we haven't conceded so we can bounce into next week."