Women's World Cup semi-final
England v USA - Tuesday 2 July, Stade de Lyon, 8pm
TV
Watch live coverage of England v USA on RTÉ 2 from 7.30pm.
ONLINE
Live blog on RTÉ.ie and the RTÉ News Now App from 7.30pm.
Neville stoking up rivalry
Phil Neville has come a long way since that rocky start to his appointment as England manager in 2018.
The former Man United and England defender was only hours in the position when regrettable tweets from his account in 2012 were brought to the surface. In one post, he said he expected women not to have been reading his Twitter messages but to have been "preparing breakfast/getting kids ready/making the beds".
The controversy that followed prompted his new employer to issue a statement on his behalf, promising that the sexist views articulated in the post were not "a true and genuine reflection of either my character or beliefs."
Not a great start to Neville's time in charge.
Fast forward to the 2019 Women's World Cup, and Neville has guided England to the semi-finals of the tournament while also bowing to the greatness of defender Lucy Bronze.
"I played full-back but never to that level she played at," he said after their victory over Norway.
Having already reached the semi-final stage in the last World Cup, Neville will be hoping to make history and guide them to the showpiece fixture. Dumping the reigning champions out of the competition in the process would be an incredible way to achieve that feat.
And Neville has not shied away from stirring up a rivalry with the USA in advance of a battle he has been targeting ever since he became England manager.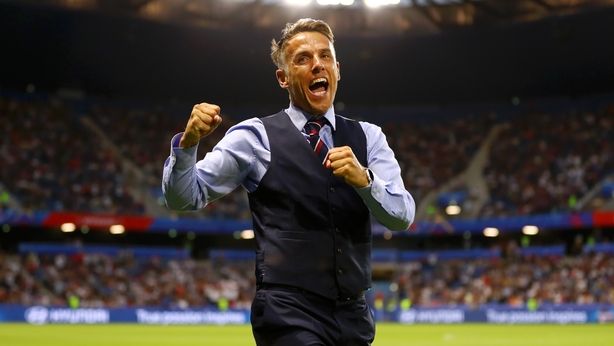 Over the weekend, it transpired that operations staff from Jill Ellis' team were spotted at the England team hotel in Lyon ahead of their semi-final. The Americans are scheduled to check into England's accommodation should they advance to the final, with Ellis insisting that the actions of her staff was strictly for planning purposes.
Neville didn't quite see it that way.
"I actually found it quite funny," he said. "I just thought: 'What are they doing?' It's not etiquette really, is it? The only thing I would say is it's not something that I would want my team ops person doing."
Additionally, Neville also threw some mild shade at USA star striker Megan Rapinoe. While recently calling her a player that he "really admires," he also took that opportunity to bring up a clash between the sides in the SheBelieves Cup where Rapinoe accidentally broke his watch.
"A ball bounced on the touchline," he recalls, "and I went to catch the ball and her studs came right through my Apple Watch. She's not paid me back yet!
"What I liked about it, she didn't say sorry, she just got on with it, she's a winner. I like the individuality, both on and off the field. I think she's a world-class footballer."
Thanking someone for not apologising after breaking one of your possessions is certainly a novel way to extend a compliment to them.
USA have come through a tougher path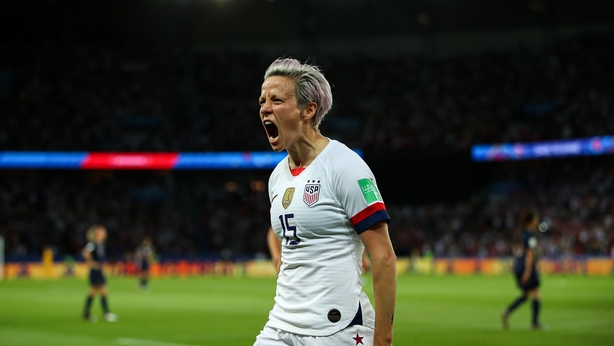 Both sides come into this semi-final as group winners, but the knockout stages have been a tougher challenge for USA.
The defending champions had to overcome tough ties against Spain and tournament hosts France to get to this point. Both fixtures produced 2-1 results in USA's favour but they were made to sweat for their victories.
They conceded their first goal of the tournament against Spain, after some poor defending allowed Jennifer Hermoso to score an equaliser and rattle America's cage. Ellis' side had to wait until the 75th minute to find a winner, with Rapinoe slotting home her second penalty of the afternoon to secure the win.
Rapinoe proved to be the difference against France too, hitting a decisive brace to send her side through to the final four of the competition.
But it wasn't a straight forward victory. Wendie Renard headed home in the 81st minute to put some question marks over the result and forced the US to hold on for the win.
Meanwhile, England won their World Cup last-16 and quarter-final ties by a combined scoreline of 6-0. Cameroon and Norway had no answer for the Lionesses' prowess.
The USA will present a much more difficult challenge on Tuesday.
Although the sides drew en route to England's triumph in the SheBelieves Cup earlier this year, the stakes are much higher this time around.
Holding Rapinoe and Alex Morgan - who are joint-top for the Golden Boot award so far with England's Ellen White - could be the key to breaking down the World Cup holders. But it's a colossal ask.