Colin Bell says he is "devastated to give up" his position as manager of the Republic of Ireland women's team but revealed that he was unable to reach an agreement about his future with the FAI.
Bell is leaving to become assistant to manager Jan Siewert at the recently relegated Huddersfield Town, after two years at the helm with Ireland.
Speaking to RTÉ Sport following the news of his departure, Bell explained how negotiations with the FAI about his future failed to reach a positive outcome.
He says he came to the FAI with a plan to improve progression in the women's game, but claims that their response to his suggestion "wasn't good enough for me." He went onto say that the overall growth of women's football in Ireland is "going too slow as far as I'm concerned."
"I had a fantastic offer which I declined," said Bell when outlining the background behind his decision to leave his position. "And then Huddersfield made a better offer and then I told the FAI what was going on.
"Then the question was 'What do we have to do to keep you?' We went through a few things and had some really good conversations. I made a list of things that I thought needed to be done and how my position should then be defined.
"We were speaking over the next four years. We were all very optimistic that that would happen. After a board meeting on Thursday evening, this was not able to come to fruition unfortunately. So I had to make a decision to leave the FAI."
He added: "One side of me is very honoured to get the offer from a championship side who just left the Premier League. But I'm hoping that the girls can carry on the way we've been carrying on. I'm absolutely devastated to give up this team, I've loved working in Ireland, I've loved working with the girls.
'One side of me is honoured, one side of me is gutted' - Colin Bell on his decision to leave his position as manager of the Ireland women's team. pic.twitter.com/fGLFNUt7IE

— RTÉ Soccer (@RTEsoccer) June 29, 2019
"It's been a real roller-coaster emotional last few days. One side of me is very happy and honoured, the other side of me is absolutely gutted to leave such a fantastic set of players." 
Peter Collins put it to Bell that financial constraints in the FAI could have been factor in the breakdown of their negotiations. Bell replied:
"I think the board at the moment want to play safe but I think it would have been a fantastic opportunity in this time when things are very negative. It is a lot of stress for a lot of people, I appreciate that. I think it would have been a fantastic move to really show that we want to grow the women's game in Ireland.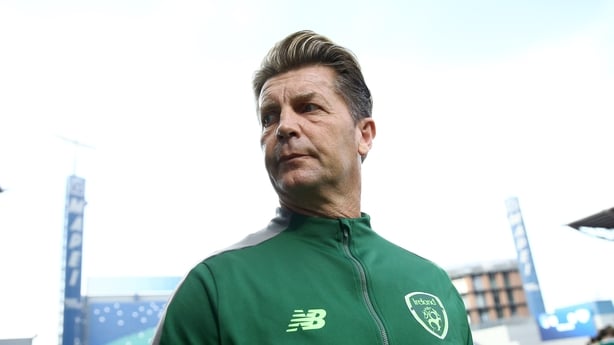 "Like I say, it just wasn't possible. I'm very lucky to have an offer I could go to. But the FAI have to make sure that the women's game continues to grow and I think the plan that I had would have helped this.
"I think the women's national team has come on leaps and bounds but I was a little bit frustrated that the structures for underage football and the women's national league was too slow, I think.
"I think I had a good plan in place to improve that. I was told that things would carry on as they are to start off and we'll see what happens. That wasn't good enough for me, I wanted progression at every level and I think I would have been really able to grow the game. I'm sure it will grow because we've got a great set of girls.
"The progress in and around the women's game is just going too slow as far as I'm concerned."