The timing of Colin Bell's departure from the Republic of Ireland women's team is "not ideal," according to star defender Louise Quinn.
Bell, who has managed Ireland for the past two years, is leaving to become assistant manager of the Huddersfield Town. Huddersfield were relegated from the Premier League this season and will soon be starting their pre-season training ahead of the Championship.
His departure also comes ahead of Ireland's upcoming Euro 2020 qualifier against Montenegro in September.
"The timing wouldn't be ideal with the Euros coming up for us, starting in September," said Quinn on Saturday Sport.
"It's been a strange morning to wake up to some of that news.
"It's something where we're just going to have to carry on. These things happen in football quite a bit. It's not an ideal situation but we've still got a brilliant squad there, we've just got to push on."
She continued: "We have a very strong squad. We've been through a lot over the last couple of years. We've fought hard and stuck together. This is just gonna be another one of those moments where we're going to do the same and battle on.
"It's a huge qualifiers for us and we're so determined to get through it. We're gonna try and make sure that nothing stands in our way."
The Arsenal defender added that the news "pretty much" came as a shock to the Ireland squad, but insisted that the players will continue to focus on their preparations for the Euros.
"He's been offered some brilliant positions during his whole career," said Quinn.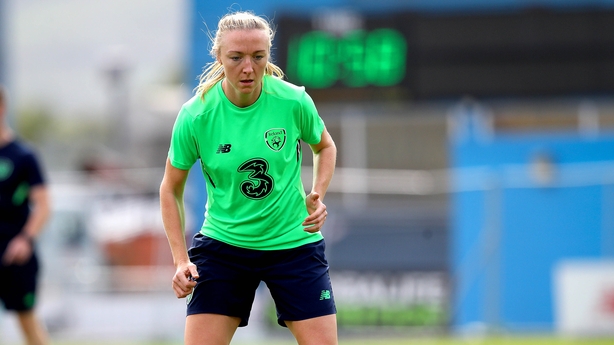 "He was just very dedicated to changing the women's game but it has come up. We're still trying to receive some information on our end about the whole situation. Until we know a bit more, we've just got to carry on."
It's believed that the current women's U17 and U19 head coach Dave Connell is considered to be among the favourites to replace Bell, but Quinn cautions that nothing is confirmed yet.
"He would have been our assistant coach. We wouldn't be sure about the replacement at all yet, it's all rumours coming around. But Dave is very experienced in the FAI and he could be [the next manager] but again, it could be all rumours so we're not sure at the moment.
"We just can't speculate until we hear more."
RTÉ's George Hamilton was also speaking on Saturday Sport. He explained that Bell is friendly with Huddersfield manager Jan Siewert, and that he would be required to report for duty soon as pre-season preparations get underway.
"Coming into pre-season for clubs, Huddersfield Town were relegated from the Premier League and would be getting started on Monday. This is why Colin has gone at this juncture if he's gonna take up the job.
"His relationship with the manager at Huddersfield goes back a long way, he holds him in great regard and will be a welcome addition to the coaching staff. But [he's] definitely a loss to Ireland.
"The timing can't be ideal but these things happen and you've just got to get on with it."