It was the 88th minute of Tuesday night's Women's World Cup last 16 clash between Netherlands and Japan and the game was finely poised at 1-1.
The Dutch were on the attack and the ball spilled back to Vivianne Miedema 10 metres out from goal.
As Miedema pulled her foot back to shoot, Japanese captain Saki Kumagai ran forward to attempt a block. Kumagi pulled her arm closer to her body as Miedema connected but at point-blank range the ball struck the defender's upper arm.
Honduran referee Melissa Borjas immediately whistled for a penalty, a decision that was upheld by the Video Assistant Referee, and then showed a yellow card to Kumagi.
Lieke Martens converted the spot-kick to give a Netherlands side that had been on the ropes for much of the second half a questionable victory.
'Defenders are now going to have to be coached to play with their hands behind their backs' #WWC2019 #FIFAWWC #rtesoccer pic.twitter.com/d4ToUZQHzI

— RTÉ Soccer (@RTEsoccer) June 25, 2019
Speaking after the game, the RTÉ Soccer panel of internationals Kevin Doyle, Stephanie Roche and Richie Sadlier discussed the decision to award a penalty, and the implications of the recent rule stating that non-deliberate contact with an arm that is making a defender's body 'unnaturally bigger' should be penalised.
"It's part of her body. There's nothing she can do, she can't get rid of her arm," said Doyle. "The ball hits it from two yards away at 60 miles an hour, what is she meant to do?
"I know it's the rule but the rule needs to be changed.
"They've gone out of the World Cup last 16 for something that wasn't their fault. It's not like she has lazily dived in or done something silly.
"Her arm is a part of her body. She had to run out a couple of yards to close down. She's not going to run out like that (arms behind back), she has no balance and can't get there at pace if she does that.
"Her arms are by her side. She has done everything right. She's trying to get her hand out of the way.
"Some sort of common sense has to come into play where that does not happen."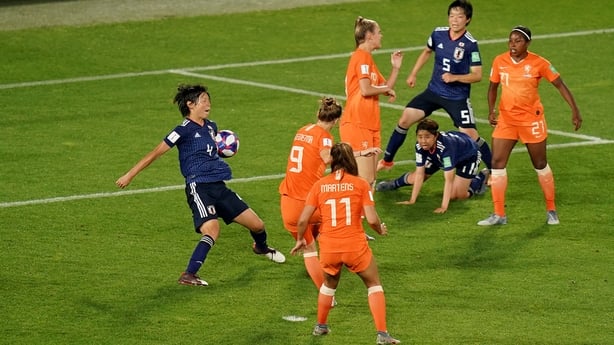 Current Ireland star Roche thought the decision was harsh but warns defenders will have to adapt to the new reality.
"We've seen it in a couple of the games now," she said of several incidents of penalties for handball at the World Cup.
"It's more that it's point-blank range. She does try to take her hand out of the way at the ball coming at her.
"As a defender in that position, it's very difficult to run at the player and hold your hands in at the same time.
"Players are going to have to get better at doing it because it has happened a lot in this tournament but you have to feel for her in this situation because of the way the game was going."
Richie Sadlier suspects that with such a strict interpretation of the rule, forwards will deliberately kick the ball at defenders who have their arms exposed.
"It's very difficult to move at pace or with balance with your hands behind your back," he said.
"We're going to see all defenders being coached to defend that way but you're going to be a far less effective defender because you're going to move hell of a lot slower.
"The wording of the law means a defender coming out like that is leaving themselves way too vulnerable for the ball to be struck against their hand.
"Players are going to deliberately fire the ball in the direction of a defender."
Watch Norway v England live on RTÉ2 and RTÉ Player this Thursday from 7.30pm