Robbie Keane believes that Troy Parrott has everything that he needs to make it to the very highest level in football, but the Ireland coach hopes that the player is given plenty of time and space to develop into a top player.
The Tottenham Hotspur youngster has made a huge impact at the London club and has impressed at Ireland underage level, however, Keane believes that it is now up to the player to make the most of his career.
Because while Parrott makes the natural progression through the ranks at both club and country, Keane believes that the current Irish centre-forwards are more than capable of driving the side on for the remainder of the Euro 2020 qualifying campaign, as the former striker spoke highly of David McGoldrick and Scott Hogan.
"We have to be careful with Troy Parrott and not pigeon hole him with being the next me and all of that," said Keane, speaking to RTÉ Sport while paying a visit to Crumlin Children's Hospital.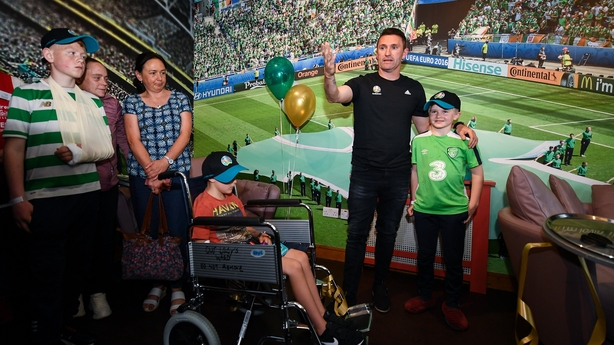 "Let him develop as a young player," added Keane, while also acknowledging the potential of the young striker, who plies his trade at one of his former clubs,
"Has he got ability? Absolutely. I speak to [Mauricio] Pochettino all the time and he loves him. Jesus (Perez) the assistant manager loves him.
"He definitely has potential but he just turned 17; I know I got thrown in at 17 but he's still young, he's had a lot of attention.
"When he gets the chance to go to the [Ireland] Under-21s then come to us, he certainly has a chance but it's up to him, it's up to him because he has everything but how do you get from there to there."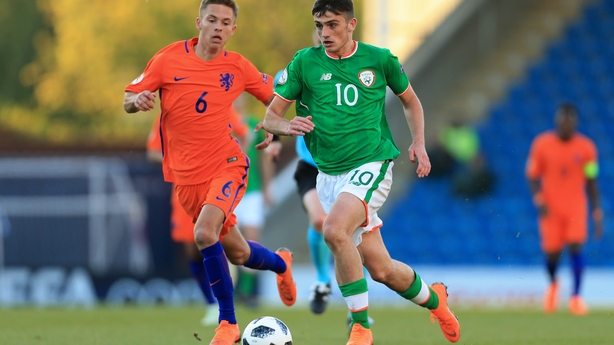 Keane, of course, is embedded in the Ireland squad, working alongside Mick McCarthy and Terry Connor as they attempt to plot the national side's route to next summer's European Championships, and the Dubliner admitted that he is loving every minute of his new job.
"I absolutely love it," said Keane. "Mick has been great and the players have been brilliant.
"I'm enjoying it, enjoying being around people, enjoy putting sessions on, enjoy helping people, making them better players."
The record Ireland goalscorer also added that he loves working with the strikers, but just don't call him a forwards coach.
"First and foremost, let's make this very clear, I'm not a forwards coach," said Keane. "I can help people because I know how to play there but I am not a forwards coach.
"I didn't take the job to be with Mick as a forwards coach. That's not on the resume.
"I'm here as a coach to help everybody. Obviously, I'm an "expert" – probably not the right word – but I know how to be in the right place and help people, maybe just a small thing in the mind."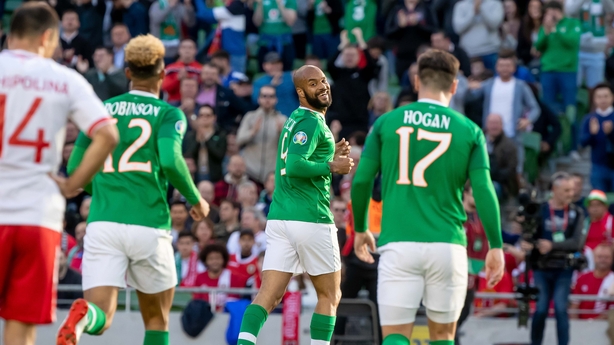 David McGoldrick and Scott Hogan have yet to score a goal for Ireland, yet Keane was full of praise for both front men and believes that both players will have a big impact for Ireland throughout their international careers.
Keane called the front players over to the sideline during a break in play in Monday night's match against Gibraltar, hoping to pass on some valuable observations from a man who scored a hat-trick the last time the Iberian side were in Dublin.
"Of course I called them over, it is my job," said Keane, who added that he had spotted some situations where there was better options for passes and running between the two centre-halves.
But Keane said that the goals would come as long as they were doing what was asked of them, which he believed they are.
"McGoldrick has been unbelievable, the way he has been playing," added Keane.
"Naturally, he likes to come deep but he has been playing a little bit higher, and then coming deep, which makes a huge difference."
McGoldrick helped Sheffield United to promotion from the Championship to the Premier League, and while Keane believes that the forward certainly has the game to impress in the top tier, he has also offered him words of wisdom ahead of the start of the new season.
"I've spoke to him about that for when he plays in the Premier League, it is going to be a different ball game.
"You get one chance in the Premier League, you might get four or five in the Championship, but in the Premier League, you get one chance and you have to take it.
"Could he play in the Premier League? Absolutely. Technically, he's brilliant, very, very good. He is comfortable on the ball. He can play as a 10, he can play as a nine, which we saw in the Georgia game when he got a standing ovation as he came off after having been brilliant."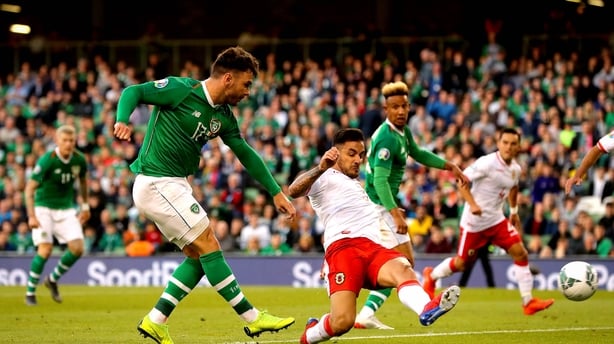 Scott Hogan was also part of the Blades side that secured promotion, albeit as a loanee from parent club Aston Villa, and while the striker spoke of his future and the encouraging words from the manager McCarthy following Ireland's 2-0 victory over Gibraltar, Keane was also full of praise for the 27-year-old.
"Scott has got good movement. He comes alive inside the box," said Keane.
"He is very sharp around the edge of the box, so it is up to the other players around him to give him the opportunities and create chances for him, because he will definitely score; I have seen it in training."
"Scotty has probably never played with some of the other players, and there is other things that come into it.
"If it doesn't come off, no problem But as long as they are seen to be doing it and trying to do the right thing."
And while Keane spoke about having the expertise on forward matters, he was happy to defer a defence-related question to the manager when asked whether Matt Doherty could be accommodated in the same team as Seamus Coleman.
"That's a conversation you need to have with the manager. I'm not the manager, I'm the assistant manager. It's the manager's job to pick the team.
"We have our ideas of course but he picks the team," added Keane who likened the situation to back when he was playing when the national side also had an abundance of right backs to choose from.
"Seamus Coleman is one of the best right backs in the world, Matt Doherty is one of the best so what do you do?
"Years ago, Stephen Carr, Gary Kelly, Denis Irwin, Steve Finnan ...we have two of the best right backs at the moment in the Premier League but what do you do?
"It happens. That's football.
"But then that's not to say that Seamus is going to play all the time. He might play the next game or somebody could get injured.
"Could he (Matt) come in? Absolutely. He is top class. Unbelievable.
"And he is a lovely lad. A great lad to have around the place. So we are blessed to have two of the best right backs in the world, I would say, certainly in the Premier League."