Mick McCarthy admitted that he was delighted with his squad following three weeks of team bonding, coupled with securing an important away point in Copenhagen on Friday.
However, the Ireland manager warned his players that it all counts for nothing if they fail to put three more points on the board as they take on Gibraltar at the Aviva Stadium on Monday night.
The manager also agreed that ten points from the opening four games could be considered the perfect start to the campaign as he attempts to secure qualification to next summer's Euro 2020 tournament.
Victory against Group D's perceived weakest team, Gibraltar, will see Ireland remain top of the group at the half-way stage of the campaign, with four more games to take place throughout the autumn and the top two sides guaranteeing qualification for next year's event, which is co-hosted by Dublin.
Ireland have a three-day turnaround following the hard-fought, and perhaps fortuitous draw in Denmark, and while the manager is expected to make some changes to personnel ahead of the visit of Gibraltar, McCarthy said that he was happy with fitness levels shown by the players in Copenhagen.
"Possibly," said McCarthy, speaking at the pre-match press conference, when asked whether he would make changes.
"We'll see how they are all this morning, they all seem good, moving well.
"Some of them haven't played for three or four weeks, [but] they didn't look to have any ill effects after playing on Friday night, they were all still running hard after 94 minutes."
And the manager knows that Monday night's game is far from a formality considering the tough test that was asked of his side in the away fixture in March.
So the most important thing in the manager's mind going into the game is to secure the three points, a point that he has emphasised to the squad.
"As we saw in Gibraltar. We saw how stubborn they were, they have got strengths on corners and free-kicks; Darren Randolph's magnificent save came from a corner-kick.
"So we have to be careful.
"I've just been saying to them, I've loved the three weeks together with the lads, they've been brilliant. They have trained great, everything has been good about it but it will all count for nothing unless we win our home game."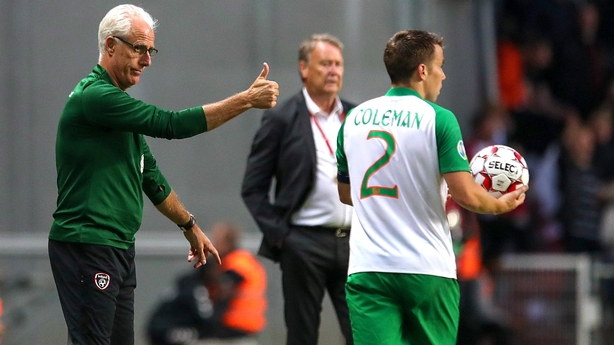 McCarthy had the luxury of naming the same side for two consecutive games in Copenhagen, and while the manager spoke about the importance of continuity, he admitted that Alan Judge was in contention to start.
The Ipswich midfielder, of course, is no longer available as he faces surgery on a broken wrist, which he picked up in the final minute against Denmark.
"I'm not saying I won't make changes, but when you get in and you play well and you win, it's your job to get out of it.
"It's their job to stay in it. It's them that decide – unless I think someone is knackered, of course, then I'll give somebody a rest.
"But continuity is a really good thing. I got asked that question, 'How do you get it?'. Keep going, continuity with playing the same team if you can.
"We're not playing 46 games and I'm not having to rotate all the time."
The manager said that when opportunities do arrive for players to get into the team, that they should grab it with both hands.
And that certainly applies to midfielder Callum O'Dowda, a player that was very much in the manager's mind in March for the opening two games of the campaign.
The Bristol City man missed those matches through injury and while he was fit at the end of the season, the player admitted that he is lacking match practice but has benefited from the end-of-season training camp in Portugal.
And McCarthy also saw the improvement in the player over the course of the last few weeks, most notably on the fitness front.
"He keeps turning up, he keeps training like he is, he keeps playing for his club like he is," said McCarthy, when asked what O'Dowda had to do to break into his side.
"He missed a lot at the end of last season because of an injury, but to be fair, over the last three weeks, he has got better and better in training – he looked like he was blowing a bit early on.
"All he can do is turn up and if the opportunity arises and he gets it, he just needs to grab with both hands. Unfortunately for him, as yet the opportunity hasn't arisen."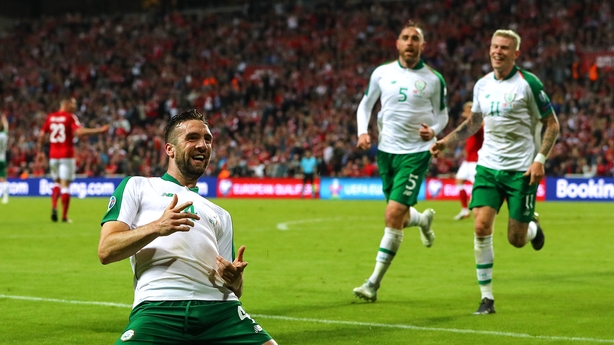 McCarthy, of course, said that he would be quite content with an away point in Denmark, so while job done, in terms of the result, he also conceded that there were areas that the team would have to improve on following the performance at the Parken Stadium.
"When we win the ball back high up the pitch, keeping it not giving it straight back to them, which we did on a lot of occasions.
"I spoke about it at half time and I spoke about it since. I don't know whether it is a rush to score a goal, but you go from that crash, bang, wallop mentality to get the ball back, which you must have, then to calming down and passing the ball to each other.
"So I thought we did the first bit really well, and the second bit, not as well as I like. But we were playing against a team that also went closing the ball down as well.
"And if you look at the two stats in terms of how far and how hard and the sprints that both teams ran, it was a real competitive game."
But overall, three games into the campaign, and just over three months working with his new squad since returning to the national team, McCarthy could not be happier with the players he is working with nor the endeavour and commitment that they are showing.
"I thought they were excellent against Georgia and they were very good the other night against a really good Denmark side.
"We didn't have as many chances than we had against Georgia, but I didn't expect it.
"I am thrilled with them, I think they are a great bunch.
"And I said that to them, whatever happens, nobody is going to outwork us, nobody is going to out-scrap us, nobody is going to out-fight us and I think we have that quality that we can add to that, so I am really pleased."