VENUE
Friday 7 June, Parken Stadium, Copenhagen, 7.45pm
TV
Live coverage on RTÉ 2 from 7pm
ONLINE
Live blog on RTÉ.ie and the RTÉ News Now App from 7pm.
RADIO
Live match commentary on 2fm.
ELSEWHERE IN GROUP D
Georgia host Gibraltar in Tblisi at 6.00pm.
We can hear the groaning from Copenhagen
If Denmark took note of Ireland's more gung-ho approach against Georgia in March, then they're not letting it be known.
The Danish midfielder with a name like a Kilkenny wing back - Thomas Delaney - has been talking and talking in the media again.
The Borussia Dortmund player is the author of the famous quote comparing playing against Martin O'Neill's Ireland to attempting to 'open a tin of beans with your bare hands'.
This week, he admitted that he and his teammates groaned long and loud when Denmark were grouped in with Ireland again.
"They're the most annoying opponent," he said, which is a compliment of a sort we suppose. Be worse if teams loved playing against us.
"We don't like playing Ireland. They don't play flowing football but they're skilled at what they do and that makes it a struggle.
"But it's also easy to sit and defend a 0-0. That's just maintaining the status quo so it'll take something different for Ireland to score."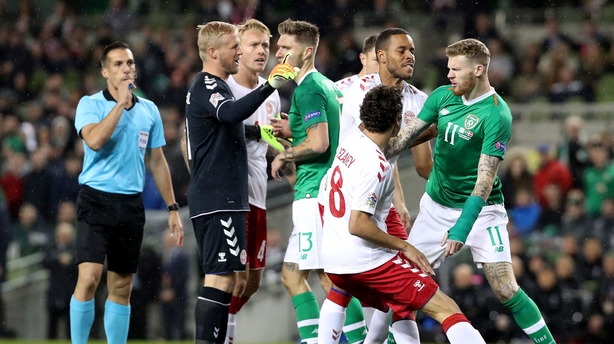 Are Ireland going to provide something different?
One would be wary of going too overboard following Ireland's most recent 90-minute display but there's no doubt it provided a timely shot of enthusiasm after 18 months of unbearable ennui.
Ireland, with old stager Glenn Whelan suddenly appreciated as a rock of stability in midfield, played a high-tempo, attacking game reminiscent of Mick's teams of the late 90s and early 00s.
A tigerish Jeff Hendrick was reborn in midfield and Seamus Coleman, his position apparently threatened in the estimation of many observers', played superbly down the right flank.
David McGoldrick was especially key, his strength and hold-up play, as well as intelligent distribution, allowing Ireland to play ball in the opposition half of the pitch.
Ireland have never done anything other than beat Georgia at home, but there was a gnawing sense beforehand that we were overdue a reversal.
The fact that this didn't come to pass, combined with the nature of the performance, sent Irish fans home properly enthused about the national team - possibly for the first time since Vienna 2016.
After the tennis balls we get the smash hit. Attaboy @conorhourihane #irlgeo #irevgeo #rtesoccer https://t.co/2afD0dnj1z pic.twitter.com/yyW6NjVCbB

— RTÉ Soccer (@RTEsoccer) March 26, 2019
And yet, the irony here is that the two results Martin O'Neill achieved in Denmark in the grim years of 2017 and 2018, a scoreless draw on both occasions, would in fact do very nicely here.
McCarthy's teams play more exciting football than O'Neill's teams - not a high bar admittedly - but the latter had a strikingly good away record as Ireland manager.
And the former, it has to be said, did not. High profile losses to Macedonia, Yugoslavia and Croatia undermined the World Cup '98 and Euro 2000 qualifying campaigns. (Indeed, Ireland won four from four home games in Euro 2000 qualifying but their record on the road ruined them.)
However, the energetic and ambitious performance against the Georgians give hope that Ireland could nab a goal in Copenhagen, something they didn't appear to have any notion of doing in Aarhus last October.
Danish doubts
Denmark still haven't lost a competitive match since their 1-0 home defeat to Montenegro in October 2016, a run they preserved in miraculous circumstances in Basel in March.
They lay effectively flatlined on the canvas after Breel Embolo put Switzerland 3-0 ahead with just under 15 minutes remaining.
Mathias Joergensen's 84th minute header was greeted as a consolation effort by the commentators but it teed up a surreal finale in which Denmark pulled another back through Christian Gytkjaer, after a delightful through ball from Eriksen. And then, deep in injury-time, Henrik Dalsgaard took advantage of the panicked confusion in the Swiss defence to nod home the equaliser.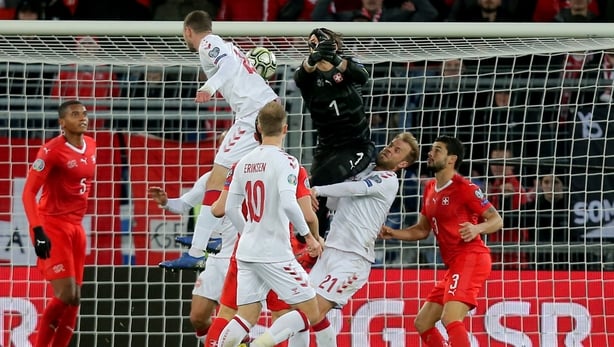 The Danes were by all accounts cock-a-hoop at having escaped with a draw, seemingly convinced that this team has forgotten how to lose.
But Danish journalist Troel Bager Thogersen sounded a very different note on the RTÉ Soccer podcast back in March, attributing Denmark's late revival primarily to Switzerland's decision to take off Granit Xhaka and insisting that the hosts had been a level above Denmark for 80 minutes of the contest.
"The first 80 minutes were absolutely miserable. One of the worst performances from the Danish team in five years. Then, Switzerland took off Xhaka and everything went crazy...
"They have this notion (in the Danish FA) that Denmark hasn't been beaten for two and a half years and that this is going to keep going. But I think what the game against Switzerland showed is that we're going to lose soon and our luck is up."
He did, it should be added, stop well short of suggesting that this luck was going to run out against Ireland.
Denmark remain much the same team, with the same plain-spoken manager, that Ireland faced in 2017 and 2018.
They have a host of diligent and workmanlike players scattered around England, Scandinavia and the continent, decorated by a genius in midfield.
Speaking on the podcast, Thogersen praised Denmark's defensive organisation but lamented that their only idea in attack was to "pass the ball to Christian" and expect him to do something. He was polite enough to his hosts not to point out that this was one more idea than Ireland had under Martin O'Neill.
Eriksen may be a tad distracted, given his preoccupation with getting out of Spurs this summer. Between that upheaval and the disappointment of the Champions League final loss, Irish fans will be hoping for a jaded, sub-par effort from the superstar on Friday.
Ireland likely to stick with Georgian template
The general consensus is the eleven players who started against Georgia will start tomorrow.
McCarthy was quick to write off as a failure his own efforts to crowbar Matt Doherty into the team against Gibraltar - quicker than most critics, in fact.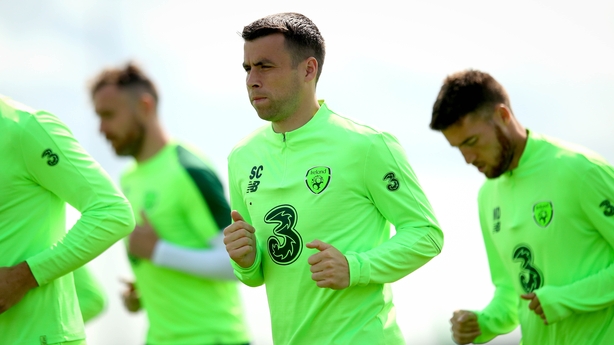 Given that he stuck with Seamus Coleman in March when his form was deemed wobbly, he is highly unlikely to ditch him now the Everton man's form has returned. An important leadership figure in the camp, Coleman justified his manager's faith in Dublin last time around.
With Enda Stevens a safe pair of hands on the other flank, Doherty may have to bide his time on the bench again.
Glenn Whelan was informed early on he would be needed for certain games and not others. This, one now imagines, is nearly every game bar ones against Gibraltar.
The 35-year old has, as he was swift to remind people, a good record when it comes to keeping tabs on Eriksen in the Premier League.
On the eve of Ireland's crucial Euro 2020 qualifier against Denmark, @CorkTod sets the scene in Copenhagen where Mick McCarthy isn't yet feeling the pressure pic.twitter.com/NQ1xeMwnml

— RTÉ Soccer (@RTEsoccer) June 6, 2019
On the attacking front, McGoldrick, having just achieved promotion is almost certain to start while Ireland's options are narrowed by the injury to Shane Long, whose form had picked up early in 2019.
On the other hand, Callum O'Dowda is back available, though he hasn't played competitively since March and is probably unlikely to dodge any of the current midfielders from the starting XI this week.
Verdict:
History has taught us it's pure foolishness to back against Ireland nabbing a draw when they need one and we're not about to do so here. In his Thursday press conference, McCarthy did indeed confirm that he'd be "thrilled" with a draw. We'll be confident and insist they'll get it.
Prediction: Denmark 1-1 Republic of Ireland
Follow Denmark v Ireland via our live blog on RTÉ.ie/sport and the News Now app. Watch the match live on RTÉ2 or listen to national radio commentary on RTÉ 2fm's Game On.