The players come in two by two; standard practice at Ireland press conferences, as Richard Keogh and Conor Hourihane were herded in to face the media.
It was like the aftermath of the Premier League play-off as the victor and the vanquished sat side-by-side.
One looking forward to a new adventure and a maiden season in the top flight of English football; the other resigned to another gruelling 46-match league campaign and the perennial quest to escape the Championship shackles and taste Premier League action.
Yet judging by their demeanor, it was not immediately obvious who had claimed the spoils from the self-titled 'richest game in football'.
Richard Keogh had walked this road before, four times in fact throughout the past six years as Derby failed to get through the Championship play-offs.
The Rams captain memorably made a rare error in the last minute of the 2014 final to let Bobby Zamora slam the ball home to secure Premier League promotion for QPR.
Derby have since lost twice in the semi-finals before another Wembley disappointment in last week's final.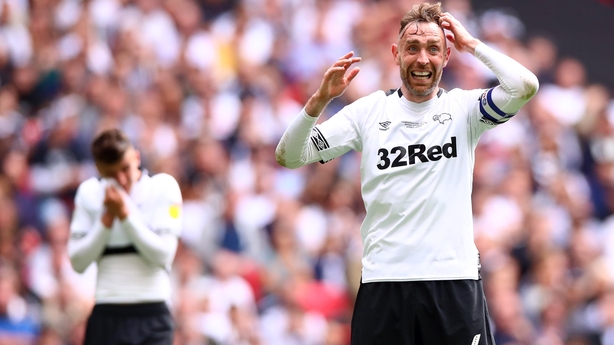 "It hurts for a few days, but as you get older, you learn to deal with these things a bit better," admitted Keogh, speaking ahead of Friday's Euro 2020 qualifier against Denmark in Copenhagen.
"But I was just very proud of our group and we had some great moments along the way, although we didn't get over the final hurdle.
"We have a young group, so my main thing was to get around the guys and I was proud of how we played."
Out of respect for Richard, I don't want to gloat about it
On Monday, Mick McCarthy commended the Derby County defender's positive attitude despite the play-off defeat, while Wembley rival and international team-mate Hourihane was also quick to pay tribute to the centre-half's attitude.
"After the heartbreak of last year, it was great to get over the line this year but out of respect for Richard, I don't want to gloat about it," said Hourihane.
"Richard is very experienced and is one of the leaders in this group. He has played a lot of games and has captained his club for several years.
"So it is great to see him and players like Seamus Coleman speaking to players and it is only good for the group.
"They lead by example and it is up to us to follow in the same way."
Magnanimous as always, Keogh also paid tribute to Hourihane who has taken the road less travelled to the top flight in English football, having played for Plymouth Argyle in League 2 and Barnsley in League 1 before securing a move to Villa Park.
"Conor deserved his moment," said Keogh, who was also planning to take the positives out of Derby's season, at club level, based on personal performances throughout the campaign.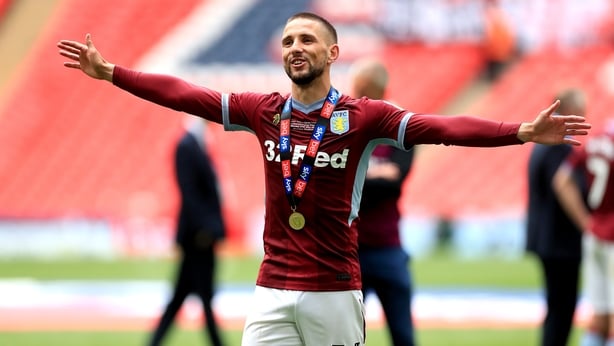 "I've had to go down to League 2 and work my way back up," said Hourihane. "There was some tough days along the way, and some good days, but you need to keep working hard and believe in yourself, and luckily I have had a bit of luck along the way.
"But it has been a fantastic journey and while some players get lucky enough to start at the top and stay there. I have had to do it the hard way, so it's been great."
The two players spoke after the play-off final and again when they met up in camp, but despite competing in such a high-profile fixture, the pair can easily park such matters when international week comes around.
We had a word about it after the game...Now we crack on
"It's never awkward," said Keogh. "Obviously best of enemies when we are playing to get into the Premier League, but when you are playing for your country, there is a great bond in the squad."
"We get on really well," added Hourihane. "We had a word about it after the game, we had a word about it in camp.
"Now we crack on and we have two games to concentrate on and that's the most important thing now."
Confidence and momentum appear to be two of the buzz words around the squad this week with all the players speaking about continuing their winning run following opening victories against Gibraltar and Georgia.
And while it remains early days in the second coming of Mick McCarthy, the players are clearly enthused by the new manager's tactics and approach ahead of the Denmark encounter.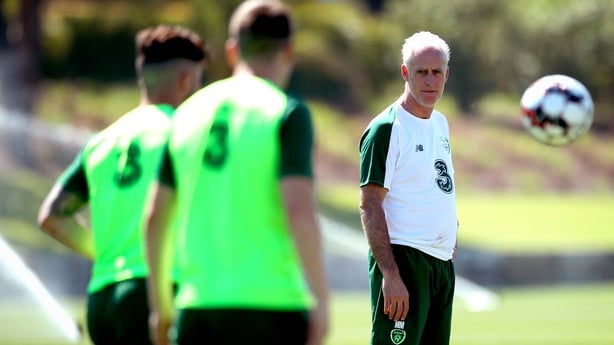 "We won't be going over there to prove Christian Eriksen wrong," said Hourihane when reminded that the Spurs midfielder said Ireland were scared to attack in the last encounter.
"We'll go over there with our own game plan, playing a different style of play and you saw against Georgia we were a bit more aggressive playing on the front foot.
"That is our style of play at the moment and that won't change against Denmark."
"You have to relish it," added Hourihane, when asked about coming up against the quality of Premier League players such as Eriksen.
"I want to play well and win the battle. I am really looking forward to it. They are high quality players but we have to relish the challenge going into the game and hopefully get a good result.
"The manager has a settled formation and if I am picked to play, I will know where I am going to play and know my role, which makes it easier for a player to play.
"I felt like I have done well over the last couple of games and I would like to repay the confidence he has in me."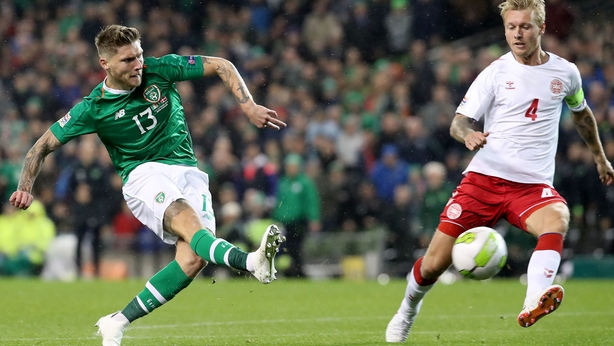 And Keogh believes that the familiarity of playing each other four times over the past two years can work in Ireland's favour and instill confidence ahead of the game.
"We spoke about this yesterday and having played each other so regularly, we know each other so well.
"And when you look at their team, it hasn't changed too much but ours has changed and with the new manager we will have a different style of play, while also trying to get after games a bit more."
Both Keogh and Hourihane are the latest arrivals to join up with the squad ahead of flying out to Copenhagen on Wednesday and the Derby defender believes the arrival of the play-off players has handed their team-mates a timely pick-me-up ahead of the Denmark match.
"Me, Conor and Glenn have met up now and we can feel that good atmosphere and us not finishing too long ago, we have been able to come in and pick the group up as well."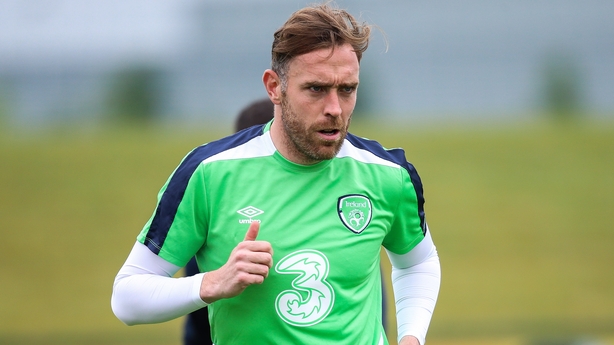 And having missed out on the training camp in Portugal, Keogh admitted that it was great to be back among friends in the Ireland squad, who he believes could be close to conjuring something magical throughout this new McCarthy era.
"There is a great buzz around the group and it has been good to come back in and be around the guys because we are hopefully creating something special now.
"And I think that is key to us as a country, having that commitment and togetherness, and that is when we come alive and that is when we produce magical stuff."
Follow Denmark v Ireland via our live blog on RTÉ.ie/sport and the News Now app. Watch the match live on RTÉ2 or listen to national radio commentary on RTÉ 2fm's Game On.