When Josh Cullen talks about the "horrible" anxious feeling and the relief when it's all over, you'd be forgiven for thinking he's referring to Charlton's dramatic League One play-off final over Sunderland.
The dust is still settling from the Addicks' 2-1 win over Sunderland at Wembley which ensured Charlton's return to the second tier of football.
A key figure all season, and indeed in the winning goal - Cullen provided an assist for Patrick Bauer's decisive goal in the fourth minute of stoppage time – the 23-year-old signed off in style after a season long loan move from West Ham, and now has his sights set on making an impact on the Hammers first-team.
Capped by England at U16 level, Cullen switched international allegiance at U19 level and made 14 appearances for the U21s before being called into Mick McCarthy's squad in March for the European qualifiers against Gibraltar and Georgia.
Speaking at the Aviva Soccer Sisters Dream Camp in Aviva Stadium, Cullen said that while he was still buzzing after helping Charlton to victory in front of 76,155 spectators, his nerves were severely tested on his first time linking up with the senior squad.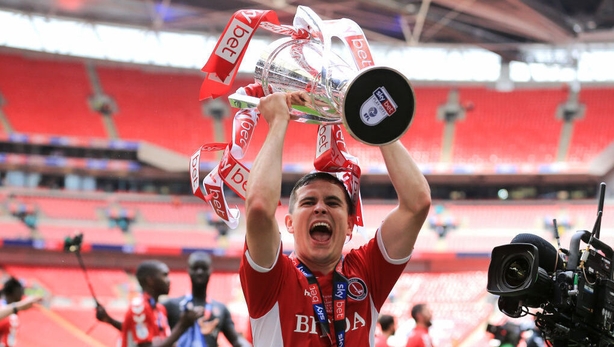 It wasn't that he found it difficult to mix with new team-mates – "I found it pretty plain sailing. It's been as easy as I could have expected it to be to settle in" – it was more to do with the initiation.
Tradition dictates that newcomers sing a song in front of the group, but unfortunately for Cullen, the fact that he was involved for a double header [Gibraltar away and Georgia at home], meant he had more time to mull over his performance.
"I can't sing... It's horrible. It's in the back of your mind the whole trip," he told RTÉ Sport.
The midfielder got the call after dinner on the eve of the Georgia fixture, where he treated the audience to Ben E. King's 'Stand By Me'.
You can't eat because you're more nervous about getting up and singing in front of 20, 30 people than playing football in front of 76,000 fans
"I was waiting for it and every minute I was thinking, is it going to be tonight? You are so nervous. You go down for dinner...you have it after you eat, but you can't eat because you're more nervous about getting up and singing in front of 20, 30 people than playing football in front of 76,000 fans [against Sunderland at Wembley].
"Once you have done it, it's a great feeling knowing you will never have to do it again.
"It has to be done and it shows you want to get out of your comfort zone to be part of the group. That's the whole point of it. Everyone has to do it.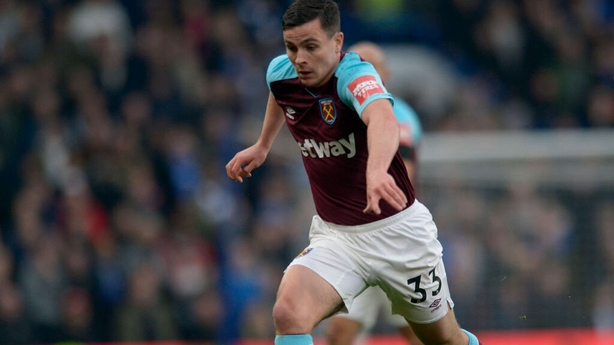 Cullen made his Premier League bow in Anfield close on four years ago, but since then, has just five more appearances to his name in the Hammers first team, with all those coming during David Moyes' six-month stint at Upton Park.
Loan moves have taken him to Bradford City, Bolton Wanderers and Charlton last season, but he is determined to prove to Manuel Pellegrini that he has something to offer the club he joined at the age of nine.
"My full focus is to go back to West Ham and hit the ground running and try and become a regular in the first-team squad.
"I'm sure, as every player does in pre-season, at some point I'll sit down with the manager and coaching staff and see where they see me."
A Wembley date meant he missed the week-long training camp in Portugal last week, though Mick McCarthy has referenced the positive impact he has had on the squad since linking up with the squad.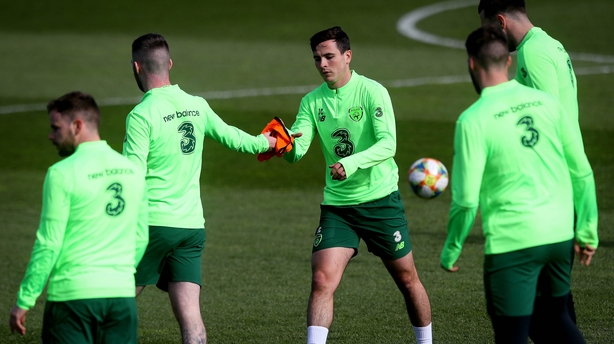 "He was different class today in training," he said on Wednesday, but whether he gets an opportunity to showcase his talent over the next two games remains to be seen.
"All I can do is perform in training and be ready if called upon."
He is one of the few players with no baggage from recent outings against Denmark – he was on U21 duty the night of the 5-1 thrashing in November – and admitted he didn't bring himself to watch back the highlights.
Cullen may have to wait for his first cap, but will be doing all he can to make sure the boss continues to sing his praises of the reluctant crooner.