Eden Hazard admitted he was likely to have just played his last game for Chelsea just moments after inspiring Maurizo Sarri's side to a 4-1 win over Arsenal in the Europa League final.
A brace from the Belgian star, combined with Arsenal's second-half collapse, contributed to the success in Baku, but he told BT Sport that it's unlikely to be at Stamford Bridge next season.
The play-maker, who has been strongly linked with a summer switch to Real Madrid, told BT Sport: "I think it's a goodbye but in football you never know.
"I have made my decision already and now I'm waiting on both clubs.
"My dream was to play in Premier League, I did this for seven years in one of the biggest clubs in the world so now maybe it's time for a new challenge."
Speaking about the game itself, Hazard added: "In the first half both teams had a bit of stress because the final is something big for both teams but when Oli (Giroud) scored I think it was the beginning of a great night.
"We played well second half, they had a few chances at the end when it was 4-1, but we controlled the game and I'm just happy to lift this trophy with the boys."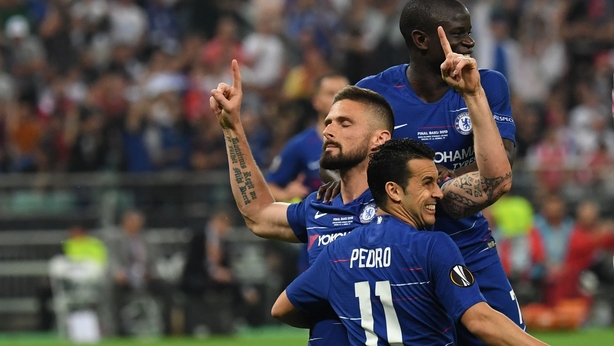 Giroud, whose goal ensured he ended the Europa League as top scorer in the competition, added: "I am very proud because this team deserved to win something.
"We lost the League Cup against Manchester City but this one is special, the second best European cup. It was very special for me and I am very happy for the team."
Giroud's celebrations were muted after scoring against his former team and he added: "I left so many friends in Arsenal, this club changed my life, gave me the opportunity to live my dream come true in playing in the Premier League.
"I owe them a lot, I will never forget, so that's why I didn't want to celebrate but on another side I am so proud to win this with Chelsea. I am definitely a true blue."
Arsenal goalkeeper Petr Cech promised Gunners fans their side would be better next season.
"It's easy to say we finished empty-handed and lost this final 4-1, but I can assure everybody who is supporting Arsenal the work we have done during this season will come next season and this team will be much stronger," Cech said.
The 37-year-old was proud of his performance in what he initially described as his "last career game," but added: "I wanted to lift the trophy and then sit down and think.
"Until the 30th of June I'm still an Arsenal player, until that point I won't decide on anything."