Jonathan Walters gave a candid interview on the Late Late Show about the losses he has suffered in his family over the years.
The 35-year-old, who retired from football earlier this year, has experienced tragedy at different times in his life and was just 11 years old when his mother passed away due to illness.
Walters recalls how he only discovered that she was unwell a few weeks before her death, and felt lost as he grew up without her.
"Just like my little boy is to my wife, and my two girls are to me, I was my Mum's little boy. She was my world.
"You go to secondary school and you're sort of lost in a way. It becomes a taboo subject. I signed for Blackburn when I was 15 or 16 and I moved home. You go off on your own but really I was still a little boy, I was still lost.
"You don't know anything. I'm not the only one that goes through it, there's plenty of children that go through it the same."
Walters continued by saying that he has only begun to speak about her loss in the past few years, and referenced an interview with Henry Winter of The Times, which prompted people to get in touch with him and praise him for expressing his grief.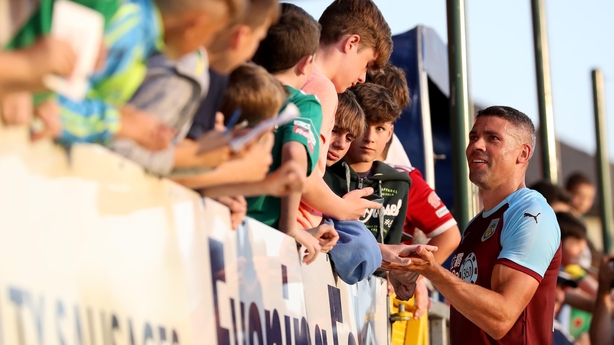 "She was a lot to me and it's only really from the past couple of years [that] you speak about it more. It became a bit of a taboo subject and I think we're all guilty of it. I think it's changing now and I try to get my kids to discuss it with me. The more we speak about it, the better it is.
"I'm no different to anyone else, it's great to speak about it. The past year has been hard, we've had other things going on in the family as well and I'm still coming to terms with it."
Walters added that his brother James died last year at just 35, with the former Republic of Ireland player discovering the news while on pre-season duty for Burnley in Cork.
Walters went on to explain that further tragedy was to follow.
"We were on pre-season in Cork with Burnley. I got a call off my brother [with] just the bad news really. My brother passed away, I went back into Burnley the next day [for] training, and the same day, my wife lost a baby."
"I threw myself back into work. And then we found out my daughter has scoliosis as well."
"I'm ok with it but I struggle when I speak about it.
"It's tough. We organised my brother's funeral and you go through that. You go back into work and you're every day in work. I just compound it so you carry on."