Jim McGuinness is a man who likes a challenge.
When he left his coaching role at Chinese Super League outfit Beijing Guoan, there were offers close to home.
McGuinness claims a couple of clubs in the League of Ireland clubs were interested, and his name was in the conversation when Stephen Rochford departed the Mayo footballers.
But anyone who has followed the 46-year-old Glenties man's career closely over the last six years would have been more surprised to see him step back into familiar surrounds than push forward into uncertain terrain. 
Last December, he was named the new manager of USL Championship club Charlotte Independence. 
McGuinness has made major personal sacrifices on his professional journey. He has six children, the youngest just two, and his family did not relocate to China when he was there.
Making another major move was tough. 
In the days leading up to the Independence's league opener against Indy Eleven, he was still working on bringing in players to beef up a thin squad. He was, to borrow an old phrase from a former mentor Brendan Rodgers, trying to build the aircraft while it was flying.
He's openly praised the attitude of the group, and their willingness to absorb his methods. Results, however, have been poor.
The Independence have one win in 12 games. It's their worst ever start to a campaign, with a US Open Cup loss to semi-pro side Florida Soccer Soldiers a chastening blow to morale.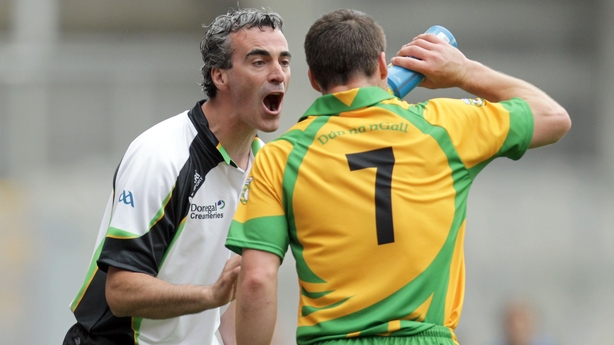 "Obviously he coached in Asia and has that experience of being in Ireland and Scotland and he's had success with that," The Charlotte Post reporter Ashley Mahoney tells RTÉ Sport.
"But with this particular group, there's a definitely lack of direction, a lack of continuity and consistency.
"He just hasn't been able to reach the players in terms of getting them to buy into what they're trying to do. They fall apart far too easily. You can't really blame it on a learning curve.
"He's played around with three at the back, four at the back, with playing a target man up top... but I'll reference Mike Jeffries the previous coach. His teams dominated possession. They sometimes struggled in the attacking third, which ended up costing them a place in the play-offs, but those teams did dominate the ball. They were able to dictate the tempo. 
"This team though, honestly, it's a shambles right now."
The move to Charlotte was in keeping with McGuinness's refusal to shy away from getting out of his comfort zone; he has, after all, forged a unique sporting career by embracing change and innovation.
From the 'blanket defence' that wrapped up Sam Maguire for Donegal in 2012, to the subsequent stints with Celtic and then in Beijing, his ability to think outside the box has turned heads.
McGuinness impressed in Glasgow in his role as a performance consultant which evolved into coaching positions with the club's Under-16s, U19s and U20s, working alongside Neil Lennon, Ronny Deila and Rodgers.
He did not stand still, adding top-level coaching badges to his CV (he started his UEFA Pro License in January), and remaining wide open to going in new directions.
China called. McGuinness answered.
In 2017, he linked up with highly-rated German Roger Schmidt at Beijing Guoan. It was a different world; more experience was gleaned.
Inevitably his development grew to a point where McGuinness felt ready for the hot seat; to complete the transition from inter-county Gaelic football manager to professional soccer boss. 
We need your consent to load this YouTube contentWe use YouTube to manage extra content that can set cookies on your device and collect data about your activity. Please review their details and accept them to load the content.Manage Preferences
And so he went to America, to Charlotte Independence, a North Carolina-based outfit playing in the country's second-tier competition a grade below the MLS.
They are not without ambition.
Ex-Athletic Bilbao manager Felix Sarriugarte was lured to Charlotte - who are in the fifth season of their existence - to serve as McGuinness's assistant coach, and the boss used his Celtic connections to bring in left-back Andrew Gutman and later midfielder Mark Hill on loan. 
Last year 67-year-old Dan DiMicco, former CEO of the Nucor steel company and trade adviser to Donald Trump during his presidential campaign, became Charlotte's new owner. 
There is no promotion/relegation between the MLS and ULS, which consists of 36 teams split into two 18-team conferences. You effectively prove your potential and buy your way into the top division. 
Last season the Independence finished 11th. Currently playing at the 5,000-capacity Sportsplex stadium, they plan on moving into the soon-to-be renovated Memorial Stadium by 2021 in the hope that being located downtown will enhance attendances - which averaged around 1,800 in 2018 - and the club's profile. 
They are progressive and, such is the nature of American sport, fluid. This franchise could look very different in a few years' time.
Into this environment came McGuinness, well travelled but still a rookie in soccer terms. 
His background was no deterrent. Quite the opposite. His chameleon qualities proved attractive. After his unveiling, Independence President Jim McPhilliamy spoke of the new man's "interesting history and coaching philosophy", of "a unique approach to things".
Charles Boehm, a reporter for MLS.com and Four Four Two, tells RTÉ Sport: "There are other examples in the American game of coaches coming from more diverse backgrounds. (Former USA manager) Bruce Arena's first love was lacrosse. He came to soccer much later but his main sport was lacrosse.
"Jim McGuinness obviously impressed Charlotte Independence and he has used his contacts well, bringing in Gutman for example. The league is a mixed bag in terms of resources. There's a wide spectrum in terms of resources. Phoenix Rising have Didier Drogba involved and have ambitions of making it to the MLS. There was the boost Joe Cole brought to the Tampa Bay Rowdies. The Independence are sort of midway up the ladder."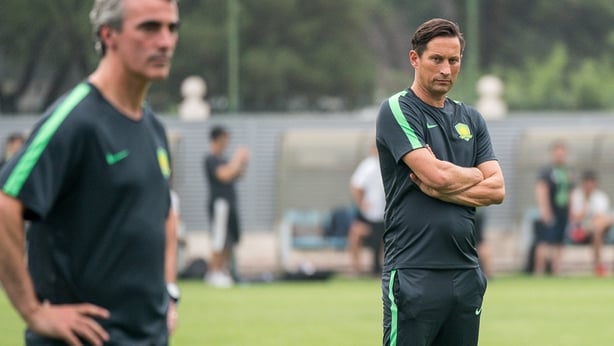 On the field, McGuinness was keen to blend a high-intensity approach favoured by ex-Bayer Leverkusen boss Schmidt with the possession heavy style utilised by someone like Rodgers. 
Speaking to RTÉ Sport before Christmas, he said: "I would characterise [my philosophy as the] capacity to play the game and to force the game. In China we forced the game really aggressively. I think it's the merging of both those aspects in terms of soccer, and then everything I brought from Donegal in terms of intensity and pressing, overwhelming the opposition and playing the game on the transition."
But passing on his ideas to a new group of players has not been plain sailing. 
McGuinness brings his side to the Pittsburgh Riverhounds on Saturday night. Wins are the only antidote for any struggling manager but, looking at the bigger picture, it's impossible to ignore the off-the-field movements which could quite literally shift the goalposts in Charlotte.
"This organisation is really just biding its time before it moves into Memorial Stadium," adds Mahoney.
"I think that's become such a focal point that the product on the field has suffered a bit.
"The NFL franchise here, the Carolina Panthers, are under new ownership, David Tepper. He's expressed interest in bringing an MLS franchise here. That's shifted the trajectory of the Charlotte Independence. There are a lot of forces at play on the periphery that may or may not impact what the Independence looks like three years from now. 
"Will McGuinness be here in three years' time? I think the better question is will the Charlotte Independence still be here."