Republic of Ireland international Richard Keogh will take his place in the Championship play-off final after what he described as a "crazy" night at Elland Road.
Derby County moved a step closer to the Premier League with a 4-2 win over Leeds United, as they roared back from a two-goal aggregate deficit to win 4-3 over two legs.
The Rams went a goal down, scored a minute either side of the break, claiming the decisive goal with five minutes to go and both sides ended with 10 men in an absorbing contest.
Derby will now face Aston Villa in the Wembley decider and the central defender, who created the assist for Jake Marriott's crucial fourth goal, was beaming with pride post-match.
"Wow, what a game," he told Sky Sports. "What a game. Listen, we knew coming into it that we had to go for it.
"When they get the goal and the ball ricochets back to them, you're thinking it might not be our night.
"We get the goal and it brings us back in the game. To be honest we played great. Second half we were brilliant. Absolutely brilliant.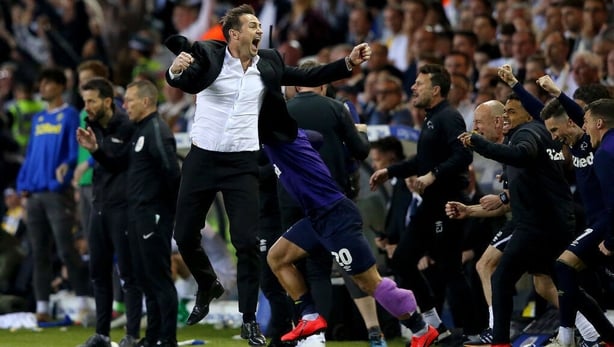 "I thought we were the better team. To come here and score four goals, I think it speaks for itself. What a crazy night."
The 21-cap Ireland international, who has never played in the Premier League, said his team "smelt" their chance at half-time with the score 1-1 on the night.
"We knew it. We'd spoken about it as a team. We all spoke about it. We said this is the night. These are the nights you want as a footballer, the last few weeks have shown us that.
This season has been such a great journey with everyone
"These are the moments you want. To come to a stadium like this and perform like that.
"These guys have been amazing. This season has been such a great journey with everyone. We've got one more game now against a great team in Villa and the run they've been on."