Republic of Ireland and Arsenal star Louise Quinn admits that it 'hurts' not to be going to the World Cup like a lot of her Super League winning team-mates.
Colin Bell's side failed to qualify for the upcoming Women's World Cup so Quinn will have to content with watching from home.
"We've had a lot of time to register it," Quinn told RTÉ Sport.
"So many of our team-mates are going. It hurts but you've got to get over it as well.
"We didn't make it. We did have a very tough group but at the time, maybe we weren't just up to that standard to qualify or just weren't ready.
"But I feel like what that World Cup group did for us has really set us up for this Euros group.
"We're massively supportive of the girls but I haven't chosen who I actually will support yet. That's controversial."
"I'm going to be jealous of these players but I'm going to take that and try and not be in a position again where I'm not in major tournament, you just don't want to have that feeling of watching them, you want to be in there doing it."
The World Cup will be held in France this summer and is expected to attract record viewers.
The competition, which kicks off on 7 June, will be hosted in nine cities and played in nine different venues.
France will open the tournament with their group match against South Korea in Paris while the holders the United States begin the defence of their title against Thailand on 11 June.
"If England keep carrying on how they're doing, they definitely could be semi-final bound. If they can just keep going. I think from every perspective on and off the pitch, how they've done things has been really impressive. Playing against all of those players in the league, they're so talented.
"Obviously the Dutch have won the Euros. I think they even hit a little bit of a slump for a while. I think they really did have a big comedown after the Euros.They are still a massively impressive team.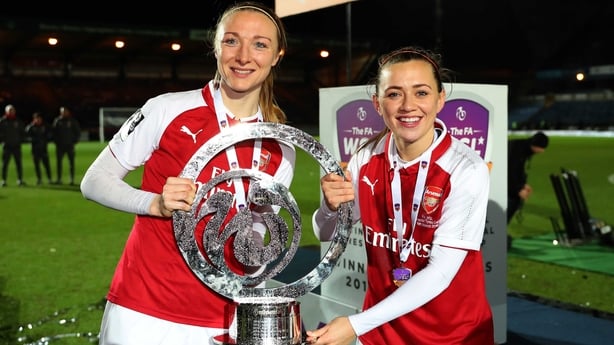 "We drew against them but they beat us quite comfortably then. I think they dipped off a little bit, but even just talking to the girls, they felt it themselves. But the last couple of games they've had, they were like, 'It just felt right again... that build-up'. I feel like they're really starting to peak at the right time.
"The likes of Danielle van de Donk. This number 10... well, she can play anywhere in midfield. She is just a little Jack Russell. She will be everywhere. The skill that she brings, she's just so brilliant on the ball, you can't take it off her. She'll do a little around-the-world, put it threw your legs, put it back through your legs, and then go and hit it top corner. She's incredible.
"Vivianne Miedema, what she can do, PFA Player of the Year, top goalscorer and again, she'll just send you into tomorrow. She turns you inside out, she's incredible. I've just never seen someone so calm in the box. You're like, 'Shoot, shoot,' then she'll turn it around and put it into the top corner. It's incredible.
"They're definitely two of the players to watch. Beth Mead of England is again, just starting to peak perfectly and her confidence is really, really rising."
Arsenal have already claimed the Women's Super League title but have one game left to play before the season finishes. For Quinn the whole experience has been surreal.
"From where I would have started to actually be a champion with Arsenal. I don't think I ever thought about it. Obviously you have these things of what you want to achieve and do.
"But I don't think I ever thought I would actually be playing for Arsenal and winning trophies. To be in there with the likes of Emma Byrne, Yvonne Tracy, Ciara Grant, Niamh Fahey is amazing.
"Now the fact that it's actually Arsenal and there is such a strong Irish connection. There's pictures of Liam Brady and David O'Leary around the place.
"The girls as well, we still make sure that their names are brought up constantly to let them know the Irish history there."