Sitting across from Louise Quinn, it's impossible not to be struck by just how far she has come in the last couple of years, and the progress women's sport has made as well.
Quinn's Arsenal have just won the Women's Super League, the Wicklow native is an ambassador for the 20x20 campaign and she is giving her two cents on the Women's World Cup which will be broadcast on RTÉ Sport.
It's been a year of accomplishment and achievement for the Quinn but experience has taught her to keep her feet firmly on the ground.
In 2013, she started her professional career in Sweden during the depths of their winter, she spent three years there before moving to Notts County, where the team folded before the season started.
However that setback brought her to Arsenal, one of the top clubs in the world.
On the field she has known good times and some bad too but to be part of something off the pitch that will leave a lasting legacy is more special than anything.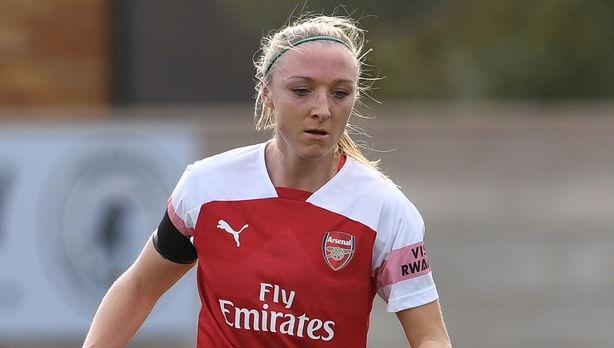 "For me to have 20x20 is one of the proudest things I've been a part of, to add it to my career is incredibly special," Quinn told RTÉ Sport.
"On the pitch you do as much as you can, you want to do well and you want to win and inspire people and all that but to have this opportunity to really hit home and try to grow the game is special.
"That is something I realised a few years ago especially when I was in Sweden, now the fact that we are starting to do it in Ireland, you can see the growth and it is only the start."
The second phase of the 20x20 campaign has been launched, highlighting the impact of role models and the essential part they play in encouraging women and girls to play and stick with sport.
Quinn has first hand experience of how inspiring a given person can be in the life of a young girl who loves playing football.
When she was seven-years-old her teacher, Miss Slattery, sent a note home telling her that although she couldn't skip her homework to play football, she was indeed a great footballer and better than the boys.
"It is those little things, those little words of encouragement, when it comes from your parents and loved ones it is massive but when it comes from a teacher, a coach or someone different, it's different.
"From a young age I had a teacher who inspired me and parents who helped me grow a dream. When the opportunity to be involved both with Ireland and professional football looked a reality, seeing Sonia O'Sullivan and Katie Taylor achieve so much on the world stage made me think why couldn't I too?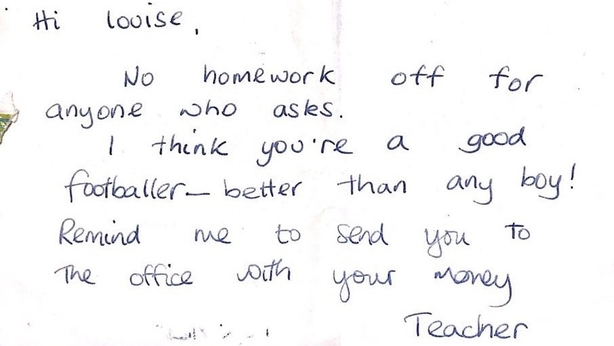 "Having people who believe in you and seeing others who have already paved the way really does make a huge difference."
Playing for Ireland and Arsenal, means that Quinn is a role model for many young children who would like to follow in her footsteps. This brings responsibility but the league winner is comfortable with the pressure and sees it as a privilege.
"It's something I love taking on and I have to keep challenging myself through this and putting myself out of a comfort zone, I'm learning so much and it's enjoyable for me. If you can inspire just a few people it will all help.
"I realised in Sweden that it is so important, we grew our team in Sweden because we were constantly part of every social event in the town and they put their trust in us.
❌Hero Your Hero❌NEW #20x20 film highlights the part role models play in getting girls & women into sport. Hero Your Hero saying who got you into sport & why you're thanking them using #CantSeeCantBe. Celebrate the role models of today so we can be the role models of tomorrow. pic.twitter.com/ELDpE9qgcs

— 20x20 (@20x20_ie) May 9, 2019
"It really hit home with me what you can do for young kids. There was never a girls academy, but by the time it was finished there were 120 girls, we were the coaches and just to see the excitement, even though they were speaking Swedish, you could see it on their faces that they were having a good time.
"I've always wanted to try and make an impact somehow. When you are doing it by yourself you don't know how and then 20x20 came along and I thought this is brilliant."