Fourteen games into the league season, the top of the Airtricity League Premier Division table has, to a certain extent, an expected look to it. 
Some notable signings that bolstered the Shamrock Rovers squad have delivered in propelling Stephen Bradley's side to the top. Champions Dundalk with some big hitters returning of late from injury have found their stride. But it's perhaps the side right there with them that have caught the eye.
Last season it took Bohemians 26 games to reach 28 points - this season they amassed their first 27 in half the amount of games and last night hit the 30 point mark with their win in Derry. All with a much changed squad and a bold approach to give youth its chance.
But it's only a few months ago that things didn't look so bright. The off season saw Bohs lose the likes of Ian Morris, Dan Casey, Oscar Brennan, Daniel Kelly, Eoghan Stokes, Dan Byrne and JJ Lunney. And in the midst of that whirlwind stood club captain Derek Pender who recalls one of a long line of calls that left him reeling. 
I felt sick, couldn't believe it. He told me why, he was so down, but all I could think about was myself
"Supps (Shane Supple) rang me one morning on my way to work. We'd just lost Dano Byrne and Dan Casey and I was asking him what's going on, what's happening here. He said yeah it's crazy and … I'm retiring. I didn't believe him, took about 10 minutes for me to realise his tone and that he was serious. I felt sick, couldn't believe it," says Pender.
"He told me why, he was so down, but all I could think about was myself. Here he is telling me he has to retire, can't play football again and I'm just feeling sorry for myself. It was a mad off season. I think I ended up taking a half day from work that day, my head was all over the place"
Now in his eighth season at Dalymount, Pender is the fan favourite, the one who sets the tone and the standards, the one according to former team-mates and managers, who strikes fear. He's seen players and managers come and go. And more than one squad overhaul. But even with that experience there was still an element of trepidation as the new look Bohs squad gathered for pre-season.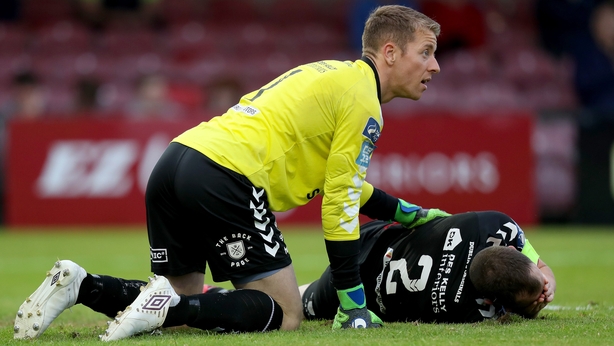 "When you come back in you spend a few days trying to suss out the new players, what they are like as players and as people because we had lost some big characters out of that dressing room and I felt that would be the big thing. And we didn't have the best of pre-seasons, we were still finding our feet but in fairness to the lads they've been great.
"James Finnerty has been so good, so calm, nothing fazes him, Levo (Conor Levingston) is just getting better and better each game we play, a great fella around the place as well, Danny Mandriou all the talent in the world, can go wherever he wants and James Talbot has been unbelievable, especially with the gloves he's had to fill. They've surprised me." 
Yet you would imagine it would take something far out of the ordinary to surprise a man who's career has seen him experience the highest of highs and lowest of lows. Born and raised in Dublin's inner city, Belvedere Boys was the first port of call a club that offered sanctuary to the city boys, where lifelong friendships were formed, where you had to prove every year you were good enough to be there.
"I suppose it was a question of focus for us, all of us being from the inner city, it was easy to get distracted. We had the Youth Club there as well there on Beaver Street. We'd play football everyday then go out to Fairview to train with Belvo at night. Anthony Flood, Mark Quigley, Wes (Hoolahan), there were loads of us, a great togetherness and getting out there was a great distraction and kept us focused really.
"They used to hold trials every summer and even if you'd been with the club for a few years you'd still turn up at the trials thinking you had to do well because there were even lads coming up from the country for those trials, it was a big thing. The rivalries were great as well, Cherry Orchard, Stella (Maris) at the time, the games were so competitive."
As a kid who supported Pats but found Tolka Park handier (''we'd walk from town and jump the walls to get in''), the chance to sign for a star-studded Shelbourne side was a dream and while playing time might have been limited (Owen Heary being the established right-back), the experience gained was invaluable.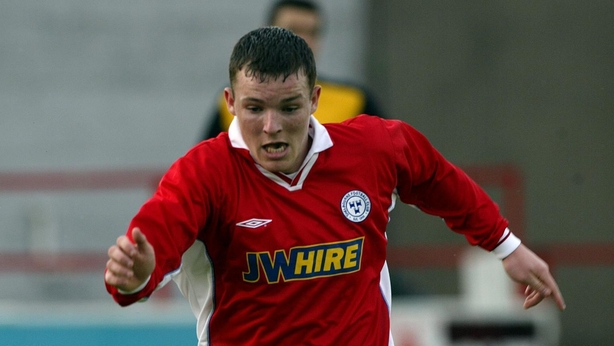 "We left Belvo at 17 and Mick Neville signed me for Shels U21s. We'd a really good team, I think we won the Enda McGuill Cup and the league but with the senior team, what a squad to be in, they were all men. Owen Heary, I was in awe of him, I used to go watch him play, so to now have the chance to train with them, I used to love it.
"You could be marking Ollie Cahill, Alan Moore, Wes. That was a settled squad and they were so demanding of each other, you'd see how aggressive they were with each other in training, there were no shortcuts. Pat (Fenlon) was the manager at the time and he was so demanding of everyone, even the young lads coming up from the U19's, it didn't matter, if you were there you were there."
And the teenage Pender was there for that memorable European run. The wins against KR Reykjavik and Hajduk Split and then the plum draw - Deportivo.
"The one thing I always remember about that was we'd gone from playing Finn Harps to doing video analysis on Deportivo. Pat going through the video the night before and saying to Owen that he didn't know if Albert Luque, who Owen would have been marking would be playing, that Barcelona were in for him for 25 million! And you're sitting there thinking' 'well that's the difference! But when the lads went and played them they were great, even out in Deportivo."
With playing time at Shels limited, and a loan move to Dundalk not working out, Pat Fenlon intervened and steered his young full-back towards one of the domestic games most decorated names.
"Dermot Keely (then manager of Dublin City) had rang me out of the blue and Pat said just go meet him so I did. He had a way about him, he was a character who could hold a room anywhere and just seemed to get inner-city people. He made me laugh for half an hour, giving out to me as if he'd known me 20 years. I signed on the spot."
"The club was in turmoil when Aaron Callaghan took over as manager"
He may have been a Dublin City player for a mere 18 months or so, but in that time he played his part in one of the most significant ties of the time, the 2005 promotion-relegation playoff against Shamrock Rovers.
"I remember I'd done my ankle ligaments in training towards the end of the season. He brought Aidan Lynch in to play right-back. It was a huge tie, there was so much going on around it including Dermot's history with Rovers, but I don't think at the time I really thought about the consequences of what was going on with Rovers.
"I remember Mark Quigley had come back and was playing for them.  Maybe we were both naive but we hung around together, we were talking to each other on the day of the second leg at Tolka Park, we walked up together. I think the realisation of the significance of it all came when Robbie Collins scored the goal and we were one up - I came on and I remember Mark Rutherford was running at me and their fans were on that side, it was so intense.
"We were very calm all through the week, we trained the same days, met at the same times, nothing out of the ordinary and Dermot was banging it home all week that all the pressure was on them, that their fans would be on them. That it was all on them. "
Dublin City had won the first leg 2-1 - the 2nd leg would end 1-1 and Shamrock Rovers were relegated for the first time in their history. But the joy of promotion was all but forgotten when midway through the following season, Dublin City was no more. And their young full-back hadn't seen it coming.
"We were called to a meeting up at the Skylon Hotel and I remember Rocky (Ronan Seery) came in and it was so sad, terrible to see a man broken like that. Obviously it was tough on the players but there's always another chance for a player, but he was a broken man, I felt so sorry for him. The next day the news came out that all the Dublin City players were available.
"I was waiting on my phone to ring but it never did. All the other lads were getting calls and offers but I wasn't so I just went down and played in the Tommy Clements tournament for Sheriff. Then Pat (Fenlon) rang me. They were playing Sunderland in a friendly and he asked me to play. I did well and Pat Scully must have seen me or heard about it and I signed for Rovers - but it was a very short stay!"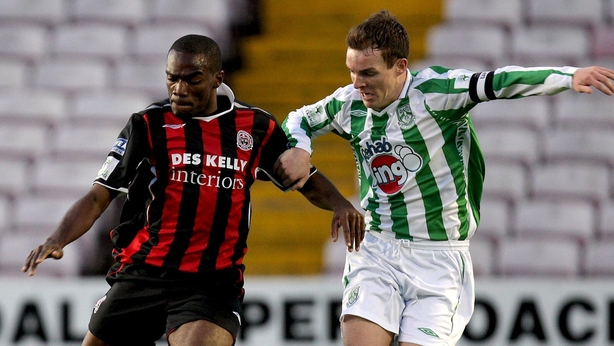 What followed was two years at Bray under Eddie Gormley then another two at St Patrick's Athletic under Pete Mahon.
''I remember when Pete rang me I was up at the Mater Hospital with my wife Jennifer - I just asked where do you want me to meet you, never asked about money or anything, just signed - I loved my time at Pat's, especially the European run."
In 2008 Bohemians won a league and FAI Cup double under Pat Fenlon. A year later they defended their league crown. That was the era of Brian Murphy, Owen Heary, Glenn Cronin, Gary Deegan, Jason Byrne, Glenn Crowe et al. But as has often been the case in the League of Ireland, the good times didn't last. Dark clouds would loom over Dalymount and by his arrival in early 2012, Derek Pender found a club far removed from the trophy winning days.
"The club was in turmoil when Aaron Callaghan took over as manager. The supporters had to come in and save the club, there were massive changes going on. Aaron rang me and when I spoke to him initially I was only delighted to come in, Bohs, a massive club, this was great but I had no idea they were in the state they were.
"I remember the first training session there must have been 30 or 40 players there but Aaron got to grips with it, trimmed the squad, brought in some quality players but it was a tough year for us, lots of young players and for the fans who had enjoyed the good years, while they didn't expect that success from us, they were still very demanding and it's not easy to go out in front of that Jodi Stand every week when it's not going well because they let you know about it."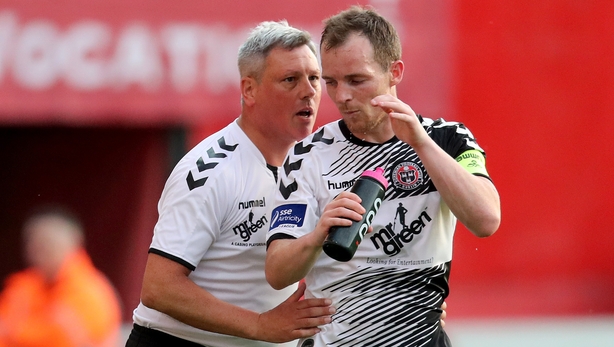 And then the club hired Keith Long.
"I knew Keith because he had been Eddie's assistant out at Bray the first year I was out there and I knew him as a great coach, I was sick that he wasn't there the second year because he had been massive for us. In fairness to Owen (Heary) he'd told me he was going to take the Sligo job and said Bohs should go after Keith and when he got the job and rang me, I was delighted. I knew what kind of person he was."
This season wouldn't have been the first rebuilding job laid at the door of Keith Long but given how well the second half of last season went, it might have been one of the most pressurised with expectations in the stands now raised. But canny recruitment of young players returning from England mixed with the continuing evolution of members of the successful U19 side has so far worked a treat.
And in a hectic part of the season the manager has not shied away from using them, making seven changes for a trip to Dundalk and eight changes for the recent home draw with Waterford.
"They're so spoilt! It's not just me, Wardy (Keith Ward) and Dinny (Corcoran) see it as well with these young fellas, you know small things like get the balls or get the goals after training and they just look at you! But that's the way they are these days, I just have to adapt!
"You realise how young they are when you see them walking in with the school uniform on but we do have a good dressing room, we make the young lads feel they can come in and be confident around the group, that if you're in the squad and in our dressing room you're part of us. They've never looked out of place. I think the games they've played this season have shown the trust Keith has in them  and he's not just playing them in the League Cup or Leinster Senior Cup. These lads are so good." 
And for some of those young players the acid test of how they had bedded in came in the recent derby in Tallaght. A 1-0 win stretched Bohs' unbeaten run against their fierce cross-city rivals to 7 games and was one earned in the face of formidable, table-topping opposition in front of a raucous and record crowd.
HT Bohs 4-1 Cork City - The captain delivers! Derek Pender starts it off from right back and he's there to finish past Cherrie after a lung-busting run. What a half for Bohs https://t.co/g1jeauosfl #RTEsoccer pic.twitter.com/Xlei278JJv

— Soccer Republic (@SoccRepublic) September 14, 2018
"I think what we played off for that game was the fear of losing. Leading up to the game, we had won so many and with the law of averages so many people were saying it has to be Rovers this time but my answer was why? That's what I was saying all week.'
"Danny Mandriou was walking off the pitch afterwards beaming from ear to ear and I just said to him 'that's better than 23's football isn't it?' I mean imagine if that was every week and in fairness to Rovers out there with the three stands it's great and hopefully with Bohs and the council now when we get our stadium it will all go from strength to strength."
Now 35 with a busy job with AIB and a young family, time management is key, and something he feels he's got a good handle on. Part-time player maybe, but with a full-time mentality. 
They've no idea I'm a footballer and Jennifer has never once come to see me play
"People do ask me how I manage it. Someone asked me recently what time I finished work the day of the Rovers game - I finished at 4.30. But last year when we travelled to Derry and Cork for the Cup games, I wasn't in work and I had a headache from just sitting around waiting, so I don't mind being in work.
"It is tough though with training, we're in every day except Wednesday but it's something that you love doing, it's not as if you're being made to do it. I see the kids on a Wednesday (they like Nando's so we go there) and we get to do things on Sundays as well.
"They've no idea I'm a footballer and Jennifer has never once come to see me play. I was bringing Andy Lyons home after the Rovers game and I said I'm going to ring her now, she won't even know the score and he couldn't believe that!.'' 
For a man who's pretty much seen it all in the game, as for the future, well he's optimistic. And for the current Bohs crop, the road ahead is often inspired by the one already travelled.
"We have a meeting at the start of every season, legends come in and the lads hear about the history of the club, what it was like to be at the club, how old some of the people are who still come to the ground and sit in the stand every week and you just see what's behind the club, just a load of honest people who are not in it for individual gain, they just want to see the club do well"
"Last year's cup run, it was heartbreaking to lose down in Cork, hopefully we can go one further this year. In terms of the league we haven't set any goals. With such a young squad, in terms of consistency we've been good but you don't know when that blip is going to happen and how quick we can come out of it because the league is so hard and every week you can get beaten if you're not on it, so we go into every week hoping we're 100% and get a result.''
So no league targets set but 14 games in Bohs are in the mix. Led by a captain who these days might feel like the Dad of the dressing room, but one who has the respect of all in it. 
Follow tonight's Airtricity League Premier Division games via our live blog on RTÉ.ie/sport and the News Now app. Hear more of Derek Pender's interview on Monday's RTÉ Soccer Podcast.