We're just over two months into the new League of Ireland season and there is much to be positive about.
Attendances are up, while in both divisions the quest for silverware looks like it will be keenly contested. A marked contrast, you would have to say when set against the controversies currentlybedevilling the FAI.
Alan Mathews spent many seasons as a player and manager in a league that clearly means a lot to him.
"I passionately believe in the League of Ireland and always have done throughout my life," said Mathews on the latest edition of the RTÉ Soccer Podcast.
We need your consent to load this SoundCloud contentWe use SoundCloud to manage extra content that can set cookies on your device and collect data about your activity. Please review their details and accept them to load the content.Manage Preferences
With the prospect of much change at the top table in the FAI, the Dubliner believes the furtherance of the domestic game should be at the "top of the pyramid" when it comes to any restructuring.
"Regarding one's aspirations and dreams, you must be careful what you wish for in that you err on the side of caution, but I do believe there is a real opportunity for change across the board at all levels, he added.
"For a start, clubs need to take a lot of responsibility for their actions over the last number of years and not constantly look to the FAI for blame. 
"We're looking at a new board for the FAI, new CEO, and changes in senior positions at the top of the table.
"The League of Ireland needs to be represented within that change. Once you have that change, I think you'll attract the right people into key roles that will benefit a league that as of now does not get enough support from the national governing body. I would like to think that would change.
"Nobody knows what sponsorship money is there, nobody knows much about the TV deal.
"What we need is lateral thinking outside the box and bring an acumen to it that hasn't been there heretofore."
The former Longford Town and Cork City boss, while accepting that proper change won't happen overnight, is hopeful that a full-time professional league is sustainable and also puts forward the idea for an All-Ireland league.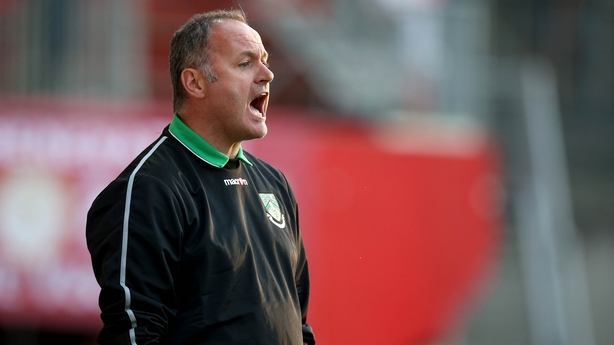 "Is it sustainable to have professional league with 20 teams involved? Probably not. 
"I can see, however, a 10-12 team league properly financed with support, sponsorship, marketing and help from the governing body and outside sources emerging.
"We have to start building an industry. A number of clubs have taken a great imitative to drive that - but it's each club doing their own thing. Which club will pay players 52 weeks a year? Less than a handful, I would say.
"It's very hard to create an industry where people are paid 33-40 weeks a year.
"Every avenue should be explored to give this league the best chance.
"I think we should talk to our colleagues up north. I think there is the potential for an All-Ireland league with participation from both sides of the border.
"We could start with a cup competition and go from there - take the best bits from the Setanta Cup.
"And while there is talk about things happening, both leagues, I think would look favourably on any new venture with outside financial support.
"Let's see can we put a five to seven-year plan together and develop something really worthwhile ."
Follow Tottenham v Ajax tonight with our live blog on RTÉ.ie and the RTÉ News Now App or watch it live on RTÉ2 and the RTÉ Player from 7pm.