It's almost two years to the day since Ireland international Louise Quinn was in the wilderness with no club to call home.
Her then-team Notts County had just folded and her football future looked to be entering "unsure and unclear" territory, as she puts it.
Then Arsenal stepped in with a short-term deal for the Wicklow native, a temporary solution to keep her career on track.
A contract extension materialised a few months later as she began to establish herself in the team's defensive unit. And over the weekend, she helped the Gunners to a first Women's Super League title since 2012 following a 4-0 win over Brighton.
Today, she woke up as a champion, rejoicing in a surreal moment.
"I think it was some time last week two years ago that all of that was happening with Notts County," Quinn recalls when speaking to RTÉ Sport.
"Thankfully now everything is really clear and I know where I stand. It's brilliant to be playing with this club and hopefully it'll keep happening for the club.
"It felt really great this morning. It's a bit surreal at the moment, it'll be that bit more real in a few weeks when we finally lift the trophy. It just feels mad.
"Everyone is so happy and it was long-awaited in the club. We really wanted to get the job done and that's what we did."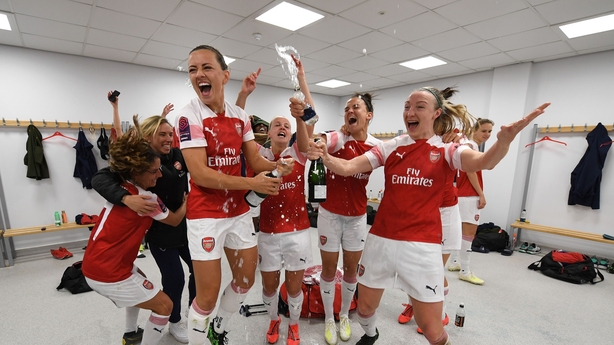 Arsenal have one more game to get through before lifting the trophy. They happen to be facing second-placed Manchester City in that tie on Saturday 11 May.
Prior to the Brigton fixture, that final game of the season looked to be a potential title-decider for Arsenal.
Quinn admits that it was difficult to block out that scenario, but goals from Vivianne Miedema, Beth Mead, Danielle Van De Donk and Quinn's Irish teammate Katie McCabe ensured they would have both hands on the trophy before facing City.
That final game of the campaign is now effectively a coronation for Joe Montemurro's charges.
"We've got some world class attackers and it just showed yesterday, four different goal-scorers," says Quinn.
"It just really summed up the season. And Katie was one of those as well, she's just been brilliant. For them to get on the scoresheet really shows what our attacking players are like.
"We have an achievement board in our little social room that shows everything the women's team has won over the years," she adds when reflecting on the seven-year gap since they were last champions of England.
"And you see it every day that there hasn't been a league title there for years. You just want to put that right and start marking more trophies and bring the club back to the glory days.
"We're definitely on the right track and we've a brilliant manager. He wants to do everything he can to make Arsenal a winning club."
Irish players have a long tradition of winning silverware at Arsenal, with players like Emma Byrne, Ciara Grant, Yvonne Treacy all enjoying FA Cup success at the club.
Quinn is honoured to take her place alongside those legendary names, while McCabe has been particularly instrumental in Arsenal's journey to glory this season.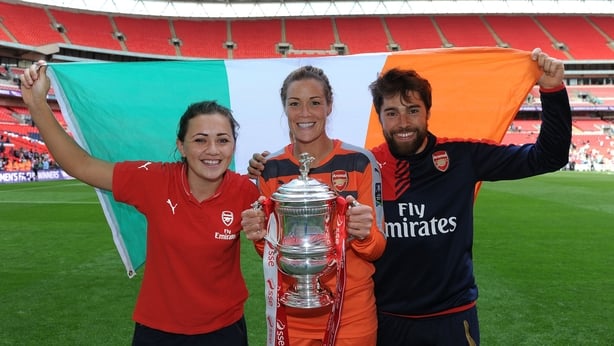 The Irish skipper has been prolific in front of goal this year and has directly contributed to 20 goals for Arsenal, according to The Guardian.
Quinn has witnessed McCabe's attacking threat up close at training, and has been forced to confront many nutmeg attempts from the Dubliner.
"I'm constantly trying to stop her [in training] but it is very difficult. The training has been quality. I'm lucky I get to train with these players and try to stop them from scoring. It's very hard to do but it's making me learn so much and improving me as a player.
"Katie's constantly trying to nutmeg me as well."
On emulating the success of former Irish players at Arsenal, Quinn continues: "We were always talking about the girls. When I was younger, you could see the girls Emma, Ciara and Yvonne winning trophies with Arsenal. They made it very possible to think that you could go abroad and play for a team like Arsenal.
"They put themselves on the map and representing Ireland with Arsenal was just brilliant. We've spoken about it that we're in there now with the legends. It's definitely surreal and we have a lot more trophies to win if we want to catch up with them. But it's a good start."
Quinn's family weren't at the Amex Stadium for Arsenal's title-winning result against Brighton on Sunday. Out of fear that they might tempt fate, they opted to stay at home. Now that the cup is secured, they can look forward to attending the Manchester City game and the trophy presentation.
There's a celebration in the family as well, which will make the day all the more enjoyable for the Quinns.
"They've definitely booked for the last game of the season, so just in general for them to be there and give them much more reason to celebrate.
"It's my Mam's birthday as well!"
We need your consent to load this SoundCloud contentWe use SoundCloud to manage extra content that can set cookies on your device and collect data about your activity. Please review their details and accept them to load the content.Manage Preferences