The boss of the organisation that represents Europe's biggest clubs has finally admitted that he wants to see the Champions League replaced with a midweek, continental league, involving promotion and relegation, from 2024 onward.
The plan, which has been the subject of wide speculation, was outlined in a 1,000-word letter from European Club Association chairman Andrea Agnelli to his 232 member clubs, which include the Premier League's 'big six' plus Everton, Leicester and Newcastle, as well as Scotland's Old Firm, Aberdeen, Hearts and Motherwell.
In his letter, the Juventus chairman updates the clubs on the preliminary meetings the ECA board has had with European football's governing body UEFA about the future of European club football, as well as the organisation's own general assembly in Amsterdam last month.
Agnelli tells them that the ECA, UEFA and other stakeholders are at the start of a consultation process and, contrary to some media reports, no decisions have been made.
But he does ask for their "views on some principles we feel are fundamental to the future of European football and around which we will seek to work with UEFA to evolve the club competitions".
These include the creation of a "pyramidal Pan-European league system with continuity and opportunity to grow from within" and the "enhancement of mobility and dynamism across the system through carefully applied promotion and relegation".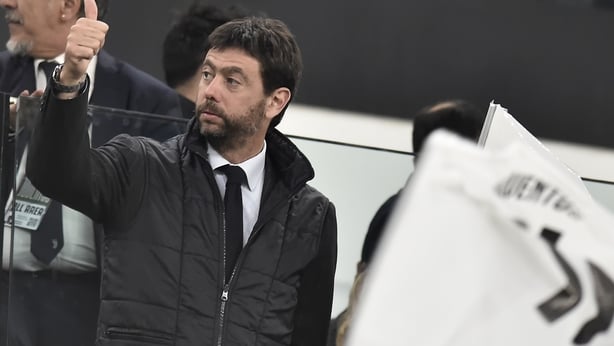 If that sounds like the creation of a European Super League - a term both the ECA and UEFA have been at pains to avoid - Agnelli's other principles are that the new competitions have to be "an inclusive platform for all clubs, based on sporting meritocracy, not historical privilege", "symbiosis" must be maintained with the domestic leagues and the revamped Champions League must be "open to all".
So far, neither Agnelli nor any of the ECA's richest clubs have been willing to go on the record with a firm proposal, although it is well known that the Juve boss has suggested changing the Champions League's current format of eight groups of four teams, to four groups of eight, which would guarantee games between Europe's biggest clubs.
He is also believed to favour a system of promotion and relegation within European club football from season to season - an idea that would overhaul the current qualification system which is based on performances in domestic competition.
This threat to the status quo, combined with concerns about the encroachment of European football on weekends and more fundamental worries about the Champions League-fuelled financial divides within domestic leagues, has created a rift within the game that is addressed in the second half of Agnelli's letter.
He begins by inviting the clubs to a special general assembly in Malta on 6-7 June to discuss the ideas above but then turns "disappointingly, to a great deal of incorrect speculation and rumour", which he clearly blames on the European Leagues, the organisation that represents domestic club football and counts the Premier League, English Football League and Scottish Professional Football League among its members.
As a result, Agnelli tells his members not to accept a European Leagues invite to attend its 'club advisory platform' meeting in Madrid on 6-7 May, claiming it would "not be appropriate" and pointing out that neither UEFA nor the ECA administration have been invited.
He does, however, say that a "varied delegation of clubs from our executive board, including myself" will represent the ECA at the Madrid meeting and report back.
The rationale for this, Agnelli explains, is that "club discussions on competition matters should remain driven and co-ordinated by ECA member clubs", a position which has been reinforced by the recent extension of the ECA's memorandum of understanding with UEFA.
He signs off the letter with a hand-written note which says "looking forward to seeing you in Malta for what will be the start of an exciting story!"
Agnelli's order to stay away from the Madrid meeting, however, has provoked a predictably angry response from European Leagues.
In a letter to its members, European Leagues president Lars-Christer Olsson described Agnelli's letter as "strange" and "containing false accusations and misleading information".
He then proceeds to "correct some of the worst statements in Mr Agnelli's letter" by challenging the ECA's stance that is is the "sole body" which represents club interests in negotiations with UEFA.
Olsson makes it clear that he believes his organisation is a much better representative of club opinion as it speaks for so many more of them.
He also re-extends the invite to Madrid and suggests that Agnelli is "afraid too many ECA members are coming to an open debate in a surrounding where the ECA board is not present".