Republic of Ireland manager Colin Bell said the FA Women's Cup final will attract a massive crowd regardless of the Premier League's refusal to switch West Ham United's game against Southampton to accommodate fans who want to travel to Wembley.
Manuel Pellegrini's side take on the Saints in their final home game of the season on Saturday week at 3pm, two and a half hours before the Hammers' women's team square up to Manchester City in their marquee decider. 
West Ham requested permission to bring forward the kick-off time of the men's match but were denied.
Cavan striker Leanne Kiernan will look to fire West Ham to glory with Megan Campbell aiming to shut her out in the City defence and their international boss Bell expects a huge crowd to flock to Wembley regardless of the time clash. 
"I wasn't aware of it, to be honest, what's going on there. But that's unfortunate of course," he told RTÉ Sport.
"I think there's going to be a massive crowd anyway. Last year I was at the cup final and there was 45,000 at Wembley - and obviously I'm going to be there this time because we have two players involved.
"I think they'll probably be looking for that 45,000 mark again. 
"It's important for the women's game to have their own identity, that you are separate from the men's set-up. The women's game also attracts a totally different public. That's why I'm confident that the Wembley final, there'll be at least 40,000 there. It's great.
"I think it's more beneficial to really push the women's game and to make sure that it is a separate entity to some extent. Of course when you have a Premier League club like West Ham United, you're going to be thinking about those kinds of situations to try and help and increase the popularity of the women's game.
"But these are things that should be sorted before the season even starts, not just before it's going to happen. That could be the lesson that can be learned."
While accentuating his belief that women's football must foster its own audience and culture, Bell rejected the suggestion the FAI Women's Cup final might benefit from being played in a smaller stadium on its own day rather than being the curtain-raiser for the men's showdown at the Aviva Stadium.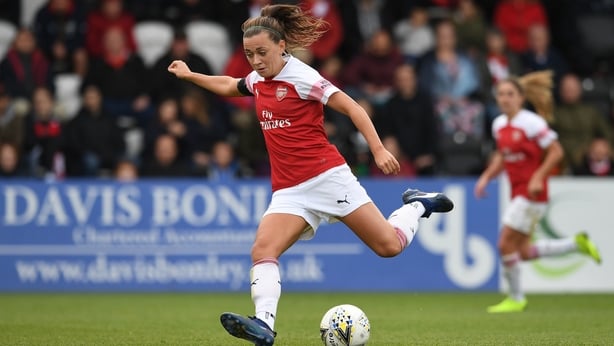 "When I come here, and I've been to Aviva Stadium quite often to watch matches but also these kind of events, every time I'm here, the only place I really want to be is out there on the pitch," he said.
"I'm not exaggerating. If I had my boots with me now, we'd have this press conference then we'd all get changed and go out and have a game – that would be the best thing!
"Young girls playing every week at Peamount, Kilkenny, Shels or wherever it is, at the end of the season they have that highlight to come and play at this fantastic stadium.
"Even if there was only one person watching, it wouldn't make any difference. I mean we need to get more people in, push the women's game, but it's live on TV and you're playing in this brilliant stadium. You can't take that away from the girls.
"What I do know is they love to play here. They look forward to it, it's a massive highlight. Players who played in a Cup final a few years ago still talk about it – 'oh, the Aviva… that day in the Aviva'.
"Last year Katie McCabe and Louise Quinn played in the FA Cup final at Wembley. I called them both and asked them, 'do you know where you're actually playing? Do you realise, it's Wembley!'
"When I was a kid growing up I'd have given anything to play at Wembley Stadium. And we have a fantastic stadium here, the Aviva.
"Kids, young girls going into the National League, they want to be playing here as well."